As antifascist groups prepare to mobilise against a White Man March in Liverpool on Saturday, and vigils mark the anniversary of the deaths of Michael Brown and Eric Garner, Getintothis' Paul Riley takes a look at the best of modern day protest music.
Up there with love, injustice must be one of the most fertile muses. From Billie Holiday's Strange Fruit to Dylan's Masters of War, songs of protest have the ability to empower and facilitate social change. In organising against the White Man March, Liverpool continues its own long tradition of activism, embracing and celebrating its diverse people.
Rather than looking at the classics, we have compiled a list of more contemporary songs that have tried to reinvent a formula that became more and more difficult to do with conviction. While it has become more difficult to avoid clichés and tread the fine line between political content and musical quality, the protest song is alive and well.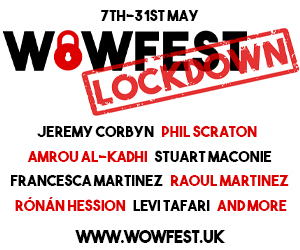 To begin the selection, we needed to first define the modern protest song, and stumbled across these pearls of wisdom from The Roots' Questlove:
"I urge and challenge musicians and artists alike to push themselves to be a voice of the times that we live in. I don't mean breathless race to the finish on who makes the more banging 'Fuck Tha Police' sequel. I mean real stories. Real narratives. Songs with spirit in them. Songs with solutions. Songs with questions. Protest songs don't have to be boring or non danceable or ready made for the next Olympics. They just have to speak truth."
With that in mind, here are ten tracks that fit the bill.
1. J. Cole – Be Free (2014)
One year ago, unarmed black 18-year-old Michael Brown was shot twelve times by a police officer in Ferguson, Missouri. His body lay in the street for four and a half hours. The killing sparked outrage and civil unrest throughout the US and beyond. It followed closely after the death of Eric Garner, who died after being put in a chokehold less than a month earlier. He was being arrested on suspicion of selling cigarettes from packets without tax stamps.
Days after the death of Brown, J Cole uploaded Be Free to his soundcloud; within hours the song had been listened to 250,000 times. His performance of the track on the Late Show with David Letterman is a hair-raising moment of raw emotion.
Can you tell me why, every time I step outside I see my people die
I'm letting you know, that there ain't no gun they make that can kill my soul
All we want to do is take the chains off
2. Jeffrey Lewis & The Rain – WWPRD (2013)
Pussy Riot made headlines all over the world in 2012 after three members of the feminist protest group were arrested following a performance in Moscow's Cathedral of Christ the Saviour. With themes such as feminism, LGBT rights and opposition to Vladimir Putin, whom they call a dictator, they railed against the oppression they experienced in Russia.
Their plight and their protest stuck a chord with Jeffrey Lewis, who wove their story into a song that applauds their taking a stand while attacking the commercial, amoral aspects of popular music. What would Pussy Riot Do?
Pussy Riot went to prison, just to make some people listen.
They said Church and State's corrupt, must be true cuz they're locked up

3. Pearl Jam – Bushleaguer (2002)
Riot Act came out the year after the G8 summer riot in Seattle, in the midst of the Bush era and the Iraq War.  While touring the album, Eddie Vedder frequently wore a mask of the President to sing Bushleaguer, and on one particularly provocative performance in front of a US crowd, he impaled the mask on a mic stand, prompting some fans to walk out in disgust. The song criticises the US involvement in Iraq and paints Bush as a talentless con artist.
A confidence man, but why so beleaguered?
He's not a leader, he's a Texas leaguer
Swinging for the fence, got lucky with a strike
Drilling for fear, makes the job simple

4. NOFX – The Decline (1999)
As far as punk rock protest goes, this has pretty much everything. At just over 18 minutes, The Decline displays a level of musical brilliance that shattered punk-rock convention and shows NOFX as more than just immature, rebellious drunkards; an opus on the decline of American civilisation by way of the Bill of Rights, misguided patriotism, consumerism, prisons, suicide and drug abuse. Recently, it seems as if there is a tragic gun-related US death in the news every week, so that is one theme that immediately jumps out right now, but it is one of many.
I wish I had a shilling, for every senseless killing
I'd buy a government.
America's for sale, and you can get a good deal on it.
5. M.I.A. – Born Free (2010)
This is just a downright assault on the senses. Maya Arulpragasam creates music that is informed by her own traumatic childhood, hiding with her family from soldiers during the Sri Lankan civil war. Born Free on its own is a strong message about persecution. Without giving anything away, the accompanying video, directed by notorious Frenchman Romain Gavras, turns this into nothing short of gut-punch horror, driving home the insanity and irrationality of hate.
You could try to find ways to be happier
You might end up somewhere in Ethiopia
You can think big with your idea
You ain't never gonna find utopia
*video is not for the faint-hearted*
6. PJ Harvey – The Words that Maketh Murder (2011)
We love some PJ. She's a bit bonkers, with a seriously eclectic back catalogue whose main recurring motif is the strength of her songwriting. In 2011 she threw the world another curveball with Let England Shake, an album taking an unconventional look at the less-than savoury history of our great nation. This song does not shy away from starkly violent imagery, which jars with the jaunty and catchy melody to suggest how bizarre it is that we spend so much time, money and effort knocking the shit out of each other. Playing with semantics, Harvey sidesteps more sanitised tags such as 'conflict' and just calls it what it is – The Words that Maketh Murder.
I've seen and done things I want to forget; I've seen soldiers fall like lumps of meat…
…What if I take my problem to the United Nations?
7. Manic Street Preachers – 4st 7lb (1994)
Never ones to shy away from disturbing subject matter, the Manics' back catalogue reads like a list of awfulness and anger. With The Holy Bible, they created one of the greatest pop albums ever. We could have talked about the Holocaust, revolution or prostitution, but we have chosen 4st 7lb. Like many Manics songs, the lyrics are crushingly prescient and provocative, in this case serving as a damning indictment of the modern world's unattainable image of the perfect woman, and its impact on young girl.
Mother tried to choke me with roast beef/ and sits savouring her sole Ryvita
Yeah 4st 7lb, an epilogue of youth/Such beautiful dignity in self-abuse

8. Gossip – Standing in the Way of Control (2006)
Less shrinking violet size zero model, more a big, brash and sexy 21st century Mama Cass, Beth Ditto is brilliant. The '…fat, feminist lesbian from Arkansas' was less than impressed when the Bush administration's Federal Marriage Amendment attempted to outlaw gay marriage. Remixes by Erol Alkan and Soulwax helped this track make a big impact. An infectiously filthy barrage of disco that shows Ditto is one of the best contemporary female vocalists.
Standing in the way of control
Yeah live your lives
By the only way that you know

9. Reuben – Return of the Jedi (2005)
Reuben were one of the best British rock bands of their time. It was a tragically short time, because despite their loyal and fanatical fanbase, they were unable to exist in the record industry. Return of the Jedi addresses the state of the music industry, and will surely strike a chord with anyone who can think of at least one band they used to love, who should have made it.
Record firms, they're making losses,
But they still spend it like they're making it,
It's fifty grand to make a fucking video,
And Sardy albums cost a fifth per track,
And so your favourite band,
They don't make that second album,
Dropped by their label 'cause they can't pay it back,
It killed them.

10. Propagandhi – The Only Good Fascist is a Very Dead Fascist (1996)
Finally, for our friends at the White Man March, we have this short but sweet anti-fascist ditty from Propaghandi. We'll let the lyrics speak for themselves.
Swastikas and Klan Robes,
Sexist, racist homophobes.
Aryan nations and Hammerskins
You can wear my nuts on your Nazi chins
I love a man in uniform.
Comments
comments