As the I Am Kloot frontman announces an intimate solo return to Liverpool after a standout show earlier this year, Getintothis' Del Pike considers why John Bramwell is one of our lesser known National treasures.
During a break in a stunning set of songs at the O2 Academy in May this year, I Am Kloot's John Bramwell told the audience of his great day spent in Liverpool.  "I love you scousers" he laughs, "You're all fucking mad." No explanation, just more laughter.
He laughs at his own comments a lot. It's this blunt charm that has flavoured his lyrical output for over 15 years, a style that has ensured continuous sell out gigs and festival appearances but kept the band firmly out of the mainstream; they are not for everyone. For the faithful , every gig feels like a fan club gathering, and so too, we can expect, will his close-quarters show at the Philharmonic's intimate new Music Room this December 6.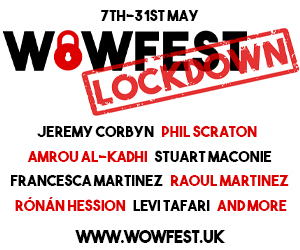 The singer has formerly recorded solo as Johnny Dangerously and also released a live solo album this year (Live at the Trades) which may seem over-indulgent but so different are the two incarnations of the Kloot world, he can be excused.  He last played alone in town at The Kazimier last year to considerable acclaim from Getintothis' Alan O'Hare.
Fellow Mancunians Elbow have been forever linked with Kloot, Guy Garvey being a sometime producer of their work, but where the anthemic Bury band have played the game and built on their (Olympic) stadium success, Kloot seem content to remain in the back room.
Bramwell is the vocalist and guitarist of the three piece that is completed by bassist Peter Jobson and drummer Andy Hargreaves. Clearly firm friends, they as tight a live act as you'll find. Their songs tend to dwell on the ordinary, on relationships that we can all identify with; from the innocent beauty of I Still do that finds a grown man reflecting on childhood longings and unrequited love as he gazes to the stars, to the growling spite of Twist that finds the singer spitting out "There's blood on your legs – I love you" in a macabre kitchen sink drama. A love song for everyone.
There is warmth in the Northern indie folk of songs like Let Them All In, a distant cousin to McCartney's Let Em In, and euphoria in tracks like Radiation and These Days Are Mine, songs which would be household favourites had Garvey written them.
It is unclear what has kept Bramwell and co in the shadows, but for their fans this is no bad thing. His voice is unusual, melodic but as dour as the North can offer, warm when required. His passion for every word pulls between maniacal and heart-breaking, and we believe every phrase. There is a thousand yard gap between the almost stand-up delivery of his hilarious anecdotes and the starkness of the songs that surround them, but this is accessible work.
Their recent live album, Hold Back the night, a lengthy double CD, is as good a release as any to introduce the unknowing to the band, and the extensive set calls on the upbeat, the down beat and the downright bloody marvelous.
The Northern stature of I Am Kloot is as much in their image as their music, and their promos are poetic snapshots of their home. Proof is a slo-mo portrait of Godlike Manc for hire and former time lord, Christopher Eccleston, where Northern skies sees him again being chased across Bronte-cold moorlands by Jobson. The Brassbound Some better day is a video diary of a family funeral with all the cosiness of a Beryl Cook painting and the inclusion of John Simm, could they be closet Doctor Who fans or do they just have the coolest friends in the North?
Bramwell's everyman rank allows fans access to two very different live experiences. An I Am Kloot show can be a surprisingly raucous affair as the trio spark off one another and the quietest of ballads transforms into a jubilant cacophony of sound, and then there is the John Bramwell solo experience. With one foot on a beer crate and a can of beer to hand, Bramwell invites you into his world with alarming intimacy.
It might be cloying to say that you feel like you know him by the end of the night, but in a seemingly effortless way, this is what is achieved. His jokes, his insights and his warmth open a window to his work that cannot be achieved in a stadium gig, and that's why he triumphs over the likes of Elbow every time, even though that's not his intention. Find out for yourself at the Music Room this Winter.
Comments
comments