As Lightning Bolt kick up a storm in Leeds, Getintothis' JoeRayW takes in a wild, bone-shaking gig that left him buzzing for days afterwards – and that's just the hearing loss.
The opening act, Dan Friel, set the scene. Sitting down with a magnificent custom-made rig sat on his lap, Friel brought pulsing MIDI awash with noise to the crowd. Everyone soon realised that tonight would be a deafening event.
His rig consisted of a keyboard, an array of knobs, buttons, pedals and fairy lights; visible wires tied it all together. The music sounded like MIDI-fied house, all twisted and bastardised to make something truly wonderful. And noise driven. He was like a one man Fuck Buttons, or a lyric-less Doldrums. Once his set was over, the ears were comfortably numb.
Then lightning struck.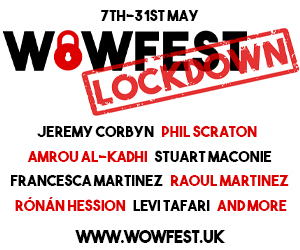 Lightning Bolt casually came on stage, Brian Gibson picking up his bass wired up to a range of pedals, and Brian Chippendale sitting behind his neon splattered drum kit. With the first few mic tests, people shouted 'louder!' Chippendale said 'Oh, you'll get louder', before pulling on a garish patchwork mask, wearing it with his mic held sturdy underneath.
Lightning Bolt featured in our best albums of the first half of the year – see what else made the cut
While everyone who had listened to a Lightning Bolt album knew what kind of music they played, seeing it live was something else entirely. The drumming was ferocious, with Chippendale looking almost feral as he moved his hands so they appeared only as a furious blur. The home-made mask added to this feeling, a mish-mash of different shreds of t-shirts, made into a garish tribal/lucha libre/horror delight. While serving well as a mask, it also worked as an effective way to keep the mic where he wanted it. A little costume creativity goes a long way.
On the other side of the stage, Gibson calmly played his bass, providing the drones which accompanied the drumming. It was a contrast, and a necessary contrast, to make the complete whole. Seeing the band live also revealed how tracks are structured, with the more ambient drones taking place while Chippendale took a quick breather from his drum kit, setting aside any sticks he's snapped. Even in those moments we were denied silence, and silence is something which doesn't befit a band such as Lightning Bolt.
The noise the duo emitted was enough to send vibrations throughout the room, with many, including the band, donning ear protection to face the ravishing audio storm flooding the venue. Sweat dripped from Chippendale's mask, and his hands grew so slippery that he had to keep switching drumsticks, a bucket of which were by his side. At one point a stick came flying towards us; that's just the type of gig it was.
The wildness of it all was something one would expect from an improvised set, but there is a great level of control and calculation underneath it all. Lightning Bolt have a whole slew of noise rock albums, including this year's Fantasy Empire, and they pulled material from the best of them to drive the crowd into the frenzy they so desired.
When the set came to an end, it felt like a storm had passed, only for the band to return for an encore which provided more noise, more aggression, and even more sweat than before; an unbelievable thought. If this is what it's like to be struck by lightning, then let us be struck to the bone.
It took a few days for the buzzing to go, but it was a trade off for what was a truly mind numbing gig, in the best sense of the word. Who needs to hear the next day, anyway?
Comments
comments