An eclectic night of poetry, spoken word and music was the order of the day for Getintothis' Cath Bore as Edinburgh collective Neu! Reekie! hosted a special night at Leaf.
In the new documentary Sleaford Mods – Invisible Britain, spoken word collective A Firm of Poets talk about poetry tents at big music festivals having a "poets reading poetry to other poets" vibe to them, the audience dealt with as an annoying necessity. More user friendly events and accessibility was the collective's answer to this problem, and when Neu! Reekie! headed a mini Scottish invasion of Liverpool on tonight at Leaf, it was inspiring to see them embracing a similar approach.
Mixing spoken word and poetry along with musicians from either side of the Scottish border, Neu! Reekie! were embarking on their first show in England after curating successful shows around Scotland and internationally.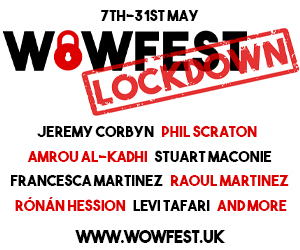 It was appropriate days after Burn's Night, when everyone in England stresses Scottishness, no matter how far removed that distant, long dead Caledonian relative may be, Kevin Williamson brought Robert Burns' Nine Inch Will Please A Lady smut with him. As the Burns poetry went on, it got funnier and filthier. This writer can't have been the only one Googling "Robert Burns + rude poems" on my phone on the way home. Surely.
Michael Pedersen gave us judgemental ravens sitting on rooftops, Merseysider Eleanor Rees read from her books Eliza and the Bear (the band are named after Rees' book, not the other way around, if you please) and Blood Child.
Read our piece introducing you to Pete Wylie's talented daughter, Mersey
Rising star Hollie McNish, part of the Writing on the Wall Festival this coming May, spoke of her toddler daughter applauding her own body when she saw it in its full naked glory for the first time. And the stories of her rude, dirty minded Nan were, quite simply, brilliant.
Pete Wylie was up next. His records carry that passion and full rally cry, always, everything but the kitchen sink crammed in there for added drama. Real shot in the arm stuff. But it's nice to hear songs like The Story of The Blues stripped down to simple acoustic guitar and keyboard, Wylie's voice doing all the work, stronger, bolder than it ever was.
He's like a Liverpool version of a Southern preacher pleading from the pulpit telling us exactly how it is, and should be. His tribute to Colin Vearncombe who died this week, via the opening bars to Black's Wonderful Life, was a nice touch and the flow from Sinful into David Bowie's Heroes was seamless.
Hearing Glasgow's Eugene Kelly perform was a real treat. His work with The Vaselines and the covers of their songs by Nirvana are what he's best known for, but tonight he's solo, without Vaselines partner Frances McKee. You're Having My Sex, the ultimate 'what could have been', my highlight of the night. His 2003 album Man Alive shows a more sophisticated wit than his early work, and Kelly's canny, tuneful and pretty songs were bloody lovely tonight. Performed by one man, one guitar and harmonica, classy and classic.
Pictures by Getintothis' Andy Sunley
Comments
comments