As Cast played their second show in a matter of months with the Royal Liverpool Philharmonic Orchestra, Getintothis grabbed our opera glasses and took a seat, as David Hall reports.
"Go 'ed John lad!"
"A bit of decorum please, we're at the Philharmonic".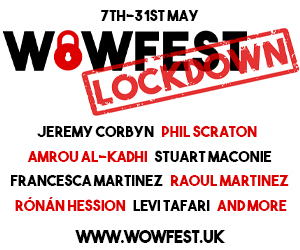 A leery drunken shriek from the crowd and a solid Scouse-accented retort from the stage – try to take a rock band out of their comfort zone and they'll find a way to work their way back in, particularly with John Power at the microphone.
Back by popular demand, Cast played the second in a run of shows celebrating debut album All Change's 20th anniversary backed by the Royal Liverpool Philharmonic Orchestra. Inevitably, this partnership had its difficulties and accomplishments, but it could largely be said that the addition of the 'Phil' was a winner.
Highlights included some of Cast's best-known singles, the crowd on their feet and roaring every word to solid-gold Britpop classics like Finetime and Alright. The orchestra propelled the upbeat numbers into all-consuming, stratospheric giants, and complimented others more delicately, as when framing the balladic Walkaway beautifully. At times the orchestra was charged with bringing more of a texture, contouring and augmenting the band's material – a texture that wasn't immediately noticeable but would be glaring in its omission – at others burrowing its way into the very DNA of the songs.
Getintothis' exclusive peek at Cast's rehearsals with the Royal Liverpool Philharmonic Orchestra
I'm So Lonely was greeted like the greatest of hits, its plaintive opening guitar line receiving massive cheers, and went on to meld just as successfully with the grand string arrangement as the studio version did. If I'm So Lonely was something of a slam-dunk, not every instance of orchestral backing was the rousing victory it might have been. Guiding Star failed to provide the highlight that perhaps even the audience expected; the motif riff was played by the string, brass and woodwind sections simultaneously and came off just as cheesily as when a symphony orchestra attempt modern covers.
The orchestra brought a unique set of problems to overcome, being such a vast, blunt lump that it sometimes lacked an edge. Jay Lewis – guitarist with one of this century's La's incarnations, now performing bass duties in Cast – suffered most of all for that, and his contribution was all but imperceptible at times. Since the orchestra's sound was so overwhelmingly massive, the traditional rock band low end is swallowed up, and Keith O'Neill's dull-sounding kick drum failed to provide a foundation for Lewis' bass to bounce off.
Cast ditched the accompaniment, coming back out for stripped-back, orchestra-less versions of Flying, a new song and Mother Nature Calls opener Free Me to finish, but the encore seemed to wrong-foot the audience. It was something of an anti-climax, feeling like band were working around the orchestra rather than working with them, particularly as the main set concluded with a stellar triple of Finetime, Walkaway and Alright. Those really should have been played last; songs without an orchestra arrangement could've been much further integrated rather than segregated until the end. But that was a unique concern for a special show rather than an issue which needs further addressing.
Comparisons to such a unique-feeling night are actually pretty numerous; this wasn't even the first time Cast have undertaken a project with the Royal Liverpool Philharmonic Orchestra, with part one having taken place in December. There was also a definite reminiscence to Echo & the Bunnymen's superb LIMF 2015 headline set, in which the Royal Liverpool Philharmonic Orchestra brought an added grandeur to some of Ian McCulloch and co.'s best-known songs in Sefton Park.
There were times when the two shows mirrored each other, such as when the full-on attack of the Bunnymen's The Cutter or the unrestrained catharsis of Cast's Alright almost masked the orchestra entirely, so unrestrained were the band's performances. Conversely, it was when the orchestra swelled muscularly behind Ocean Rain that night in Sefton Park, or accompanying the bare arrangement of John Power's voice and guitar as on Dance of the Stars or Four Walls which imparted the requisite spine-chilling grandiosity.
Cast's two shows in the Philharmonic Hall have also provided satisfying counterpoints to Power's acoustic Kazimier set last summer; a sweaty, riotous affair in the ramshackle setting of our dearly-departed Kaz. If Power proved then that his songs are all the more potent stripped back to their core – Guiding Star, in contrast to its orchestral incarnation, was a mass-singalong highlight that evening – then more recently they have sounded impressively stately and imposing.
All of which goes to show Power would probably be top, should anyone compose a 'great underappreciated Scouse songsmiths' list. Maybe even liable to take a leap into Lennon, McCartney, or McCulloch territory one of these days. Go 'ed indeed, John, lad.
Pictures by Getintothis' Simon Lewis.
Comments
comments