The countdown to Liverpool Sound City is well and truly on. Just a couple of weeks out, Getintothis' David Hall brings you the comprehensive line-up and stage times to plan your weekend
An official aftershow party has also been announced, with a shuttle bus service laid on to ferry festival goers directly from the waterfront site to the Baltic Triangle after the main stages wrap up at midnight.
The afterparty takes place across multiple venues in until 5am after the festival ends on both days, in association with Club Freeze, who have announced DJ sets from Sound City acts such as Leftfield, Mount Kimbie, Greg Wilson and Hot Chip. There is also live music on offer from exciting acts including Lying Bastards, Sea Witches, Halem, Psycho Comedy and Bathymetry.
As well as a tribute Viola Beach and their manager Craig Tarry, Sound City 2016 will also present tributes to David Bowie and Prince. Immersive art installations designed by FACT involving music and performances will pay tribute to Bowie and Prince, and a slot in the main festival billing pays respect to Viola Beach and Craig Tarry.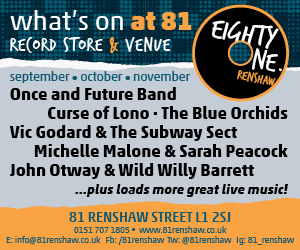 The Sound City 2016 stage-by-stage running order in full:
The Atlantic Stage
Saturday, May 28:
Catfish and the Bottlemen 22.30 – 00.00
Sleaford Mods 21.00 – 22.00
Band of Skulls 19.45 – 20.30
Greg Wilson DJ Set 18.30 – 19.15 (Palma Violets pulled out due to unforeseen circumstances)
Georgia 17.30 – 18.00
Viola Beach – A special tribute to the band and their manager 16:45 – 17:15
Kyko 16.00 – 16.30
Sugarmen 15.00 – 15.30
Norma Jean Martine 14.00 – 14.30
Dead Buttons 13.00 – 13.30
Colonel Mustard & The Dijon 5 12:15 – 12:45
Sunday, May 29:
The Coral 22.30 – 00.00
Circa Waves 21.00 – 22.00
The Dandy Warhols 19.45 – 20.30
Shura 18.30 – 19.15
Neon Waltz 17:15 – 18.00
Inheaven 16.00 – 16.45
Bill Ryder-Jones 15.00 – 15.30
C Duncan 14.00 – 14.30
The Anchoress 13.00 – 13.30
Temenik Electric 12:15 -12:45
Top 10 international acts to see at Liverpool Sound City 2016
The Baltic Warehouse
Saturday, May 28:
Leftfield 22.30 – 00.00
DJ Koze 20.30 – 22.30
Mount Kimbie (DJ Set) 18.30 – 20.30
Floating Points (Live) 17.30 – 18.30
Mano Le Tough 16.00 – 17.30
Âme (Live) 15.00 – 16.00
Greg Wilson 13.00 – 15.00
Derek Kaye 12.00 – 13.00
Sunday, May 29:
2manydjs (DJ Set) 22.00 – 00.00
Hot Chip (DJ Set) 20.00 – 22.00
Motor City Drum Ensemble 18.00 – 20.00
Henrik Schwarz (Live) 16.30 – 18.00
Gerd Janson 14.30 – 16.30
Jemmy (Freeze Resident DJ) 13.00 – 14.30
Makes No Sense (Freeze Resident DJ) 12.00 – 13.00
Top 10 Baltic Warehouse dance acts to see at Liverpool Sound City 2016
The North Stage
Saturday, May 28:
Young Fathers 23:00 – 00:00
Novelist 21:30 – 22:00
Levelz 20:30 – 21:00
Seramic 19.30 – 20:00
Mez 18:30 – 19:00
Blick Bassy 17:30 – 18:00
XamVolo 16:30 – 17:00
1eye 15:30 – 16:00
Judas 14.30 – 15:00
False Advertising 13:30 – 14:00
Sunday, May 29:
Pete Doherty 23:00 – 00:00
Dilly Dally 21:30 – 22:00
The Big Moon 20:30 – 21:00
Kagoule 19:30 – 20:00
Holy Esque 18.30 – 19:00
Postaal 17:30 – 18:00
Crows 16:30 – 17:00
Barbagallo 15:30 – 16:00
Trudy and the Romance 14:45 – 15:15
Miserable Faith 14.00 – 14:30
The Night Café 13:15 – 13:45
Sky Valley Mistress 12.30 – 13:00
The Tall Ship
Saturday, May 28:
Spook School 22.45 – 23.15
Fizzy Blood 22.00 – 22.30
Deadbear 21.00 – 21:30
Johnny Sands 20.00 – 20.30
Boo Seeka 19.00 – 19.30
Las Aves 18.00 – 18.30
The Bulletproof Bomb 17.00 – 17.30
Gallery Circus 16.00 – 16.30
I Set The Sea On Fire 15.00 – 15.30
Tom Low 14.00 – 14.30
Blue Saint 13.00 – 13.30
Sunday, May 29:
Lock 22.45 – 23.15
Ropoporose 22.00 – 22.30
O Captain 21.00 – 21:30
She Drew The Gun 20.00 – 20.30
Pit Ponies 19.00 – 19.30
Horsebeach 18.00 – 18.30
Anteros 17.00 – 17.30
The Lottery Winners 16.00 – 16.30
The Stamp 15.00 – 15.30
Little Triggers 14.00 – 14.30
Oh The Guilt 13.00 – 13.30
The Cargo Stage
Saturday, May 28:
Buslav 23:15 – 23:45
Tunacola 22:30 – 23:00
Leyya 21:45 – 22:15
Koala Voice 21:00 – 21:30
Coquin Migale 20.15 – 20:45
Cherie & Renno 19.30 – 20:00
The Hearing 18:45 – 19:15
Jesse Will 18:00 – 18:30
City Calm Down 17.10 – 17:45
Slow Dancer 16.20 – 16:55
Hein Cooper 15:30 – 16:05
Julia Jacklin 14.40 – 15:15
Tempesst 13:50 – 14:25
Suzie Stapleton 13:00 – 13:35
Oh Pep! 12:10 – 12:45
Sunday, May 29:
Foxtrott 23:15 – 23:45
L.A. Foster 22:30 – 23:00
Wake Island 21:45 – 22:15
Tempesst 21:00 – 21:30
Patients 20:20 – 20:45
57 19.45 – 20:10
DTSQ 19:10 – 19:35
Laybricks 18:35 – 19:00
We are the night 18:00 – 18:25
Tally Spear 17:20 – 17:45
Rosie Blackaller 16.45 – 17:10
Karina Ramage 16:10 – 16:35
Goodbye Brighton 15:35 – 16:00
Victoria 15:00 – 15:25
Brooders 14:20 – 14:45
Fighting Caravans 13.45 – 14:10
Kell 13:10 – 13:35
Heir 12:35 – 13:00
Caro 12:00 – 12:25
The Cavern Stage
Saturday, May 28:
Feral Love & Wake Island Collaboration 22:30 – 23:00
The Chairman 21:45 – 22:15
City Calm Down 21:00 – 21:30
Violet Skies 20:20 – 20:45
We're No Heroes 19.45 – 20:10
Castles 19:10 – 19:35
Fleur De Lys 18:35 – 19:00
Connah Evans 18:00 – 18:25
Cavalry 17.15 – 17:45
Youth Hostel 16.30 – 17:00
Shrinking Minds 15:45 – 16:15
Irene and the Disappointments 15:00 – 15:30
Storme 14:20 – 14:45
Bridges 13.45 – 14:10
Somerville 13:10 – 13:35
Atlas Wynd 12:35 – 13:00
Barron 12:00 – 12:25
Sunday, May 29:
Eliza and The Bear 23:15 – 23:45
White 22:30 -23:00
Elle Exxe 21:45 – 22:15
The Wholls 21:00 – 21:30
Surf Dads 20:20 – 20:45
The Zolas 19.45 – 20:10
Living Hour 19:10 – 19:35
Queen City Stoop Kids 18:35 – 19:00
Joe Nolan 18:00 – 18:25
Feral Love 17.15 – 17:45
Pink Kink 16.30 – 17:00
Red Rum Club 15:45 – 16:15
Weekend Wars 15:00 – 15:30
Skarsky & Such 14:20 – 14:45
Caulfield 13.45 – 14:10
Niki Kand 13:10 – 13:35
The Cubes 12:35 – 13:00
The Hushtones 12:00 – 12:25
The Mailchimp Record Store
Saturday, May 28:
Eden Royals 22.45 – 23.15
Sankofa 21.45 – 22.15
Lifafa 20.45 – 21.15
Slow Dancer 19.45 – 20.15
Dan Owen 18.45 – 19.15
Hein Cooper 17.45 – 18.15
Sun Arcana 16.45 – 17.15
_RHL 15.45 – 16.15
Xylaroo 14.45 – 15.15
Oh Pep 13.45 – 14.15
The Left Backs 12.45 – 13.15
Sunday, May 29:
The K 22.45 – 23.15
Chelou 21.45 – 22.15
Julia Jacklin 20.45 – 21.15
Bantam Lyons 18.45 – 19.15
Echotape 17.45 – 18.15
Bulp 16.45 – 17.15
Aldo 15.45 – 16.15
Denis the Night and the Panic Party 14.45 – 15.15
Lightcraft 13.45 – 14.15
Suzie Stapleton 12.45 – 13.15
Tim Peaks Diner, Curated by Tim Burgess
Saturday, May 28:
Cabbage 23:25 – 00:00
The Tinun's 22:40 – 23:10
Beds In Parks 21:55 – 22:25
Blueprint Blue 21:00 – 21:35
Tear 20.15 – 20:45
Riding The Low 19:30 – 20:00
In Conversation with Jason Williamson (Sleaford Mods) 19:00 – 19:30
In Conversation with Paddy Considine 18:00 -18:45
In Conversation with Greg Wilson 17:00 – 17:45
Bongo's Bingo 13:00 – 15:30
In Conversation with Sean Adams 12:00 – 12:45
Sunday, May 29:
Bowie Disco 23:15 – 00:00
Bear Growls 22:40 – 23:10
The G.O.D. 22:10 – 22:30
Documenta 21:25 – 22:00
The Pheromoans 20.30 – 21:10
Hot Vestry 19:50 – 20:20
Yucatan 19:00 – 19:35
In Conversation with Circa Waves 18:00 – 18:45
In Conversation with Roisin Murphy 17:00 – 17:45
In Conversation with Alexei Sayle 15:00 – 15:45
In Conversation with Dave Haslam 13:00 – 13:45
All times subject to change
Comments
comments