Fresh from blasting the Baltic, Psycho Comedy unleash their debut single One as Getintothis' Craig MacDonald falls victim to their powers.
Us folk here at GIT headquarters are no strangers to the psychedelic powers of Psycho Comedy. Having fallen in love with their raucous sounds from the get go, the news of their debut single One is clearly music to our ears.
Released on Playing With Sound, One finds the quintet fuse together both sounds of psychedelia and punk into a cauldron of filthy feverous energy. From the opening first jerks of 60's garage soaked guitar, you're quickly put under as the racing beat builds while intertwining with the trance-like vocals of frontman Shaun Powell.
Want to find other up and coming bands? Check our Introducing section
The track was produced by Gil Norton who has previously worked with the likes of Pixies and Foo Fighters. Filled with dreamy, retro warmth, One drifts into a fuzzy swell with true tongue-in-cheek lyrics which help turn the track into a real big sound with real hints of Iggy and Television at times.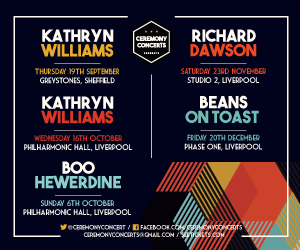 With tracks like this and their growing reputation for riotous live shows, the future looks bright for this fledgling five piece.
Comments
comments