Bank Holiday Sunday erupts into a carnival of music across Salford as Getintothis' James Sullivan spends the day at Sounds from the Other City festival.
A friend of a friend once told Getintothis, in a resigned tone, that she was living in "Salfordian exile", cast out to the fringes of the city; a maze of b-roads and warehouses.
If it seems odd from the outside that the festival – now in its twelfth year – casts Salford as 'the other city', sitting as it does only about one mile from Manchester city centre, a quick walk down Chapel Street soon clarifies thing. There's a definite sense of stepping back a few years; railway arches, a sudden lack of coffee chains, and, you know, some actual space.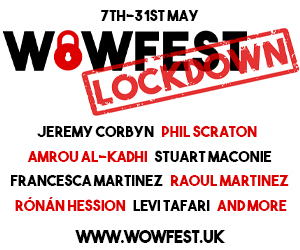 Ideal then, for one of those 'one wristband, bunch of venues, just wander around' type of festivals.
Islington Mill is the hub of the operation. The site of the wristband exchange, Red Stripe and smoked tofu. Getintothis arrives mid-afternoon, just as the rain clears, to find it decked out like a twisted take on Octopus's Garden. In a stark warehouse around the corner (is there such a thing as a cosy warehouse?), local beer and beard specialists Port Street Beer House are flogging ale while people mill around waiting for Sheffield's Seize the Chair.
They couldn't look more callow, hopping up on to the stage – curated for the day by Now Wave. All the better, then, when the band begin to let rip into half an hour of meaty riffs and propulsive, caffeinated melodies. If The Cribs weren't bothered about being scratchy and lo-fi, they would kill for a song like Secret Sister, and the creepy crawly bassline that powers Knew You'd Never Been There is pure early Blur. There are synth flourishes, a taste for the epic and sense of fury that actually benefits from the PA issues that plague the set. File alongside Spring King, Hookworms and Menace Beach as great, young northern bands reclaiming indie.
Back out on to the streets and, it being Sunday, straight to church. St Philip's is an Anglican parish church built in the architectural style of Greek Revival between 1822 and 1824 (thanks Wikipedia). Due to play at the altar is Tacocat, the Seattle band notable for taking on stuffed shirts, casual misogyny and reductive stereotyping. How fitting a location, Getintothis chuckles to itself while purchasing a cask ale from the priest, making a note to include that thought in the review.
Hey Manchester is in charge of events here – local promoters who busily and consistently put on high quality Americana, folk and indie gigs in the city. Tacocat are a skeleton catsuit-wearing, day-glo joy. Girl group melodies sung with bubblegum glee about subjects ranging from internet trolls ("Hate from the basement; Hate from the insecure"), Dana Scully and building bridges to Hawaii. During the course of the set, singer Emily Nokes takes down the patriarchy, moans about working weekend jobs, and marvels at Horse Grrls who "know the different breeds of all their favourite steeds". The set ends with a dance party in the aisles as a cast of bizarre, dream-warped deep sea characters – courtesy of festival art director Him Hallows with the theme of 'New Occult' – invades. The parish priest looks on at the scene, beaming.
Under the railway arches, the First Chop Brewing House plays host to the Heavenly Records line up. Although not on Heavenly ("We're not organised enough", singer Gaz would later say on stage) Warrington's Man and the Echo are a good fit. The band have released a steady stream of singles on the relaunched 1965 Records and possess a hatful of outsider charm and northern pop hits. There are bar room piano stomps, disco-soul breakdowns, Housemartins harmonies and the working class insouciance of Jarvis Cocker. The skiffle-tinged Honeysucker rages against the superficiality of politics and modern class warfare, while I Don't Give A Fuck What You Reckon aims a little lower, railing against the tedium of cocktails, real ales and baby photos on social media.
1965 Records: The rebirth of a label to cherish
By the end of the set the room is full, and the Bowie-esque final song The Last Introvert produces a genuine force of nature reaction from those gathered. Unstoppably great.
It was all going rather well. Maybe a little too well. The strike rate for these festivals isn't usually so high. It was weirdly comforting, then, to walk into The Crescent to catch Joey Fourr and be confronted by a stench of urine as stale as the Guinness on sale behind the bar.
Singer Joseph Prendergast is an arresting sight, dressed in a knee-length barbershop stripy shirt, Marge Simpson necklace and with bright green hair. The band play funky, oddball pop songs that sound like Cyndi Lauper put through a spin dryer. It's restless and groovy, but somehow a little cold. The papier-mâché sea monsters from the Tacocat set seem to be back though – once again initiating a dance party as the band play their final song. Or maybe those urine fumes have gone to everyone's heads.
Back to the Now Wave warehouse for The Big Moon, who compete with Tacocat for the 'most fun had on stage' award. The four-piece from London are an incredibly charming presence with a sisterly, breezy bond that belies just how well-written the songs are. There are echoes of Suede and Supergrass as played by PJ Harvey, a Madonna cover and an arsenal of pop hits.
Darkness falls on the streets of Salford as pint glasses and phone batteries are drained. The short walk to see Madrid trio The Parrots is marked by sightings of casualties from the day's events. The venue itself fills up as the Heavenly DJ set keeps things ticking over.
The Parrots live review at the Shipping Forecast, Liverpool
It's not that The Parrots aren't fun. It's not that they don't have some decent, nutso garage songs. They have a good line in party quotes and sound like a less polished version of The Hives, or less sleazy Cramps. But the word 'less' is probably the important one. If you go to any garage night across the country, or indeed Europe, or listen to anything from labels like Dirty Water or Damaged Goods, then you'd be likely to hear something better, something catchier, or something more honestly chaotic. It's a little confusing: From tonight's gig alone it's not clear why this band in particular have been picked for Heavenly, a label of pretty impeccable taste. On that basis, it has to be said, it's a bit of a let down.
A quick look in on Meilyr Jones confirms the crowd to be swooning at the feet of his beguiling, Jonathan Richman-like symphonic pop. But at this point in the evening, there's only one destination on everyone's lips: the Masquerade Ball. Back at Islington Mill, those Him Hallows sea creatures are back for their final hurrah and the night runs long and late.
These type of festivals so often fall down because the idea of popping into venues here and there just doesn't work. It tends to be that if you want to see a bigger band, you have to go to that venue at the start of play to ensure entry later. So, you end up paying a festival price for only one gig. Sounds from the Other City, on the other hand, completely delivers.
The lack of one or two big hitting headliners delivers a real spread of crowds from venue to venue. The location means it's never longer than a five minute walk to each gig. Cheap tickets and food and drink prices help foster a genuine house party spirit. And, most importantly, a superb line up across the board cements the festival as an impeccably delivered carnival of music. Salfordian exile has never sounded so good.
Pictures by Getintothis' James Sullivan.
Comments
comments