More underground sounds from the purveyor of all that is slightly left-of-field, Getintothis' Mike Stanton unveils three more ace picks to wear in your head.
So summer is sputtering its way to some sort of conclusion and the psychedelic sounds just keep on coming. St. Tropez are as summery and breezy as their name suggests and they have dropped a very catchy tune that would surely grace any harbour party. Either side of this are American Anymen with their own brand of political punk and Brighton's Lost Idol who treats us to a much overdue new release.
Sounding like an American Sleaford Mods and full of zeal and bluster, American Anymen kick in doors, shout in your face and challenge you to question everything. Full throttle, high intensity sludge-punk with the heart of a throbbing V8 motor is probably how best to describe them. Reminiscent of late 80's or early 90's minimal industrial, they are abrasive, stripped-down and confrontational. Loads of Fall swagger and Cop Shoot Cop polemic explosions force you to tune in and listen.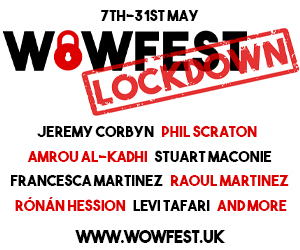 Latest single Beach and the Sun from their to-be-released album Start My Center keeps them on message, giving globalisation, police brutality and social injustice a mighty good kicking. The band favour political and ethical importance over lavish equipment, "How you create is as important as what you create," says founder, singer/songwriter and guitarist Brett Sullivan. Fair enough.
Start My Center LP is out September 2nd.
Amsterdam-based St. Tropez are a low-slung surf-psych rock band with a penchant for hooks. Big hooks you could hang a boat from. Which Side Are You On, taken from their self-titled debut album, is a pitch-sonic, razor-sharp rock n' roll anthem that stomps and romps its way around your pleasure senses.
Channelling Black Rebel Motorcycle Club if caught in a psychedelic 60's haze, it hooks you up and pulls you along. The driving sawtooth guitars and pounding drums have a swaggering primeval feel.
Noise rock, neo-psychedelia or yacht-punk, it doesn't matter how you define this stomper, all you need to know is they're amped and knocking at your door.
For hundreds more undiscovered delights, be sure to delve into the Unknown Pleasures archive here
Lost Idol is James Dean, a Brighton-based music producer, head of the boutique Cookshop label and creator of sublime and layered electronic compositions.
New track, Blue Lotus Eyes, begins with a lone pulsing analogue bassline. Haunting and delicate it slowly builds as a kick drum gently propels Dean's vocodered vocal forward, undulating slowly and intricately. An almost music-box-like rhythm lulls the track into the whispering consciousness of the listener.
Stark and haunting, Blue Lotus Eyes is underpinned by slow-warping darkwave synths that swim through the murky waters of introspection often explored by the likes of Massive Attack and Burial. Throughout Dean plays with melody and pace beautifully, lightly tripping with time and carefully enveloping us in a warm and trippy haze.
This is his first release in some time and hopefully heralds more of the same, even (dare-to-wish) a new long-player, the last being 2010's beautiful Brave The Elements.
Comments
comments