As Cavalry headed to Buyer's Club for a night of shoegazing, Getintothis' Gareth Roberts was there to check them out.
Shoegazing always got a raw deal. Sneered at by music snobs, the name itself a derogatory label; a badge for bands dismissed by many as long of fringe and short on talent – put everything on 11, stamp on pedals and stare at the floor. A formula frowned upon.
As a scene in the UK, it slowly disappeared into the shadows, seemingly never to return. Yet, 10,000 miles away, a shoegaze scene continued apace, with Australia keeping aficionados of the genre loaded with fresh tunes and quality fare.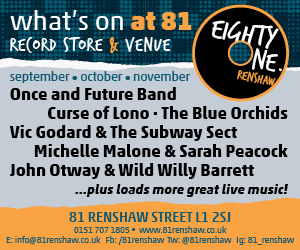 Despite the flyers adding brackets that made it all seem incredulous – Flyying Colours (AUS) – shoegaze bands from Oz are not a rare phenomenon. Instead, maybe it was the determination to bring their music to this side of the earth that was lacking.
Perhaps the return of heavyweights like My Bloody Valentine and Ride has seen long forgotten records returning to turntables and appetite for pedals and power chords reawakened.
Whatever the reason the bookers are booking, and when Flyying Colours come to town with a Twitter bio promising "hints of early 90s shoe-gaze and grunge, which fans of Ride and MBV will connect with" it was rude not to for a former fringe shaker whose live music cherry was popped by the sounds of Mark Gardener and co at Liverpool's Royal Court in 1992.
Check out our all-encompassing Autumn/Winter gig guide, here
If shoegaze carries negative connotations nobody has told the Melbourne four-piece, who certainly look and sound the part. Hair ready to flop and a pedal collection a bike shop would be proud of, the influences are sewn through the first sounds that grace a modest turn out at the Buyers Club.
If it's Ride, it's early Ride – the incessant, fast-moving sound of early EPs like Play and Today Forever rather than some of the more pop-tinged songs of later years.
The addition of a female voice to the mix with Gemma O'Connor adding guitar and vocal to front man Brodie Brümmer's contribution also gives a Lush-like quality to the songs on show from the box-fresh Mindfullness album, released at the end of September.
"Are you scared?" asks Brummer, to a stand-offish crowd, many perhaps only waiting for headliners Cavalry. By the end of the set, though, there are toe-tappers and head-nodders aplenty. More converts to shoegaze? What's not to love?
We stay for Cavalry. A Liverpool band receiving plenty of the right words in plenty of the right places for some time now. The swelled crowd smiles throughout and it's clear the five-piece has wooed a Merseyside following despite a sound that is far away from the Liverpudlian jangle that was once the staple of this stage in its former life as The Flying Picket.
The tunes are solid if unspectacular to these ears – musicians clearly with talent and nous delivering a laid-back acoustic groove that builds into Alan Croft's vocal crescendos and pleases an audience that knows them well.
It's not perhaps the most obvious follow to a wall-of-sound shoegaze session, and it jarred slightly for the non-believers. Cavalry are nice, but are they too nice? If bigger stages are to beckon – away from Liverpool – maybe bigger tunes still have to be written.
It feels within the power of this setup – many songs edged their way up the scale without ever leaping into wow territory. The takeaway tunes; the singles that make them – the sounds that linger long after the lights go up?
Not yet, but maybe soon.
All photography by Getintothis' Keith Ainsworth

Comments
comments