Now into the top 20, Getintothis continues the countdown of the best albums of 2016.

We're almost there, so do bear with us as we approach the business end of our top albums of the year countdown.
Any album of the year list is bound to be subjective. It is, after all, a matter of opinion and a question of personal taste. It reflects the individuality and quirks of its compilers as much as it does the talents of the artists featured. Although pored over and pondered, reflected on and ruminated over, lists do evolve and change, mirroring mood and circumstance. Were we to compile this again tomorrow we'd almost certainly end up with different results.
That's not to say this or anyone else's list is wrong or has little merit. Of course it has merit. While we have tried to reflect what we've enjoyed most over the year, as well as what we think are the best albums, we've also endeavoured to throw in a few surprises records that absolutely stand up to the test and meet our exacting criteria but which you might have missed during the year.
All the albums below only narrowly miss out on a place in our top ten – stay tuned to find out what makes that list – all will be revealed tomorrow.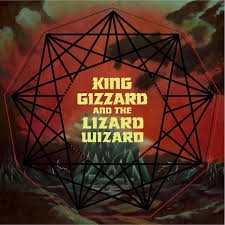 20. King Gizzard & The Lizard Wizard: Nonagon Infinity
Heavenly Recordings
As a child I loved playing cowboys and indians. And despite the rather elaborate wooden fort, which clipped together with old-fashioned carpentry you rarely see exhibited on the shelves of Toys R Us, the native warriors never lost in my fantasy world.
I mean how could anyone with feathered spear, warpaint and a name like Geronimo lose? After all if you're going out hunting buffalo for your breakfast, there's no way some goon in a daft hat and chaps is going to stand a chance.
Nonagon Infinity is essentially 43 minutes of Sioux warrior tribesmen raining deliciously and rather bloodthirstily down your lug holes with seismic thunder. Ferocious tomahawk guitar chops trade with leathery relentless padded drums echoing across scorched plains as howling Apache war-cries reverberate among the chaotic storm. Factor in King Gizzard sound like they've been dropping copious amounts of speed and you'll soon realise this is one hell of a rush.
I was going to pick up the rather half-arsed native American Indian metaphor but to be honest I've been having so much fun listening to this album for the last three weeks I'm not even gonna bother. Turn it up, dance in your pants and revel in this glorious bundle of utter lunacy. Peter Guy
Getintothis on King Gizzard & The Lizard Wizard
19. Newmoon: Space
PIAS / Mayfly Records
Chocolate, fine ales, Tintin and Eden Hazard – add spacerock to Belgium's range of superlative exports.
Hailing from Ghent and Antwerp, quintet Newmoon specialise in all things supersonic – notably walls of seismic melodic noise.
While there's not much new on their debut Space, it's a wondrous listen and it positively rockets by powered by a dizzying array of shimmering guitars and swaggering somewhat Northern soul.
Cherry-picking influences from the likes of Ride, Chapterhouse and Catherine Wheel, they imbue a certain swagger through singer Bert Cannaerts' Ian Brown-like beatific drawl.
Yet while there's no mistaking the shoegaze influence, Newmoon's closest relative is The Smashing Pumpkins– and most acutely, that devastating debut album Siamese Dream – check out the cataclysmic crunch of Life In The Sun as it starbursts immediately upon opening or the blistering fuzz of Skin.
Like Corgan's outfit, there is though enough tenderness and moments of deft subtlety to allow the listener respite particularly on the chiming penultimate One Thousand or instrumental Hi which sounds like shards of dust scattering into space itself. Peter Guy
Getintothis on Newmoon
18. Radiohead: A Moon Shaped Pool
XL Recordings
Slow, almost sluggish, A Moon Shaped Pool is an album which entices you, ensnaring you with every listen as layer upon layer of subtlety grips you tighter. It locks you in its detail. Save for the darting waspish opener Burn The Witch there's barely a track which gets gets out of second gear, yet this is without doubt its appeal as Yorke and co. have crafted a tomb which demands you stop and pour all your attention into some of the most beautifully crafted songs they've ever produced.
There's a succession of tracks which mellifluously meander by yet form the spine and set the tone; Glass Eyes barely registers above a hum as cello deftly weaves among bubbling synth and Yorke's barely-there vocal, Daydreaming recalls Aphex Twin with its shapeshifting loops and disorientating melody while Tinker Tailor is a distant cousin of Pyramid Song yet underplayed with a sinister sweeping string section. There's further unease as Ful Stop harks back to Kid A all itchy rattle-n-fizz, Decks Dark is a piano waltz groove while Identik recalls the rhythmic pangs of In Rainbows yet it's stripped to the bare bones save for a multi-tracked choral and synth outro.
Much has been made of the fan favourite 'lost track' and live thriller True Love Waits and while there's no denying it's simplistic majesty, we'd argue the centre-piece lies with the quite magnificent The Numbers a track which emerges from a dancing piano intro into a malevolent jazzy John Martyn number which erupts into a strident fanfare of power chords, trumpet blasts and luscious orchestration. Albeit rocking somewhat relatively gently.
For much of their career Radiohead have been likened to Pink Floyd, and while we've seen the likeness in their ambition, musically it seemed tenuous. Yet on A Moon Shaped Pool this is the closest they've come by marrying the ambience of Eno and the studio trickery of the Floyd they've produced an album which is very much the delicate sound of thunder. And it's shockingly brilliant. Peter Guy
Getintothis on Radiohead
17. Jherek Bischoff: Cistern
The Leaf Label
LA's Jherek Bischoff specialises in orchestral pop, be it on the ukulele or grandiose musical theatre scores. His latest collection on Cistern is redolent of Johann Johannsson's work both sonically combining vast string collages with meditative soothing ambience, and literally with the album being recorded in an empty church.
Where he departs from Johannsson is that much of the music on Cistern arcs into great swells of neo-post-rock voids – and if that all sounds tremendously serious, don't be put off as it's simply wondrous and far from a difficult listen. Take the quite magnificent Headless which in itself could soundtrack an entire series of David Attenborough's wildlife wonders.
Elsewhere, opener Automatism combines chilling piano stabs with rich violin pageantry, The Wolf is a slow, stalking Hitchcockian terror, closer The Sea's Son is one long warm release of rippling orchestration while Closer To Closure sways eerily among woodwind and yet more oceans of strings.
Apparently, Bischoff drew inspiration from his time submerged in an 'empty two million gallon underground water tank' – if that sounds incredulous, take a listen to Cistern – you'll find it an unforgettably immersive experience. Peter Guy
Getintothis on Jherek Bischoff
16. American Football: American Football
Polyvinyl / Wichita
By rights we should hate this album. It's an incessant moan, flips the math-rock-lite thing which gotten boring last decade and is stuffed to the brim with whiny Yank vocals. In fact the whole thing is one big mope. More bed-wetting than the official Travis Fan Club.
But the songs are undeniable. Like, really fucking, undeniably good. And it doesn't stick around long enough for you to get pissed off yourself.
The irony is, like good emo, it's actually really uplifting, and who doesn't need a big hug this time of year.
There's even a song called Give Me The Gun which when you play backwards has the refrain 'So I can shoot Donald Trump right in the shitter.' Touchdown. Peter Guy
Getintothis on American Football
15. Gold Panda: Good Luck And Do Your Best
City Slang
Gold Panda's fourth album, Good Luck and Do Your Best has its roots in a trip to Japan with the title deriving from a Japanese taxi driver's farewell on leaving his cab. Gold Panda made the trip to the Land of the Rising Sun with photographer Laura Lewis in 2014 ostensibly to gather sight and sound recordings for an intended documentary.
The unintended outcome of the trip however is this album of warm and luscious electronica that seems to bask in a perpetual golden glow. Its glitchily sparse structures are never harsh. They amble at a relaxed holiday pace, pausing to reflect upon the sights and sounds rather than allowing them to race by unnoticed. Delicate and thoughtful it evokes a time and place, distilling memory into a series of affecting sonic vignettes as if musing on the distortion of reality that time spent away from our daily routines can elicit.
One of the year's most seductive releases and laced with oriental flourishes, this is a record to put on late at night and allow its nostalgic crackles, warm and fuzzy aromas and jazzy undertones to relieve the everyday pressures.
Getintothis on Gold Panda
14. Ryley Walker: Golden Sings That Have Been Sung
Dead Oceans
Golden Sings That Have Been Sung, a follow-up to 2015's acclaimed Primrose Green, finds Ryley Walker at a creative cross-roads.
Album opener The Halfwit in Me is easily one of the best songs of the year and a marked progression from anything he has previously committed to tape. This is an urgent, progressively lolloping free-form folk song that succeeds on account of its intstrumental shapeshifting relentlessness. It amalgamates jazz and psych-folk into a powerfully inventive concoction that strays into the avant-garde, relying on rhythmically building loops of intensity than any dextrous finger-picking showmanship.
Elsewhere there is a leap forwards from the jazz-folk arrangements of the late-1960s. Although there are still nods to the past – his vocal delivery can't help but bring to mind Van Morrison – here Walker posits himself in mid-90s Chicago leaning with equal weight on the alternative culture of that decade. The tracks place great emphasis on his lyrics and their languid stream of consciousness intonations bears comparison to Red House Painters' Mark Kozelek. Nonetheless the jazzily fluid and loose arrangements remind most of The Sea and Cake while capturing the essence of his live performances.
Songs are afforded space, the music meanders as if under its own direction rather than that of the player. Subtle piano-led numbers such as Funny Thing She Said roll like an ebbing tide across a smokily atmospheric haze while there is an unresolved tension between voice and instrument as if each are competing for equal billing.
The album isn't perfect by any stretch, its flaws are the sound of Walker striving and pushing himself to the occasional point of over-extension. We're only critical to the extent that his evident talent is so prodigious we are in danger of expecting too much. Nonetheless its an album that enthralls and captivates in equal measure and certainly one of our 2016 favourites.
Getintothis on Ryley Walker
13. Liima: ii
4AD
'Post-millennial' – a phrase which in cultural terms resonates like some digital pestilence. Anxiety, bank crashes, moral panics, technological warfare, Thom Yorke – we're all in the suffocating grip of some inexplicable dystopian crisis and all we can do is keep legging it round that hamster wheel called Life.
Liima feel our pain exuding chronic unease and fidgety emotive angst channeling it through their profoundly affecting groove-orientated cyborg rock. The band, which unites Finnish percussionist Tatu Rönkkö and Danish outfit Efterklang, come off like Talk Talk jamming with Yeasayer; it's an intense, seductive ride with enough understated euphoria amid the gloom.
Tracks Trains in the Dark and 513 are foreboding grinders while Amerika wouldn't sound out of place on Achtung Baby such is it's epic electronic balladry. In short, 4AD have unearthed another gem which will keep you buzzing. Like a fridge. Peter Guy
Getintothis on Liima
12. Thee Oh Sees: A Weird Exits
Castle Face Records
Following the announcement by John Dwyer that Thee Oh Sees were to go on indefinite haitus, they have contrarily been busier than ever since reemerging with a pulsatingly blistering two drummer line-up. In 2016 alone they have release two studio albums and one live album.
There first studio offering, A Weird Exits sees the newly reconfigured band make sure but subtle changes to the band's core sound. The two-drummer effect is noticeable from the outset, there is a greater propulsive dynamic and a more pronounced sense of groove. Although it has its moments, A Weird Exits isn't merely a fast-paced race to the finishing line that accelerates mercilessly with each completed lap, it is more subtle and more explorative.
Spaced-out synth-led elements are added to the trademark garage-psych whirlwinds which make for a more dynamically varied recording. Jammed Entrance is a warped and twisted cosmic synth voyage into the unknown, making like the missing link between Thee Oh Sees and Dwyer's Damaged Bug-monikered output. While the droning Crawl Out From The Fall Out reveals a more cinematic side. Far from a tightly-hewn spring-coiled tautness, this gives the album's twin-drumming heartbeat something of a break in favour of rumbling dystopian atmospherics.
The album also marks Dwyer out as a memorable guitarist, furious yet never show-y solos permeate throughout pacing songs and pushing them forward with each frenzied yelp and ignition-twisting press on his Fuzzbox. Yet what characterises the album is not the unhinged blow-outs (of which there are, in Dwyer's own words, "a few face-fuckers") but the tendency to pull-back and embrace a cosmically spaced-out vibe, pushing themselves into extra evolutionary dimensions.
Getintothis on Thee Oh Sees
11. David Bowie: ★
ISO Records / Columbia / Sony Music
As strange and somewhat sacrilegious as it may seem, not everybody was (or is, even now) a lifelong fan of David Bowie, this writer included.
Some of us just didn't get Bowie, didn't really fall into that bracket of seeing him as an innovator throughout his career and didn't fall for the outsider challenging conventions thing. Maybe it was hearing The Laughing Gnome at an early age that put us off.
There may have been a few tracks, a couple of songs that we quite liked, but overall Bowie was irrelevant to us.
It was a shock to the system therefore upon hearing Blackstar. This was not what was expected.
Released on January 8, his 69th birthday, Blackstar sounded like something unlike Bowie. This wasn't the Bowie that has passed us by. Blackstar had the sound of relevance and of purpose.  This wasn't a record that was messing about-there was a certain urgency and vitality about it all.
In a time where the boundaries between jazz and rock became increasing blurred-Kamasi Washington being a fine example- Blackstar wears its experimental jazz heart firmly on its sleeve, whether in the intense percussive drumming in Sue... or the saxophone attack in Tis A Pity She Was A Whore.
There's a hardness about the whole album; a sense of taut energy which surprisingly made it an exciting listen from the get go. Even from its day of release, on that first time that it spun its way through those seven tracks, this was a Bowie album like no other.
Hindsight is a wonderful thing.
Within two days of its release, David Bowie had died, yet it's too easy to fall into that reductive trap of seeing it as his Requiem. It's simplistic beyond extreme to read it as his aural last will and testament to his fans; but really, like death itself, you can't escape the inescapable.
Blackstar will forever be seen as that. Bowie's poignant reflection on the very nature of a life slipping away and as a rage against the dying of the light.
For the very few of us who didn't venerate Bowie during what by any account was a staggeringly successful career, then we really should give Blackstar a go. It is a record that's quite remarkable and one that bears repeated listening, not just in 2016, but for a long time into the future. Rick Leach
Getintothis on David Bowie
Comments
comments