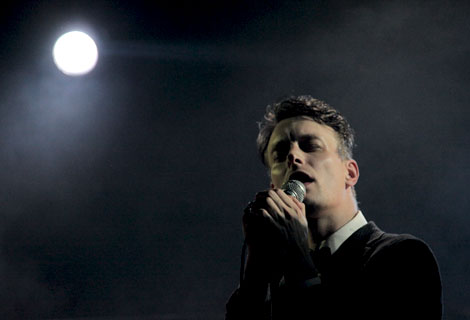 Efterklang presented a tense, haunting and sweet multimedia experience at the Kazimier, Getintothis' Joseph Viney became submerged in their weird world.

These days it's never enough for a group to simply turn up, churn out a few numbers and get away back to the security of the backstage area. With all of this technology at our disposal, boundaries in music, its performance and presentation are constantly shifting.
Danes Efterklang are one such collective eager to bring their audience and the wider world into their strange universe.
Already boasting immense talent and a studious dedication to their craft that would make most other acts blush, Efterklang have gone one further, deconstructing not just the album making process but a small portion of the world around them.
Screened before Efterklang performed, The Ghosts of Piramida runs along two disparate but ultimately concurrent narrative tracks.
Taking place in the abandoned community of Piramida on the island of Spitsbergen within the Svalbard archipelago of Norway, our chief narrator is former Piramida citizen Alexander, a man both haunted and soothed by his time in the would-be former Soviet utopia.

Miles away geographically, morally and philosophically from the brutal regime of the Soviet Union from which they were plucked, Alexander, his family and others settle in Piramida, determined to make a fresh start for themselves and their newfound society.
Alexander's tale is one of slow heartbreak. The wonders of nature, including a visit from a rather placid polar bear, and the joy of discovery and settlement soon give way to the nightmare of sudden upheaval.
The outside world, the one Alexander had been safely kept away from comes crashing down around him, quite literally. A plane suddenly crashing on the island means swift evacuation and abandonment.
Alexander and his family, as well as the rest of the Piramida community, are uprooted and thrown back into the surreal, cosseted nightmare of Stalin's Russia.
The parallel narrative follows Efterklang as they seek to use the old community's abandoned buildings and wide open spaces to discover new sounds and atmospheres to aid with the production of what became 2012's Piramida LP.
Watching them spend days creating noise from old pipes, bathtubs, dropping stacks of medical records and, most bizarrely, tapping every dimension of a house constructed entirely from bottles, the group are very much in their element.
Alexander's remembrance of a vibrant, happy community with daily excitement and activities is in stark contrast to the modern day vision of the island; one where Efterklang's leisure time away from sound hunting is reduced to seeing who can toss bricks into a bucket most consistently (as well as trading polar bear attack survival tips).
The Ghosts of Piramida is a fantastic insight into hope, loss, sound and redemption. Anybody with even a modicum of interest in the world around them would do well to see it.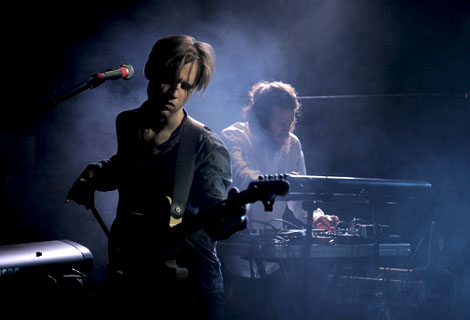 Efterklang at the Kazimier, Liverpool
The audience could have been forgiven for feeling emotionally drained after their celluloid treat, but spirits soared and eyes were transfixed upon the stage for Efterklang and their spellbinding atmospherics.
Katinka Vogh Findelev is a figure who draws a lot of attention, his tall figure and lumbering gait seeming almost unsuitable for a group as delicate as Efterklang, but his distinctive vocals and playful demeanour give sharp dimensions and crystal clarity to tracks such as Hollow Mountain.
The rest of the group are tight, each knowledgeable of each other's cues and even allowing each other wriggle room to expand their repertoire, and take songs along a new but altogether natural path.
The most endearing part of it all was their reaction to the cheers of a jam packed venue. Big, beaming smiles were on each musician's faces as raucous applause greeted the end of each song.
Though they may look pensive on the outside, Efterklang showed that they are more in touch with their sense of humanity and history than most others.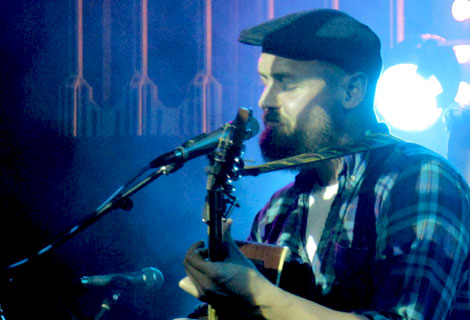 Silent Sleep at the Kazimier, Liverpool
The night's opening act was Silent Sleep, and a typically solid performance was the reward for those who'd made it down early.
Featuring John Gibbons, of The Last Gambados, on trumpet duties, Silent Sleep went not for the throat but the heart strings, songs like the deeply affecting and tender On The Steps Of The Bombed Out Church displayed their versatility as songwriters; a Liverpool landmark acting as the centrepiece and catalyst for universally felt emotions.
Tonight's show stood out as one of the most memorable of the year. Let's hope there's a slew of others who decide to follow in their wake and present their audience with that much more.
Pictures by Getintothis' Ian Gamester.
Further reading on Getintothis:
Getintothis reviews Efterklang and The Northern Sinfonia: Bridgewater Hall, Manchester.
Getintothis reviews Efterklang, Stealing Sheep: O2 Academy, Liverpool.
Inner Visions: FACT, Liverpool
The Kronos Begins: The Kazimier, Liverpool
Silent Sleep, Voo, Puzzle: Leaf Tea Shop, Liverpool
Comments
comments