Ahead of two Liverpool dates and a second album, Ulrika Spacek's Rhys Edwards takes time to chat to Getintothis' Del Pike.
When Ulrika Spacek played last year's Psych Fest in Liverpool, the good folks from Getintothis were shaken from their catatonic states and were driven to describe this band thus… "Delicate and beautifully-arranged sections are interspersed with Juggernaut-like slabs of powerful, driving rhythms. The overall effect? Bloody glorious."
In fairness, we knew what to expect following a similarly killer performance earlier in the year at Parr Street's Studio 2.
With dates lined up in March at The Arts Club and April as part of the FestEVOL celebrations, Ulrika Spacek are fast becoming regular guests in our fair city. It only seems right that we have a chat with one of them prior to these key dates and find out what to expect and what lies ahead for this most explosive of bands.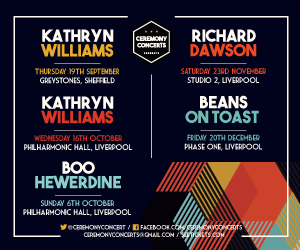 A chat with Singer / guitarist Rhys Edwards and it soon becomes clear that those gigs in Liverpool meant a lot.
"Psych Fest was a really big gig for us last year. It was the first day of the tour and we felt it was a bit ropey in terms of playing, but a lot of people came to see us and we got a really good reception. To be honest, throughout Europe, time and time again, we've met people who said they were at that show, so by its full name, International Festival of Psychedelia – it was great because lots of different people from all over the world were playing
"We had a really enjoyable time at Studio 2, which is a wonderful venue. We were told that was where Echo and The Bunnymen recorded Ocean Rain, it was a very special room."
We chat about the formation of the band and how the intriguing name came about, and Rhys explains it was quite throwaway but was "… a combination of Ulrike Meinhof [co-founded the Red Army Faction in 1970] and Sissy Spacek [actress most famous for playing the lead in the 1976 horror classic, Carrie]."
We talk about how the band have developed since then and how difficult they are to pigeonhole. Rhys tells us he has been listening a lot to Pavement and Slint, and he used to be a big fan of Slowdive who they are supporting at The Arts Club this month, but they try not to sound like anyone in particular, "We've just picked up the stuff we've liked and put it all together, but we like to be known more for our band's name rather than anyone else's, there are many different sides to us but we just want to be known as us."
Liverpool International Festival of Psychedelia reveals 2017 line-up
Rhys is looking forward to supporting Slowdive "I grew up in Reading so they were always my favourite band from the area, and I was definitely, as a teenager a fan of Souvlaki their second record, so it's great to support a favourite band and see what their new songs sound like."
The band's artwork that adorns their releases and promotional materials harks back to a more organic, pre-digital age and we ask Rhys where that comes from, "I do all the art-work, it's really collage based, everything is made in actuality, so there's a hard copy of everything rather than just Photoshop. There are no particular artists we follow or aesthetic, just collages really."
Rhys looks forward to the year ahead, "We've got the album coming out and then we'll be playing some festivals, it will be good to get out playing live again, starting with the first show of our campaign this week, we'll see what offers come in and play as many shows as possible."
The new album, Modern English Decoration is out in June, Rhys explains, "We kind of see the new record as a kind of sister or brother record to the first, anything we do in the future may stand apart from those two records.
"There is some kind of specific sound to them, we'd like to think that anyone who listens to songs from the second record in time, will be able to distinguish them from those on the first. They were recorded in a very similar way, from home – we did it ourselves, but it does feel like a development."
Tracks like Mimi Pretend from the new album certainly have a vibrancy and freshness that promise great things from the release.
Ulrika Spacek support Slowdive at Arts Club on March 28 and play FestEVOL Gardens at Invisible Wind Factory on April 30.
Comments
comments