A sold-out crowd headed down to Studio 2 in search of the next big thing, Getintothis' David Hall weighs in on if they found it or not.
There's a quiet hubbub bubbling beneath Hampshire-based trio Blaenavon, whose debut album That's Your Lot is released on April 7 through Transgressive.
They're signed to Atlantic Records in the US, and Arctic Monkeys' former producer oversaw the recording of their aforementioned debut. They're "three boys with a story to tell" according to a particularly non-committal PR line. For those cynics asking, 'what story?', come with us, you'll do well around these parts!
In support, Liverpool two piece Her's (H.E.R. apostrophe S., as they seemed intent on pointing out) headed up the show with their infectious brand of surf-pop guitars and squirming, melodic bass over a metronomic drum machine backing. Their material was accomplished – if not quite three dimensional – and their overly affected delivery and onstage mannerisms grated by the end of a short set.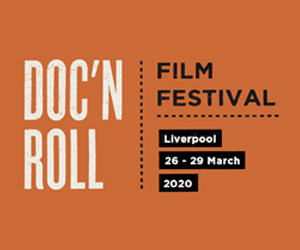 Meanwhile, Anteros were all kissy faces and posturing; competent enough, but most of their hooks ricocheted off the crowd and their tracks were forgotten in a moment. But, as they have just one EP release to their name and show promise enough on tracks like Breakfast, it's a solid start for the quartet. Both Her's and Anteros will get another chance to impress, in front of a possibly more accommodating audience, with FestEVOL Gardens beckoning.
As Blaenavon took to the stage, it was immediately obvious as eyes were drawn to Ben Gregory that he comes across as a magnetic frontman. The long-haired guitarist wrung some tremendous noises out of both his guitar and his band's three-piece setup. He was daubed in vaguely Robert Smith-esque makeup at Studio 2, and to be fair had some of the tunes to back up the stage wear.
Blaenavon have courted producer Jim Abbiss (his credits including Arctic Monkeys and Adele) to helm their debut album That's Your Lot, who seems to have sanded off some of the edges compared to their older material. Accordingly, the energy in the room dips for newer tracks, and not just through unfamiliarity. Blaenavon's album material is definitely different, and seems to trade out insistence for radio readiness, even in the raw live setting.
The fall of modern movie themes – where did it all go wrong?
Older tracks like Let's Pray – played second in Liverpool to an excited response from the crowd – have a little more dusty personality and a natural, rumbly jangle that more polished recent songs lack. Orthodox Man received a massive reception, and bridges the band's old and new material successfully. Blaenavon occupy that retro furrow that Blossoms have ploughed wide open in recent months, and their latest single sought to exploit that at Studio 2.
So, to answer our opening question, have we found the Next Big Thing™ here? Those teenage audience members near the front wearing glitter around their eyes like they were at a festival – because that's a thing now – were clearly believers.
Whilst Blaenavon make some inroads into assuaging the doubters, we're yet to be convinced. Although bigger venues certainly seem written into their future, attaining anything like a Blossoms-sized level of success seems a distant possibility.
Comments
comments