As The Maccabees take their farewell tour to Manchester, Getintothis' Jessica Borden is on hand to join in the celebrations.
The Maccabees say their farewells with rousing anthems and a shit tonne of confetti.
On a day that saw the disappearance of summer and the return of downpours, an ominous mood of unrest built throughout the day.
But as it drys off and the doors open, the crowds are filled with anticipation and excitement to say goodbye to their favourite band.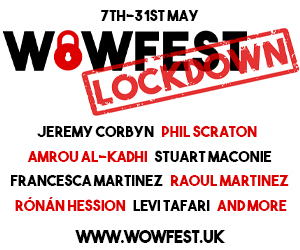 Mystery Jets open the night and with the already fairly full Apollo, launch into a set which is impossible not to dance to. They are the perfect warm up for tonight with a career already spanning more than a decade, their electro infused indie rock works to build and welcome the crowd into the incredible venue.
Finally it's time for The Maccabees to take to the stage and they are greeted with huge applause as they launch into their career-spanning set with tracks from Feel to Follow and Latchmere to an exhilarating rendition of Precious time as the crowd is instructed to sing along properly and as loud as possible (everyone obliged of course).
Not a single person was left stood still, dancing and belting out the lyrics to songs that had soundtracked their lives and at the end of every few songs you could see the band themselves taking in the special moments and beaming with pride as the fans look at them.
The encore threw fan favourites Marks to Prove It, First Love and Toothpaste Kisses with such force that we were left spinning as the words and melodies surrounded us, which leaves us wondering why they are calling it time on the band now.
Pelican closes the night leaving The Maccabees on top of the world and the fans elated to sing along with all their might as the magic of the night floated around the room on the pieces of confetti and covered every inch of the room and people.
        Need more gigs this week? Look no further than our gig guide
This was the perfect goodbye and celebration of a band that has become a part of people's lives and moments.
Farewell The Maccabees, it's been a pleasure.
Photos by Getintothis' Michelle Roberts

Comments
comments