Ahead of their UK tour and new album release, Manchester's The Travelling Band divulge all to Getintothis' Scarlett India O'Toole in another quick-fire Q&A.
Channelling dark, lyrical themes about personal and relationship issues, The Travelling Band's latest album, SAILS, is focused around the song writing skills of Jo Dudderidge and Adam Gorman and the rhythmic driving force that is drummer, Nick Vaal.
The Manchester trio's new album highlights their love of American indie rock, whilst still keeping a Mancunian twist, giving a nod to bands such as Elbow and I Am Kloot.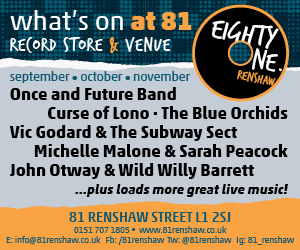 Formed in 2006, the band has shared many years of hard-hitting life on the road: something that is evident in the new record.
After making headlines when their tour van and gear were stolen, social media rallied around The Travelling Band. Jo said: 'what happened made us feel wanted and relevant to people's lives.'
The band went straight into the studio to record, but two of the five remaining founding members jumped ship during the recording process.
As recording halted, Jo took a trip to Nashville and became inspired by the sense of community among musicians.
He returned to Manchester with a new desire to create a similar kind of supportive hub back in his home city.
Ahead of The Travelling Band's gig at Shipping Forecast, we caught up with front-man, Jo
Dudderidge for a quick fire Q&A:
Getintothis: Alive or dead; which guitarist, drummer and bassist would form your fantasy
power trio?
JD: Led Zeppelin. That's the easy answer! If that doesn't count then George Harrison, Levon Helm and
Carole Kaye.
Getintothis: What's your favourite song by a Liverpool artist? And why?
JD: I know there's much more to Liverpool's music history than The Beatles but… She's Leaving Home
off Sgt. Pepper's springs to mind.
It's such a unique song with its timeless George Martin string arrangement; Macca singing as narrator and John Lennon playing the scorned parents in the backing vocals.
It sounded like it could have been in a Sondheim musical, which was pioneering for a rock n' roll
band back then.
The narrative captures a changing time when the youth were finding their own voice and breaking from the shackles of post-war life in Britain. It belongs in a time capsule for the sixties.
Getintothis: Who was the last act you paid to see and what did you think of them?
JD: LCD Soundsystem – fucking amazing band. They transcend rock n roll and dance music and deliver
every time.
Getintothis: Divulge your most diva-ish moment on tour.
JD: We always request a Potato Gun on our rider and a large King Edward's potato. Other than that
we're pretty low maintenance!
Getintothis: Why should we come to your gig and what's in your encore?
JD: Because we're a great band, our new album SAILS is ace and you never know, it might be the last
time you can see us play. People get hit by buses all the time.
Getintothis: Finally, what's your hot tip for a new album?
JD: Keep an eye on our label mate Elle Mary & The Bad Men. Her upcoming album Constant Unfailing
Night is coming out on Sideways Saloon. Her new song Behave is a brilliant break up tune!
The Travelling Band's tour dates are as follows:
November 1: Prince Albert, Brighton
November 2: Thekla, Bristol
November 3: Forg & Fiddle, Cheltenham
November 4: Shipping Forecast, Liverpool
November 10: Cluny, Newcastle
November 11: The Hug & Pint, Glasgow
November 12: The Mash House, Edinburgh
November 16: Soundhouse, Leicester
November 17: Band on the Wall, Manchester
November 18: Blue Sky Cafe, Bangor
November 21: Borderline, London
November 23: Hare & Hounds, Birmingham
November 25: High & Lonesome Festival, Leeds
November 26: Bodega, Nottingham
Comments
comments