As the first volume of Kenneth Womack's new George Martin biography Maximum Volume is released and launched with a Q&A event in Waterstones, Getintothis' Paul Fitzgerald eagerly awaits the postie with his copy, to bring us a review.
One of the many things The Beatles could never agree on was the concept of 'the fifth Beatle'.
George Harrison said there were two – Neil Aspinall and Derek Taylor. Lennon said there were only four Beatles, and disparaged the idea of anyone even laying claim to the title. McCartney has given the title to both Epstein and latterly, George Martin. Nobody asked Ringo. Away from The Beatles, everyone from Jimmy Tarbuck to Little Richard has tried to lay claim this particular crown.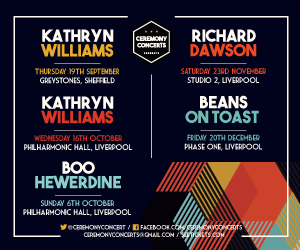 In terms of creative input, in terms of the band's sound and even in terms of playing on the records, the title of 'fifth Beatle' must surely belong to George Martin. And now, a new book tells the producer's fascinating tale.
Here is the story of the man who almost accidentally crossed paths with a scruffy, gobby beat group from Liverpool and became co-conspirator, guide and enabler of their incredible and innovative work.
George Martin was a true maverick, a sonic craftsman keen to create new rules by breaking the old ones, in the days when sound recording was seen more as a science than a creative process and studio staff routinely wore labcoats. Martin was both a genius scientist and a creative mind to match the ever expanding and chemically enhanced imaginations of his charges.
The Beatles – why the biggest band in history had to come from Liverpool
Titled Maximum Volume (something the band insisted on for playback, which would eventually lead to Martin losing hearing in both ears), the book is written by one of the foremost Beatles experts, Kenneth Womack. The first volume, released this month, charts Martin's story from his birth to 1966, taking in an impoverished childhood, WWII, and the momentous day he met The Beatles and embarked with them on this unique musical union.
After graduating from The Guildhall School of Music and Drama, he joined the BBC's classical music department before joining EMI, where he soon became head of Parlophone. As well as working on their many classical releases, he began producing comedy and novelty records with some success. On hearing a tape of the Beatles Decca sessions, he dismissed them as 'rather unpromising' and it wasn't until he met Brian Epstein that he signed the band, without actually meeting them or seeing them play, but inspired simply by their manager's enthusiasm.
Meticulously and passionately researched, Womack's book is the first full and authoritative account of Martin's influence not only on the band, but on popular culture and music history.
Kenneth Womack will be in conversation with Spencer Leigh at Waterstones L1 on Tuesday November 21. Tickets are available from the shop.
Comments
comments