As Slayer announce their final UK tour, Getintothis' Nedim Hassan reflects on their career and looks forward to what will be a defining moment for metal fans in 2018.
Horror film fans talk with fondness about their 'first scares' – the films that terrified them in their youth but still left them yearning for more. For a generation of metalheads that grew up in the '80s, Slayer were the sonic and visual equivalent of this.
Their brand of thrash metal, which reached its zenith with the unholy trinity of albums Reign in Blood, South of Heaven and Seasons in the Abyss, drew on occult themes that resonated with kids who had grown up during the horror boom of the 70s and 80s. But it was the quality of their music that left a lasting legacy and introduced many to the power of extreme metal.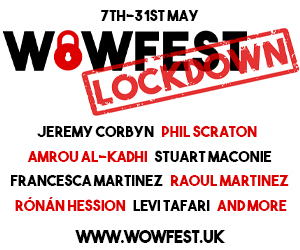 The perfect marriage of hardcore punk aggression and classic Judas Priest inspired dual guitar attack, Slayer created some of the most memorable riffs in metal history. Songs like Raining Blood, South of Heaven, Black Magic, Dead Skin Mask and Angel of Death, to name but a few, featured hooks that stuck in the listener's head in a way not seen since the heyday of Black Sabbath.
Given this context, the announcement of their imminent retirement and final tour will undoubtedly be met with sadness by many. But Slayer have certainly earned the right to a well-earned rest.
Nearly 40 years of touring and producing music that would be a fitting soundtrack to Armageddon takes its toll. The devastating loss of guitarist Jeff Hanneman in 2013, as well as the impact of vocalist Tom Araya's neck surgery (and his subsequent inability to head bang) may be underlying factors in their decision.
Whatever their reasons, what is clear is that their final UK tour will be a fitting way for these true legends to sign off. Supported by fellow 'big four' members Anthrax, alongside death metal veterans Obituary and groove metal titans Lamb of God, the forthcoming tour promises to be gargantuan. So, get those devil horns at the ready one more time and prepare to shout at the top of your lungs, 'Slayer! Slayer! Slayer!' We'll see you in the pit.
Slayer's final UK tour starts on November 1 with Manchester Arena on the 9th. Tickets go on sale on March 18.
Slayer play:
Nov 1: Dublin 3 Arena, Ireland
Nov 3: London SSE Arena
Nov 5: Cardiff Motorpoint Arena
Nov 7: Birmingham Arena
Nov 9: Manchester Arena
Nov 10: Newcastle Metro Radio Arena
Nov 12: Glasgow SSE Hydro
Comments
comments