Gruff Rhys was in fine form, taking us through his journey of Babelsberg, as Getintothis' Simon Kirk was there to watch it all unfold.
With International football breaking up a normal November weekend, it's fitting that we have Gruffudd Maredudd Bowen Rhys, more commonly to known us as Gruff Rhys, to fill the void.
Tonight is a sold out affair at the Arts Club as Liverpool welcomes arguably their favourite Welshman into the local pantheon.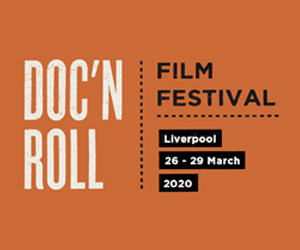 First though, we are greeted by Group Listening – a clarinet and piano duo who provide a soothing segue into the main event. Highlights include the field recording vibes of Jay and the closing Raymond Scott piece, The Happy Whistler.
Short and sweet, the crowd anticipates Rhys' arrival as the looping guitar of The Beatles' I Want You She's So Heavy trickles from the speakers for twenty minutes. It's typical Gruff, this. People wearing Super Furry Animals hats are dotted around the room as they are primed and at the ready.
Soon after, Rhys and his band enter the stage. Behatted and sporting an "I Love College Rock T-Shirt", Rhys holds aloft a series of cardboard signs displaying the words:
BABELSBERG
APPLAUSE
SIDE A.
"Welcome to Babelsberg. Population 503," he says.
This will be the common thread for the night as Rhys casually occupies his chair with acoustic armed, easing into Babelsberg's opener, the excellent Frontier Man. It sounds like we're about to be immersed in a Tindersticks record. Rhys' baritone delivery loosely resonant of a younger Stuart A. Staples.
While many yearn for a new Super Furry Animals album, sometimes it feels as if this reduces the expectations and excellence of Rhys' solo output. Because make no mistake, Babelsberg is in the upper-echelon department of grandeur.
Whilst musically, Babelsberg is a serene tour-de-force enveloped by grandiose strings (courtesy of the BBC National Orchestra of Wales) , Rhys' aggression is still paramount and very much aligned with current times. For starters, there's his two finger salute to gentrification, recording Babelsberg in a Bristol studio that was set to be bulldozed for regeneration.
The rich symphonic textures of Babelsberg in the comfort of one's home are replaced by stripped back interpretations of each song tonight. Rhys proceeds to play the album from front-to-back. Again, it's typical Gruff, this.
The pure pop nature of these songs means that nothing is lost. The Club, Limited Edition Heart and Take That Call. They are equally salient in the live milieu. The skeletal offerings of each song illuminates just how defining Rhys is as a lyricist. These are arguably the finest set of songs he's released in a solo capacity.
Drones in the City is an unsettling dirge that probably only Gruff Rhys would be capable of producing. Negative Vibes is met with ironic jeers, but it's every bit as infectious here as it is on record. C'mon, who gets away with the lyrics about tom cats running in the rain?
Selfies in the Sunset rounds off the first juncture of the show, and while on record it has that crossover quality of Baxter Dury waltzing along the French Riviera, live it's a raw representation of that despite its messaging hitting just as hard.
As Rhys demands the lighting to emulate an apocalyptic backdrop, a sea of yellows and oranges sprawl across the stage and out to the audience, as his unleashes this bare-fanged acerbic serenade that leaks with venom, essentially pulling the piss out of modern day standards, and – in particular – social media.
Babelsberg doesn't take its listeners through one trough and live it's even more revealing despite the lack of orchestral sonic bedding.
Following the Babelsberg material, Rhys slides into SFA mode, with Colonise the Moon. A ominous lament with left field avant-garde saxophone.
From here, it's a journey through Rhys' solo output. American Interior's overzealous title track. Then there's the epic Skylon, which underpins the backend of the set. Rhys amusingly reveals several sheets of A4 paper containing what we assume to be lyrics, as he litters them around the stage and proceeds to tell us about the song's protagonists – an actress, a pilot, and a bomb disposal expert who saves the plane from a terrorist attack.
APPLAUSE
LOUDER!
More material from Candylion follows – the title track and Cycle of Violence and from there, of course, we are greeted with more cardboard sign fanfare:
APE SHIT!
TAX THE RICH
WHOA!
DON'T FOLLOW SIGNS
After holding yet another cardboard sign noting to RESIST PHONY ENCORES, Gruff directs his band into the rocking Gyrru Gyrru Gyrru, which then bleeds into the closer, Hotel Shampoo's If We Were Words (We Would Rhyme).
Bravo Gruff Rhys there pic.twitter.com/pGawrGHLXf

— Alistair Houghton (@wimpyking) November 17, 2018
While the second half of the set almost takes us into Bruce Springsteen/Broken Social Scene territory where time is concerned, it's the new material that provides the beacon of light for this evening's rumblings.
It's a night packed with nonconformist folk-rock cascades enmeshed with a space cowboy verve. Rhys has always been immersed in shape-shifting and odd-ball world building and tonight is the perfect snapshot of his art. He is capable of writing the perfect pop record and seeing tracks from Babelsberg tonight, it's probably the closest we'll ever get to see him assimilate in the world of pop.
Gruff Rhys. Everyone's favourite artist. Gruff Rhys. Everyone's favourite artisan.
To quote the final sequence of cardboard signs which Rhys holds aloft before his exit from the stage:
THANK YOU!
DIOLCH!
THE END
Comments
comments