On a busy Liverpool Saturday night, Getintothis' Steven Doherty discovers whether the indie royalty was the right show to go to.
There is an embarrassment of riches in Liverpool tonight for the discerning gig-goer.
The Mysterines, Mick Head and even a full-blown Prince tribute band at the O2 Academy, but for people of a certain vintage, there's only one show in town.
Leeds' finest The Wedding Present finally play their Arts Club date, which has been rescheduled from May as it would have clashed with Liverpool's (thankfully ill-fated) Champions League final appearance.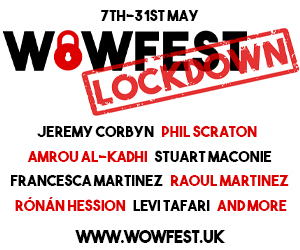 Tonight's gig is the final one of the year-long tour celebrating the 30th anniversary of the Tommy album, having played Liverpool last celebrating the same feat of their debut George Best, and with dates already pencilled in for next year being 30 years since their biggest selling album Bizarro, it could seem that the Weddoes are locked in some sort of nostalgia bubble.
However their last album Going, Going… was the most varied of their career and critically acclaimed, (although, strangely they don't play anything from it this evening) boding well for forthcoming new material.
Tonight is something of a misnomer in relation to normal album playback shows, as Tommy is not an album in the most organic sense of the word. It was released as one but was a collection of singles and B-sides, a stopgap after the success of 1987's George Best, therefore the setlist is scattered with the album tracks rather than as one chunk.
First up tonight are one of their regular supports, Betws-y-Coed's very own Melys. Formed back in 1996, they have been releasing albums regularly since then, John Peel was a massive fan with the band recording many sessions for his show.
They make a lovely racket, very reminiscent of early Catatonia, with a gorgeous lilting vocal.
Attracting a decent crowd, most of whom seem very familiar with the material already, the quality of the songs (sung in both Welsh and English) leave you wondering how they weren't (aren't?) bigger than they are. New material is promised for next year and they look genuinely thrilled to be up there.
Fresh from an appearance at a Q and A at nearby Fact, where The Wedding Present's new documentary Something Left Behind was shown, as well as manning his own merchandise stall, the forever youthful frontman David Gedge strides onto stage and rips into one of their finer early singles (although barely played live these days) Nobody's Twisting Your Arm.
The band seem to be an Fall-esque ever-changing line-up, with the exception from Gedge, though the current roll-call, including Charlie Layton (who is also now the drummer in indie fops Art Brut) are one of the best incarnations they have had in years.
Liverpool music gig guide: Eyesore and The Jinx, Cattle and Cane, The Christians and more
Apart from playing Tommy in full over the course of the 90 minutes, there are also some curios in the set, not just the singles. Octopussy, the closing track of 1991's bleak Seamonsters, being a glorious choice of a mid-set showstopper.
A more fan-friendly setlist than they have been guilty of in the past, the last half-hour sees them rattle off the big guns. We get Brassneck, My Favourite Dress and Dalliance, songs that if say, Thom Yorke or some such had written them, would have been lauded on 'Greatest 50 songs ever' lists. For whatever reason, they have never been truly appreciated despite their wealth and depth of quality.
They end with 1992's No Christmas and then are gone (they were one of the first bands to enforce their very own no encore rule).
Gedge's introduction tonight was "Good evening, we are the semi-legendary Wedding Present".  He is semi-correct. Legendary.
Comments
comments