A bumper crop of singles this week, Getintothis' Steven Doherty sorts the pop wheat from the rock chaff.
Fat White Family – Feet (Single Of The Week)
This is some comeback single. Following the announcement of Serfs Up!, their third album and their first for new label Domino, comes Feet.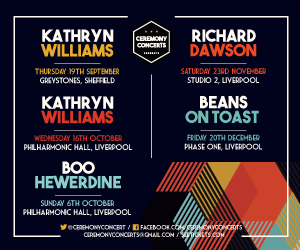 Quite the downplayed (for them) almost sultry vocal (the verses remind one, of all things, The Fly by U2, but in a good way) over an arena full of strings, this is the sound of everything being thrown at a tune.
"Feet… don't fail me now" may not sound like the most interesting of refrains, but in this atmosphere, it sounds harrowing.
FWF sound like their lives are depending on it, and this focus really does suit them and bodes well for their forthcoming long player.
Long written off as one of those bands not to take too seriously, this is set to change a few minds as well as blow them.
Blood Red Shoes – Eye To Eye
Another comeback single built on a house of strings, with less success.
This time though, "we don't see, we don't see, we don't see eye to eye", unfortunately however is as bland a chorus as it sounds.
Blood Red Shoes have seemingly been forever just on the edges, and this song perfectly illustrates why.
It just has an air of indifference about it, they could be singing about going shopping or world peace, they don't sound like they have the belief or inclination in the song, so why should we?
Lost Under Heaven – Come
A lack of belief is not something that could be directed at this.
Former Wu Lyf (remember them, weren't they going to be massive?) frontman Ellery Roberts's new project sound positively apocalyptic.
They mean it man. Gothic electro pop, bombastic emotional wailing harmonies, thrashing guitars, it's all here, complete with a VR video. Probably not the stand out track from the new album, but a fair indicator of what to expect.
Homeshake – Just Like My
One man band, Canadian artiste Pete Sagar AKA Homeshake previews his fourth album Helium with this slice of wonky electric R and B.
Lo-fi feel with airy vocals, seemingly deliberately under-produced, but like a few of the tunes reviewed this week, it's likeable enough, it rolls along adequately without hitting any major highs.
More of a standard album track than a grab your attention single.
UNKLE – The Other Side
Another comeback of sorts, UNKLE enlist the vocal talents of Editors' Tom Smith and this proves to be an unlikely but shrewd move. (Unlikely, due to Editors perceived lack of cool.)
One of their more commercial efforts, Smith's dark vocals are perfect for this brooding, almost pop song, so much so that it could quite easily be an Editors single.
A huge chorus, Smith declares himself to be "a ghost from the other side", and then the strings (this month's common theme) kick in.
An unexpected pleasure.
Ex Hex – Cosmic Cave
This starts off like they're a band on a mission, understandable since it's five years since their last album. Blondie-esque vocals, ringing guitars (rather like what Shonen Knife would sound like if they were from Washington D.C rather than Japan).
There's a classic post-punk chorus, all the ingredients are there…and then it somewhat loses its way, fizzling out to next to nothing.
Still enough going on in the first couple of minutes to make it a catchy racket.
Kyary Pamyu Pamyu – Oto No Kuni
Now we're talking.
This would have been single of the week in most other weeks, this from Tokyo's finest, the J-pop behemoth that is Kyary Pamyu Pamyu.
Fresh from her show-stopping performance at last year's Great Escape festival in Brighton, this single is from her latest record Japamyu, (an amalgam of her country and her name, of course), and is the sugary equivalent of Lady Gaga covering Barbie Girl in Japanese whilst eating Skittles out of a strawberry milk-shake.
Sweet.
Gum Takes Tooth – Fights Physiology
Full of haphazard electro-noise beats, disembodied vocals, psych-rock and dance elements, this unholy mess is a pounding demolition of the senses.
Taken from their eagerly awaited second album, Gum Takes Tooth are now all electric, even the drums are synthetic.
Not sure they are going to need the radio edit of this, can't see it being on many a playlist, as it would scare far too much of the unsuspecting public.
Ibibio Sound Machine – Tell Me (Doko Mien)
Originally slated to play last year's Sound City, but sadly had to pull out, Ibibio Sound Machine perfectly splice two cultures on this.
Vocals are split between English and Ibibio (the Nigerian language that gave them their name), and all the better for it.
A massive 'London wine bar in the late 80's' vibe is at work here, and is all the better for it. With an insanely catchy chorus, a massive voice, perfectly placed brass, it's a surprising corker of a single.
Bobhowla – Sail Down The Water/Music Keeps Calling
After a decade seemingly in the artistic wilderness, Southport songsmith Bobhowla (aka Howard Doupe) is back with his first release since his last album, It's All In The Letter That Broke You Down. Recorded and produced by Rod Jones of Idlewild and featuring both Jones and Mikey Reid (Man of Moon), this marks a very strong return for Bobhowla.
Sail Down The Water is a beautifully produced number that is arguably Bobhowla's most personal song to date. There are flourishes reminiscent of Idlewild's sprawling reverb which provide a lush backdrop for Doupe's melodic harmonies during the track's four and a half minutes.
A strong return.
Panda Bear – Token
Founder member of Animal Collective, Panda Bear (Noah Lennox) releases this single this month as a pre-cursor to his latest long-player, the fifth under this moniker.
This lead single doesn't give much away about the album to follow, it's core tune becoming slightly catchy (but only on the fourth or fifth time, anything before that, it's really annoying, as is the line "a slap on a jelly ass").
Sounds like the sort of thing Vampire Weekend would throw away as a B-side.
Don Brownrigg – Bad Timing
Didn't know much about Don before hearing this, he has a very Matt Berry-esque look in the video, always a big tick.
Catchy pop/rock from the man, it turns out, is also from Canada, would not sound out of place on 6 Music or the like.
Excellent use of handclaps (an underused commodity these days), chorus stays in the head long after the song. This is from his third album, seems he is very much Canada based but one to watch. Lovely stuff.
The Twilight Sad – Vtr
On first play, there didn't seem too much of interest in this, but subsequent listens have established it firmly in the "banger" camp.
A yearning vocal over swirling guitars and electronica, like a modern Talk Talk, it doesn't fall into the trap of trying to sound retro.
The Twilight Sad have (and will do again in the future) supported The Cure and it's easy to see why, it has that certain kind of feel without giving away it's influences too much.
Light Conductor – A Bright Resemblance
A brand new project featuring members of both Young Galaxy and The Besnard Lakes, Light Conductor announce their arrival with this eight-minute edited single version of what weighs in at eleven minutes plus on their five-track debut Sequence One.
Hard to judge as a separate entity outside of it's album home as it's such an earthly unwieldy piece of music (it seems almost trite to call it in single) and as a moody ambient opening statement, it really sets the tone for their future.
Beautiful drifting soundscapes very much the order of the day here.
Liverpool City Music Board launch at BME – review and reflection
Cinematic Orchestra – A Caged Bird/Imitations Of Life
Another long one, weighing it at just under seven minutes long, this was apparently unveiled on a website which was only available offline, "a paradox illuminating the album's core question of what to believe". Quite.
The single itself features a quite restrained Roots Manuva, jazzily lamenting over a furious beat for the majority of the song, until a couple of minutes from the end, you guessed it, the orchestra turn up and it's string time again.
Then Roots is back at the end with some atmospheric growling. Epic.
Comments
comments