On a mission to not become a nostalgia piece, Art Brut are out to destroy. Getintothis' Steven Doherty surveys the wreckage.
A lot has changed in the world in the seven years since Art Brut last graced a stage in Liverpool.
We've got Trump and Brexit, we've lost Prince and gained Ed Sheeran, it's enough to make you despair.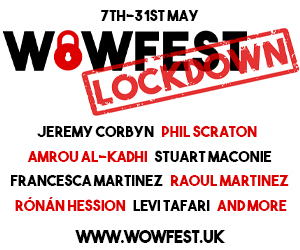 The reassuring thing is thing is that Eddie Argos and the gang have not changed one bit. There are those that are always calling for bands to change and grow, subject matters to become more adult, mature and serious. Even though Art Brut have experienced their fare share of line up changes, the constant thread is a great indie pop song about love, or lost love is a great indie pop song forever.
There's a state of wonderment in the air tonight straight from the off. The people are expecting a classic night. Lord knows they get one.
First cab off the block are Three From Above. Spoke about in glowing terms a matter of a fortnight ago in this same venue, they are even more impressive tonight.
This is the start of a deserved run of quite high profile support/festival slots and they look more than ready to step up.
The confidence is coursing through their very veins, showy yet tuneful, their punkish nature never failing to impress.
Art Brut Interview: Eddie Argos on Gangs, Germany and Top Of The Pops.
Their front two have a look of Wyld Stallyns about them (Google that reference), a confidence befitting the mystical next level that they are bound for.
They end on an emotional note, a song about mental health that is evidently close to their hearts, a passion so often not found in others. They are the new pretenders in town.
Is there anything better than watching a band, in the space of a set, go from someone you are quite unfamiliar with to one of your new favourite bands?
No, there is not, and Salt The Snail sure as hell meet that brief tonight. The absolute and utter joy of watching them is what live music should be about.
"We are Salt The Snail and we have absolutely nothing to say."  What an opening.
At various intervals, the singer has an audience member straddled across his shoulders, the band throw various objects into the crowd with song titles on to decide what they play next, and to close, the aforementioned singer performs up a ladder (stolen from the side of the stage).
This could all be dismissed as zany nonsense if the music didn't stand up to such scrutiny, but they really have got the tunes to go with the mayhem.
Ideas Man, Mate and the closer Laser Quest all shine like undiscovered diamonds, and the sentence "we have no merch, but we are selling this copy of Boyz In The Hood on DVD for 50p" makes Getintothis' laugh like a drain.
More bands like this please.
And so, to Art Brut.
Here tonight in support of latest album Wham Bang Pow, Let's Rock Out, they storm onstage and kick straight into their debut single Formed A Band.
That single's B-Side (remember them?)  My Little Brother follows, including a tirade in which Argos proceeds to give a rightful slating to the Tories and Sleaford Mods.
Art Brut are such a powerful machine tonight. Enhanced by the most recent line-up changes, their monstrous live sound is largely down to two of the members also playing in two of the other finest, noisiest bands this country has to offer (Ian the guitarist in Future of The Left, Charlie the drummer in The Wedding Present).
…and that was tonight. @SalttheSnailUK pic.twitter.com/a5FqZChgKj

— Lucy McLachlan (@LucyMcLachlan_) February 19, 2019
They turn early single Modern Art (which, although not on the set-list, they play because "3 people have asked for it", into a musical monologue which involves the whole crowd crouching for a good few minutes before leaping up with Argos, who is by now amongst them.
With such an extensive back catalogue, there are always gonna be grumbles over the set-list (no Axl Rose, no Pump Up The Volume or Direct Hit!), but the healthy Tuesday night audience are in forgiving mood, calling out requests (to which the band do comply), These Animal Menswear and Emily Kane being the loudest shouts.
They finish up with, in their words, "a fake encore" of Bad Weekend and Post Soothing Out, and a sweaty, shouty crowd (and indeed, band) rest easy.
A word on Eddie Argos. He never stops trying to please, an absolute joy and a lesson to all upcomers eager to be loved. A consummate frontman, he is indie's Hugh Jackman.
It best not be another 7 years until we see them again.
As the chant from the crowd goes.
"Art Brut, Top Of The Pops".
Images by Getintothis' Lucy McLachlan
Comments
comments