Bilge Pump headlined an eclectic line up at Drop The Dumbulls and Getintothis' Peter Goodbody was there to see the Leeds noise heads tear the place apart.
Leeds three piece Bilge Pump have been around for a while, but they have new music to promote in the form of new long player, We Love You.
Drop The Dumbulls is the perfect setting for this kind of DIY anarcho noise fest. Run by volunteers and with an entry fee of less than the price of a pint in a city centre boozer, these are the sorts of gigs we here at Getintothis champion, because we never quite know what's going to happen.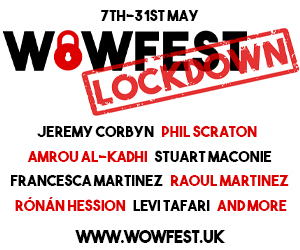 But that's half the fun. Let's go and find some new music, Bilge Pump included, for they have not crossed our radar before although we have heard good things about them.
Chiz Turnross kicks off proceedings having set up his keyboards and other bits of tech in the middle of the Dumbulls' floor. He twists and turns things to create a kind of mutant dance track that brings in the smokers and stragglers from outside.
It's effective, experimental, lo-fi disco for nerds, of which we seem to have a few in tonight. Certainly they appreciate the groove, albeit it isn't quite of the shape throwing variety.
After 20 minutes Chiz sets a loop going and just walks away from his kit. "Is that it?" asks one of the audience. "Yup" says Chiz, "leave them wanting more". We'd have been quite happy to have had more, but there's still quite a bit of the bill to get through yet.
Vice Moth duo use the same arrangement as Chiz, with their set up on the floor, rather than the stage. More electronic noodling (their words, not ours) from keyboards and a Mac running drum machine software.
The pair have other projects too, one being in Germanager and the other in Stealing Sheep; it kind of showed as well. Space rhythms and extra-terrestrial bleeps and drones took us into a Sci-Fi aural landscape where everything seemed to be rushing past as we stand still.
For a side project, this was flawlessly executed and showed real class.
Both Chiz and now Vice Moth are making the point that neither Kraftwerk nor Cream (nor anyone else for that matter) has a monopoly on electronic dance music. Both are making the sort of noises (literally) that we would rate as being reminiscent of the William Basinski gig we saw in the Kazimier a while back and it's good to see these artists pushing boundaries and doing something different.
Confessional Festival returns with Hey Charlie, The Blinders, Red Rum Club and all female opening night
In complete contrast to what has come before, Bilge Pump arrive on stage and blast out pure punk grunge riffage. Experimental this is not. Nor is it electronica, save in the loosest sense they use electric guitars. This is the product of a mash up between, say, The Fall and The Birthday Party.
It's full on screech and turbo charged aggression. It's not pretty, but it's brilliant and right up our street.
This feels a bit of a guilty pleasure. It's rock at it's absolute raw edge, pummelled out with ferocity and determination as if the band is trying to get everyone in the room to surrender their senses.
"Are you enjoying the band?" they ask. "Would you like another song?" "Yay". "OK, let's play a belter" before they set off in attack mode for another assault. We have to confess to not knowing which song it was, but "belter" would seem to be a fair description.
"You make it look easy" calls out one wag between songs. "It is" comes the retort. "We're just pissing about". From where we're standing, they're doing anything but that. It's a special sort of skill to strip everything back so far that there's no more than needed on show.
Bilge Pump have managed that. They are a very long way away from just pissing about. Not that it's done without humour, but it's done properly and with respect.
We've never seen Bilge Pump before, even though, as said above, they've been around a while. But we're totally sold. Guilty pleasures are the best sort.
So is discovering something new (to us) which is utterly brilliant.
Kudos to the folks at Dumbulls for this most leftfield of gigs. This is the kind of stuff that keeps us interested and always seeking more and different experiences. And that is definitely what we got tonight.
Images by Getintothis' Peter Goodbody
Comments
comments