As Joan Wasser releases a collection of old and new work, Getintothis' Cath Holland has the details plus tour info
Joan As Policewoman releases Joanthology, her first ever career retrospective, on May 24 via Play It Again Sam.
The deluxe triple CD set includes Live At The BBC, songs recorded in session for BBC 6Music. There will also be a limited edition sky blue vinyl release of Live At The BBC and digital editions.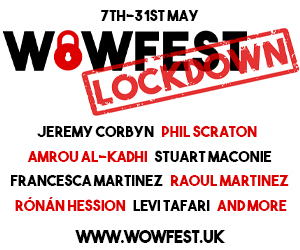 Joantholgoy spans the first fifteen years of Joan's career and includes new, rare and unreleased material.
It features two new recordings, the self-penned What A World and a cover of Prince's Kiss, a recent live favourite.
Of What A World, Joan said
"I was at the ocean in a tiny house by myself when I wrote this song. I took long walks on the beach singing into the sound of the crashing waves; the surf so big it completely enveloped my voice. 
The feelings there were overwhelming and multi-faceted. At the time of writing, I couldn't get over that the pain, which felt like it would tear me apart, was part of a larger feeling that made staying alive in this world so inexplicably joyful. The lyrics were difficult to write and raw in a way that made me shiver.
When I finished the song, I played it live just a few times at shows, then I put it away. 
Over the years, I continued to get asked about 'What A World', so I rewrote and recorded it this year. 
I combined the initial wild spark with the clarity of years of waves crashing on the shore. Pain and joy. Longing and equanimity. Infinite questions surrounded by endless movement. I'm looking forward to finally sharing it with the world."
Joanthology tour dates – performing solo, no support 2019 

21June – Brighton, St Georges 
23 June – Leamington Spa, Assembly 
24 June – London Earth 
26 June – Folkestone, Quarterhouse 
29 June – Cardiff, The Gate Arts Centre
30 June – St Ives, Guildhall
1 July – Exeter, Phoenix Arts Centre
2 July – Bristol, St Georges 
3 July – Liverpool, Epstein Theatre
5 July – Hebden Bridge, Trades Club
6 July – Gateshead, The Sage 
7 July – Edinburgh, Pleasance Theatre 
9 July – Glasgow, St. Luke's 
10 July – Leeds, College of Music
11 July – Manchester, RNCM Concert Hall 
13 July – Dublin Liberty Hall Theatre 
14 July – Letterkenny An Grainan 
Comments
comments