Log lunatics Snapped Ankles are set to wreak more havoc on Liverpool, Getintothis' Peter Guy looks forward to more natural aural destruction.

Snapped Ankles are set to return to Liverpool as part of a huge UK and European tour.
The band, who combine Dystopian rhythms with woodland log-synth propulsion, are to play The Invisible Wind Factory's Substation on Friday October 25.
From humble forest beginnings via bohemian East London on debut album Come Play The Trees, Snapped Ankles are moving on with their log synths transformed into gaudy bangers. They have been described as a more bucolic version of Can or 'a forested Fall'.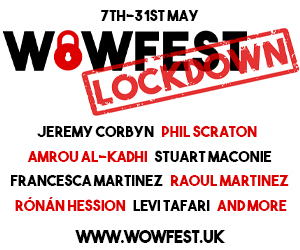 If you were wondering about the reasons behind their last album's title, Come Play The Trees: it's because they actually do play trees. Branches are mounted on mike stands and attached to synthesisers and are responsible for a lot of the ambient sounds that add greatly to their beats and rhythms.
The band made two impressive Merseyside showings recently, with a day blitzkrieg at the 6 Music Festival with an earlier sell out performance for the debut outing at the new Kazimier Garden based venue, Stockroom.
Their latest album, Stunning Luxury, is an album that looks at themes of gentrification and the closure of cultural spaces. Their message is simple but it's often fragmented: Keep dancing, keep foraging.
Listen to Stunning Luxury in full below.
Snapped Ankles tour dates:
Sat 4 May Portsmouth Psych Fest Portsmouth, UK
Fri 10 May The Great Escape Brighton, UK
Sat 11 May It Takes A Village Cork, IE
Fri 17 May Focus Wales Wrexham, UK
Sat 18 May The Cookie Leicester, UK (Sold Out)
Sun 19 May The Hare & Hounds (w/Beak) Birmingham, UK (Sold Out)
Mon 20 May SWX (w/Beak) Bristol, UK
Tue 21 May Concorde 2 (w/Beak) Brighton, UK
Sat 25 May RUSH festival Rouen, FR
Wed 5 June Sonic Lyon, FR
Thu 6 June Les Trinitaires Metz, FR
Fri 7 June La Bobine Grenoble, FR
Sat 8 June Festival Yeah Lourmarin, FR
Fri 21 June Beursschouwburg Brussels, BE
Sat 22 June Le Vecteur Charleroi, BE
Fri 12 July Pohoda Festival Trenčín, SK
Sat 27 July ILMIÖ Festival Rykmentintie, FI
Sat 24 August Fuzz Club Eindhoven, NL
Fri 13 September The Good Life Experience Hawarden, UK
Tue 8 October The Haunt Brighton, UK
Wed 9 October The Hare & Hounds Brimingham, UK
Thu 10 October Picture House Social Sheffield, UK
Fri 11 October The Crescent York, UK
Sat 12 October The Trades Club Hebden Bridge, UK
Tue 15 October Norwich Arts Centre Norwich, UK
Wed 16 October The Portland Arms Cambridge, UK
Thu 17 October Metronome Nottingham, UK
Fri 18 October The Boileroom Guildford
Fri 25 October Substation, The Invisible Wind Factory Liverpool, UK
Tue 29 October Village Underground London, UK
Comments
comments