London's Swimming Tapes bring their idea of dreamy guitar pop to a very busy Liverpool city centre Saturday evening, Getintothis' Steven Doherty is there to enjoy.
Usually wild horses (pardon the pun) couldn't drag us into town on the night of the Grand National, the Venn diagram of people who go to the races once a year and people who cannot hold their alcohol sensibly must be almost 100%.
However, the promise of what's on offer at Sound tonight is enough to lure Getintothis, as well as an (eventually healthy) crowd.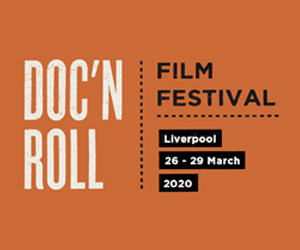 We say eventually, as on arrival, numbers are scant. This, we are informed is largely due to other happenings in the city this evening, gee-gees and Zutons, that kinda thing.
Unusually for Sound, there is a bistro style set up with tables and chairs at the front of stage, making the already cosy venue feel even cosier.
And here they stay for the duration of Dan Disgrace's set. Fittingly in this case, as this is quite the laid-back feel.
A late addition to the line-up, adding some local flavour to proceedings, this is a combo that thinks it's a little more clever than it actually is. A bit too polished, there's a few moments where they could let rip, but seemingly would rather keep up a detached persona, leaving Twisted Sister as the most energetic moment of their, some would say, too laid-back output.
This also highlights one of Getintothis' current pet hates, singers who use their name as the band name, as if the other members are totally expendable. Just a small thing, but an annoyance nonetheless.
"This is our first time in Liverpool, it's great, we saw a sunset over the docks."
So say Breathe Panel, who are signed to Brighton (their hometown) label Fat Cat Records, who released their debut album to much acclaim last year.
They are a 4-piece whose first couple of songs lead you down a straightforward jangly Teenage Fanclub-esque path, a bit lo-fi, but nothing too heavy.
As the set goes on, however, their raw energy kicks in and the songs move up a level, the thrashy element being so unexpected as to make it genuinely exciting.
In these moments, Doves or (whisper it) Parachutes-era Coldplay seem the influences, and as they progress the heads get bobbing down the front.
Good things come to those who keep it simple. A mantra that also applies to tonight's headliners.
Partway through a 9-date UK tour to promote their forthcoming (out at the end of May) debut album Morningside, Swimming Tapes are faced with the biggest crowd of the night, far outweighing the expectations we were warned about at the beginning of the evening.
Mirador and new single Passing Ships are treated as future classics, built around almost Marr-ish jangly riffs, reminiscent of The Byrds or Beach Boys.
"This is our tribute to Liverpool". Words that would usually send a shiver down the back.
Please God, not a Beatles cover.
We escape intact (just) instead, with a perfectly passable cover of There She Goes.
Swimming Tapes have to endure/enjoy the utterings of one overly enthusiastic audience member who, after every forthcoming album track, calls for them to play recent single Pyrenees, which, when eventually unleashed, gets the danciest reception of the night.
They end with Alison, which recalls 2000's fellow jangle-merchants The Thrills, and then they're gone, leaving the crowd to count the weeks until their debut's release.
An apt time for it to come out, as they could and should be the sound of the summer.
Images by Getintothis' James Baker
Comments
comments