On August Bank Holiday, Reading and Leeds provides for many the final chance to get down and dirty at one of the biggies, Getintothis' Megan Walder provides some top picks.
I still remember the feeling when I sold my Leeds Festival 2016 tickets.
With them I sold my dream to see The Vaccines, Eagles of Death Metal, The Neighbourhood, Two Door Cinema Club, Dinosaur Pile Up, Blaenavon, Anteros, Clean Cut Kid…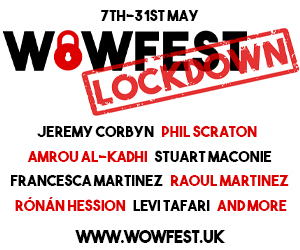 I'm going to have to stop listing them, or I'll cry soon.
I was a stupid 17-year-old. Since then, money has always gotten in the way, student life and full-time work over the summer has meant for no time, no money and/or no social life.
But this year is the first that I, someone who is actually from Leeds, is going to Leeds Festival.
This year's line-up underwhelmed me and many others upon first glance, I won't lie, but upon closer inspection, there's some acts that are absolutely golden.
Here are nine.
Black Honey – Festival Republic Stage (Saturday)
Boundary-pushing rebels against pop music norms, Black Honey are on the rise.
Fronted by the eye catching Izzy B Phillips, they made many a 2018 ones to watch list and the four-piece were described by one publication as: "the aural equivalent of a lurid California road trip".
If that doesn't make you want to go and check them out, well I don't know what will.
Anteros – Festival Republic Stage (Friday)
Festival favourites of mine since I caught them at TRNMST 2018. I recall searching for Anteros' albums straight away, presuming they were an established band that were ill placed on the line up due to the quality of their performance, but I found none.
Their debut album When We Land was only released in March of this year. Laura Hayden's vocals are the star of the show, there's no denying this.
Prepare to feel a lot of emotions and try and not drunk cry.
Frank Carter and the Rattlesnakes – Main Stage (Friday)
A flag waving believer of non-sexist music experiences, Carter is someone that our bigger stars need to look at.
He uses his position and following to promote respect and inclusivity and what more could any music fan wish for but to enjoy the acts you want to see, knowing that their message is
one that offers protection from misogynistic morons.
Get ready to sweat, mosh and damage your vocal chords, whilst surrounded by people who support someone who uses his talent for good, a musical superhero is you will.
NSG – BBCR1Xtra (Friday)
A six-piece collective that has harnessed an afro sound laced with dancehall beats, NSG blew up recently with recent track Options ft. Tion Wayne.
Their Ghanaian and Nigerian heritage flows through their music and has grabbed the attention of UK fans.
They bring something to the table that is often overlooked by western audiences and in today's twisted society, I'm glad music is able to create unity and connections between different cultural backgrounds.
These guys have a lot of confidence in how impressed people will be with their live shows, I only hope that they live up to the standards they've set.
Bloxx – BBCR1 (Saturday)
Indie bop pop, perfect for a lull and an avoidance mental mosh pits; stand at the back, soak it in and nurse your pint to Bloxx.
These can be the soundtrack of your mid-weekend dip, don't worry, you'll be out of it after hearing lead singer Ophelia's vocals in person.
Hockey Dad – Festival Republic Stage (Saturday)
The Australian twang, the unbelievable tones of positivity that ooze through songs like Sweet Release and the sun we're all praying for will transport you to a better place, basically just not a muddy field in Leeds.
This band isn't the easiest to come by in the UK, so grab your chance to see them now with both hands and dance like a lunatic to music that doesn't necessarily lend itself to any kind of traditional movements.
PUP – The Lock Up (Saturday)
These have only been recently introduced to me and I'm obsessed with them. Once again, these guys are a fine example of the international unity that comes with music events.
Hailing from Canada, their indie rock makes me think of their neighbours Blink 182 and The Front Bottoms, both firm favourites of mine.
Boston Manor – BBCR1 (Sunday)
Supporting acts like Movements, A Day to Remember and Good Charlotte, this band are bound to bring it.
Little is recorded about their live performances which makes these guys feel like a bit of a gamble, but with backing from such amazing acts, I think the odds may be in my favour if I catch these.
I'm just hoping they play Bad Machines because I have had it on repeat since it came out last September.
Queen Zee – The Pit (Sunday)
Liverpool's very own Queen Zee are an experience you don't want to miss. A gender-bending explosion of powerful anger at the world around them.
Just back from playing Download, they're perfect for The Pit.
Prepare to leave bruised, muddy and smiling like a Cheshire cat because this will be something you won't forget in a hurry.
Comments
comments