A new jazz supergroup has emerged in LIverpool and Getintothis' Jelly Roll Parker chats to the guilty parties.
Martin Smith + Blind Monk Trio = Blind Monk Theory
But what's the theory?  Cranial freak-out gothic jazz has just taken a quantum leap.
Their common Caledonia base camp has brought together the exceptionally-nutty-tunesmith-catalytic-complicator Martin Smith (trumpet and marching horn) and the archetypal 21st century jazz-monks: Bob Whittaker (Sax), Johnny Hunter (drums) and Hugo Harrison (upright bass).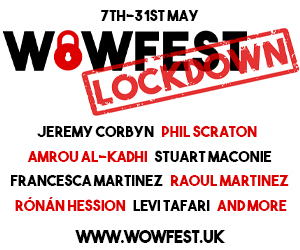 Both Martin Smith and Bob Whittaker have been championing Liverpool's Jazz sound throughout the UK over the past few years; Smith's band The Weave headlined London Jazz Festival, played Birmingham Symphony Hall, topped the Ronnie Scott's jazz chart and received a 5 star album review in the BBC music mag.
Whittaker's Blind Monk Trio gained national recognition playing Gateshead International Jazz Festival, Birmingham Jazz Festival and supporting New York sax giant Seamus Blake's UK tour.
Add to the mix, in-demand, upright bassist Hugo Harrison. He has played Glastonbury, Latitude, T in the Park, with Edgar Jones and supported Bill Wyman, The Coral and The Zutons.
On drums, the frantic precision of Johnny Hunter. Hailed by The Guardian's John Fordham and Jazzwise magazine as "one to watch", Hunter has carved up a massive reputation as one of the leading drummers in the UK over the past five years with rave reviews of his own albums and featuring at Ronnie Scott's and The Vortex.
Their debut at The Caledonia, Catherine Street, Liverpool on Friday, June 7 revealed at least a full album's worth of new material already.
After an impressive first set, the Blind MonkTheorists explained what's going on, or not, in their heads!
Jazz intensity hots up in Liverpool as Greg Abate, Eirik Svela and Parrjazz at Jac Phase One get ready to roll
What the band says:
It's a rainy Friday night in a pub, and it's rammed. They've done well to assemble a pub full of people.
Johnny Hunter: "There is no theory, that's the theory, or is it? Bob is enigmatic, there's an energy that flows. I try to attain a monk-like state, not trying to judge what I am doing."
Bob Whittaker: "The theory is like what we did in the Blind Monk Trio. Thelonius Monk, but without piano.
Some people think Blind refers to not having a piano, like blind Scouse doesn't contain meat. But that's not the case.
I got the idea from the blind Shaolin monk 1970s TV show Kung Fu, starring David Carradine (Bill in Kill Bill).
I'm a fan of Bruce Lee, the martial arts genius in Enter the Dragon. He moves in a different time frame – faster than the camera's shutter; creating diversions, feints, misdirecting and confusing.
We aren't aggressive though, but aspire to be thoughtful, with gentleness and joy."
Supergroup?
"I'm not sure about the term 'Supergroup'. It's been used to describe us, but we don't think it fits. Jazz musicians are generally self-depreciating (sic) and we just see ourselves as musicians.
"Thelonious Monk created dark nursery rhymes, twisted, off-centre. That's where we want to be. We began this with Coltrane as a starting point 10 years ago in our other band, Marley Chingus. The Caledonia is our home, as it is with Martin Smith.
It's a nutty jazz place. Martin sat in a few times and it sounded so good we wanted to make it permanent. He's been a prominent force for over 30 years on the Liverpool Jazz scene, it was time to combine our energies."
Martin Smith: "Having 'Theory' in the name was Bob's idea. It's about augmentation, adding to the foundations and taking it somewhere else.
The foundation in this case is the Thelonious Monk Real Book and a few new originals we have written.
It works in this wonderful pub. The audience appreciates the energy, honesty and balls-to-the-wall playing. It's not pretentious, but it is challenging.
We work with a rich palette and trust the audience – Fridays are a special night in this venue. At times you get the feeling that the audience and the soloist are one and the same; one throbbing organism.
"Bits of my other work from the Wizards of Twiddly and Weave squirt into the mix.
This is music that started on a piano but now bass, sax and trumpet working together or against each other offer far more freedom in the chords.
Like Monk we are trying to find the notes in between. It's all about moments…. and they are happening!"
Liverpool's new jazz progression – a scene fuelled by innovation and social commentary
Hugo Harrison: "The theory is, Martin is the glue…… like No More Nails.
The surface preparation starts with a layer of Monk tunes, primed with some Ornette Coleman.
Martin has neatened everything up, Bob and Martin have to play in unison. More rooted down in the heads, then it takes off in the solos.
We regularly ask ourselves, 'Why does it work in Liverpool?' We just don't know, it's a great mystery, you just don't get this in other cities.
The Caledonia has been the test bed for the Blind Monk Trio over the past few years, and it's pivotal in the grass-roots Liverpool music scene.
Liverpool is a curious place. The audience might not have planned to be here, but they've got ears! They listen, they appreciate, they applaud solos, they get it."
Blind Monk Theory make you think, they make you reflect and they take you on a journey.
Theory or not, this band are taking giant steps so you better start running to catch them.
Comments
comments