The heat is rising during a packed summer of live metal and new music as Getintothis' Nedim Hassan reports.
Over the last year, this column's mantra has been a simple one – support your scene.
On a basic level that means keep the metal music flame burning bright by checking out new bands, going to gigs and supporting musicians who are keeping it heavy.
With the loss of 'metal friendly' venues such as The Lomax, Liverpool's metalheads, in particular, have had to fight for their right to party more than ever in recent years.
But fight they have and, on the evidence of the last few weeks, their scene is showing signs of rude health.
In this month's edition of Dysgeusia we pay special attention to grassroots Merseyside metal in an extended scene report.
The only place to start with this is last month's Bloodstock Metal 2 the Masses Merseyside regional final, held at EBGBS.
This year's final was as tense as any we have seen. The standard was ridiculously high and it was more difficult than ever to predict a winner.
Atanamir had the unenviable task of opening proceedings. Nonetheless, they quickly got out of the blocks and treated everyone to some ferociously meaty groove metal on tracks like Lightbringer.
Forlorn Hope's passion and sheer joy when playing their brand of history inspired classic power metal is infectious.
Vocalist Chris Simpson was in his element back in what he called his "favourite dungeon" as he implored the audience to raise their fists during crowd pleasers such as the glorious Rifles.
In contrast to the previous act, Marw eschewed crowd interaction as their mesmerizing set of bleak, intense black metal unfolded before an increasingly large audience.
Bathed in crimson light and dry ice, songs such as the stunning Propagation drew the listener into their stark soundscapes that are filled with equal amounts of poise and fury.
The final act to take to the EBGBs stage was classic melodic metal act, Midnight Prophecy.
Their New Wave of British Heavy Metal (NWOBHM) inspired sound was exemplified in songs like their epic set closer The Prophecy.
Blistering guest headline sets from previous Bloodstock Metal 2 the Masses winners Reaper and Deified then kept the party rolling along nicely while the judges from Bloodstock were deliberating.
Then, the moment finally came; band members, friends and family took final nervous sips of their favourite tipple and gathered around as Bloodstock's Simon Hall made the announcement.
He declared that because the competition had been so good, there would be not one, but two Merseyside acts going to Bloodstock Open Air this year.
The crowd erupted as it was announced that appearing as Simon's guests on the Bloodstock New Blood stage would be Midnight Prophecy.
Then, wild celebrations ensued as it was confirmed that Marw were the overall winners of the competition and would both appear on the New Blood stage and have the chance to play at Slovenia's Metaldays festival.
It was a testament to the depth of the Merseyside metal scene at present that the standards were so high and that any of the finalists would have undoubtedly graced the New Blood stage with distinction.
For Marw and Midnight Prophecy the road to Bloodstock 2019 has truly begun.
Aside from the climax of Metal 2 the Masses Merseyside, Liverpool-based headbangers can look forward to a host of tasty looking gigs in coming weeks.
First up, those lovely people at Deathwave Entertainment continue to spoil us with their live line-up for July.
By the time you read this column, Austro-Californian maniacs Arnocorps may well have laid waste to the Phase One stage on Wednesday July 17.
With their brand of action-adventure, Schwarzenegger inspired rock and a set that includes unique audience challenges (cue bodybuilding pose downs and onstage calisthenics); those lucky enough to have tickets will have witnessed something extra special.
Fresh from their appearance in the Merseyside Metal 2 the Masses finals, Forlorn Hope are set to unleash their debut album, Over the Hills, to the public later this month. To celebrate they are holding an album launch party at EBGBs on Saturday July 27.
As we learned during May's column, Over the Hills is rather splendid and the band will be playing every track from the album live during what is set to be a memorable one-off event.
Staying on the subject of launch parties for a moment, local riff-masters The Ominous are hosting a release event for their new single, Ragnarok, at the Jacaranda on Saturday July 20.
Each member of the audience will be entitled to a free physical copy of the single and will also get to see the excellent prog metal act White Mammoth for the measly ticket price of three quid.
Finally, early August will witness one of those occasions when the metal music community will come together to support those in need.
Taking place in Outpost on Friday August 2, UK Saul Fest is a fundraiser event for a little boy suffering with a rare form of childhood cancer.
Set to blast the stage for this valuable cause will be some of the UK's heaviest death metal bands. Headliners Visions of Disfigurement will be joined by the likes of Merseyside favourites Exhumation, Colpocleisis and Oceanis, as well as Scotland's Aphotic.
With some wicked tombola prizes on offer in addition to this brutal line-up, there is no excuse not to get down to Outpost to support this worthwhile event.
Everything heavy each month: keep up to date with Getintothis' Dysguesia column
It's been a busy month, but we just about have time to run the rule over the latest releases that have tickled our metallic taste buds lately.
Necronautical: Apotheosis
Candlelight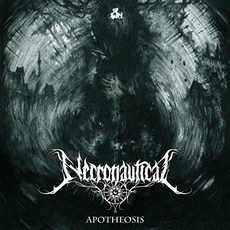 These rising stars of British black metal are back with a third album that is set to see them continue to make massive strides on the international black metal scene.
Apotheosis is a richly atmospheric record that evokes old school Dimmu Borgir and Emperor in places. Propulsive blast beat drumming and flowing riffs on tracks such as lead single Nihil Sub Sole Novum and All is Vanity drive this album along at a furious pace.
Although stand-out track is perhaps epic album closer Down the Endless Spiral, which sees a more reflective tone on the album's central themes gradually unravel in a dramatic climax of bitter fury and melancholic guitar melody.
Beastmaker: Eye of the Storm
Shadow Kingdom
Beastmaker have been remarkably prolific during their short career.
Since 2015 this doom power trio led by Trevor William Church have released two full length albums and no fewer than eleven self-released EPs.
Yet with vocalist/guitarist Church and bassist John Tucker putting their full efforts behind their other band, new wave of trad metal outfit, Haunt, the time has come for us to bid farewell to Beastmaker.
Eye of the Storm is a fitting way for the band to bow out. Rarely has melodic doom metal sounded so immediate and compelling.
The title track is not too distant from Church's work in Haunt in its emphasis on conjuring up a classic 80s' sound rooted in the NWOBHM. This is staunchly authentic sounding stuff that has a stronger emphasis on cleaner vocals and guitar melody than in some earlier Beastmaker releases.
Every track on this four track EP is compelling, although it is the brooding My Only Wish, with its riffs reminiscent of Megadeth's In My Darkest Hour that stayed with us the most.
Darkened: Into the Blackness
Edged Circle Productions
The debut EP from death metal act, Darkened, is remarkable in its immediacy and power. Then again, that is hardly surprising when you see that it is a band that consists of members with a wealth of experience in the death metal underground.
Featuring luminaries such as drummer Andy Whale (ex Bolt Thrower/Memoriam and vocalist Gord Olson (Ye Goat-Herd Gods/Demisery) this record is quick to bring the listener under its pulverizing spell.
From magnificent opener Into the Darkness/The Offering to crushing closer, Unredeemed, this is churning, doom-laden death metal with a satisfying melodic edge.
Well, that's just about enough excitement for one month. We are going to lie down in a darkened room while listening to Darkened. Keep supporting your scene.
Comments
comments