909 threw a third birthday party in the Invisible Wind Factory with a night of techno, acid and house music, Getintothis' Mark Holt was along for the ride.
909 held their 3rd Birthday Party at the Invisible Wind Factory and what a line up they arranged for those lucky enough to get tickets.
Stuart Hodson's 909 organisation pulled a master stroke in managing to get Andrew Weatherall and Jeff Mills together in Liverpool for the first time. This was an event that we felt we could not miss.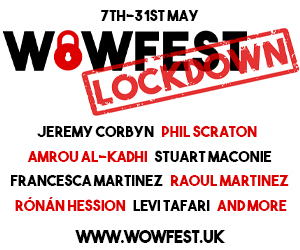 Jeff Mills is considered by many to be the most capable DJ and producer of techno in the world and one of the most recognised of the Detroit techno scene where he began his career with the WDRQ radio station in 1984.
He was one of the founding partners of the famed Underground Resistance along with Mad Mike Banks and has since diversified into the art scene in various works that combine art and sound. He's created new soundtracks for films like Fritz Langs Metropolis and Buster Keaton's Three Ages, he created the art installation Mono that was inspired by Stanley Kubrick's 2001, a Space Odyssey.
Always busy, Jeff is involved with numerous projects and continues to break new musical ground including his new 3x CD release of unheard and remixed tracks 'Sight, Sound and Space'.
Andrew Weatherall is an English DJ, Producer and Remixer that started in the industry in 1989 working in the studio alongside Paul Oakenfold on the remix of the Happy Monday's Hallelujah. Probably his most famous remixes (of which there are many) has to be his remix of Primal Scream's Loaded.
He formed the legendary Boys Own Records with Pete Heller and Terry Farley which became Junior Boys Own in 1992 after Weatherall's departure from the organisation.
Andrew has worked with a huge plethora of musical talent such as Bjork, The Orb, New Order, James, Saint Etienne and Future Sound of London to name a few so this was shaping up to be an absolute belter of a night..
With the birthday celebrations kicking off early during this mammoth 14 hour celebration we headed down and arrived in time to catch KUSP play the last half hour of their set and it was all driving basslines and that fabulous 4 by 4 beat.
The boys played a blinder and did a great job of getting people moving at such an early stage of the proceedings.
Next up was ASOK who's excited energy really filled the green room backstage. He did a fantastic job of channelling and transferring that energy into the room, playing some truly teeth rattling basslines and dropping breaks into the mix with great dexterity. Definitely a guy to watch.
He set the atmosphere of the main room perfectly for the next DJ.
Gemma Furbank brought the sounds back to the Techno essentials and really upped the ante bringing the room to a frenzy ready for the main act to make his appearance. It has to be said Gemma is another hugely talented DJ and another one to watch.
Next up it's the man himself, Jeff Mills. There's nothing exuberant about this man.
Every move is calm and calculated and so the same could be said about his DJing and production technique if not the music that results from that creative mind. This was to be a journey through techno greatness and the massive crowd were eating up every second of it.
We couldn't name a track, we probably couldn't tell you where one track ended and the next begins, but the feeling, the atmosphere, the sound was truly awe-inspiring. However, we had to pull ourselves away as Andrew Weatherall had just taken to the decks downstairs in the Substation.
This was a different vibe entirely as would be expected if you're familiar with Weatherall's body of work. Groovy Reggaesque sounds with hippy undertones and a more Sunday afternoon festival feel about it. Just what was required after the frenetic energy of the main room.
It has to be said that Stuart Hodson, the man behind 909 and his stage manager Phil Cheung really pulled off a screamer of an event and their hospitality was peerless. We look forward to more of this.
Images by Getintothis' Mark Holt
Comments
comments