House of Suarez returned to the Invisible Wind Factory for its latest Vogue Ball and a celebration of inclusivity, Getintothis' Kathy Armani took in all the spectacle.
The House of Suarez Ball of Atlantis promised to bring an "unparalleled oceanic extravaganza" and it did not disappoint.
For those unaccustomed to vogue and ballroom culture, their origins date back to Harlem's 1970s gay and drag scene, where these events were created to provide a safe space and inclusivity for marginalised groups.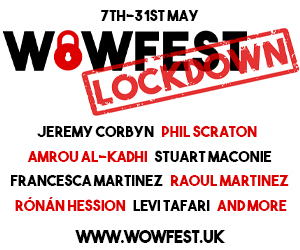 At a time when it was common for young Black and Latino gay men to find themselves homeless, cast out by their families and often experiencing abuse, poverty and addiction "Mothers" and "Fathers" of the vogue ball scene would provide a home and a house where people could feel safe and accepted.
Each "house" would compete in "battles" in the form of a part dance-off, part fashion-off.
In contrast to the isolation and oppression felt in most other areas of life, the scene was safe, liberating and, not only accepting of, but positively celebratory of individual difference. This was a fierce defiance through flamboyance, gender-play and sexuality.
Running for almost 10 years now, House of Suarez celebrates this rich history in its annual Liverpool Vogue ball event, now in the Invisible Wind Factory.
Following the theme of The Lost City of Atlantis, the opening piece of the 2019 Vogue Ball, "Poseidon Self", showed true acrobatic prowess.
A bronzed merman performed from above the catwalk, weaving himself in and out of aerial silks and fantastical sea sirens grappled and launched themselves skilfully across the runway. The piece oozed passion, energy and sensuality.
The multi-talented Rikki Beadle-Blair reprised his role of compere and brought his contagious joy to the packed and colourful venue.
With wit, grace and magnetic positivity, Rikki instilled a sense of love, togetherness and pure unconditional acceptance in the room. He raced up and down the catwalk whipping up a frenzy in the crowd, even showing how Lip Sync should be done with his own number and going through more costume changes than a Lady Gaga concert.
Ladytron announce new Manchester show plus YES aftershow with Stealing Sheep
The houses competed in a number of categories incorporating modern dance, theatre, fashion, raw sexuality and identity.
There was incredible choreography that repeatedly brought the seated VIP area to their feet to applaud and dance along.
Between the categories, Rikki would often pull audience members up to join him on the catwalk, to dance and strut their stuff.
All identities were welcomed, encouraged and supported. No hating allowed.
The love was strong and Rikki suggested the audience take that fuel and spread it to the wider world. Suarez provided the much-needed antidote to a world of absolutes.
Images by Getintothis' Rachel Bywater
Comments
comments