This Feeling put together a solid gold line up at Jacaranda Phase One and Getintothis' Susie Harrison was there to assess the damage.
Winter is well on its way and Seel Street is cold and miserable. But inside Jacaranda Phase One, it's still summer.
Kicking off the night are local Liverpool teens Cascaders, and for a group of seventeen year-olds who aren't allowed even a sniff of the Red Stripe tinnies that surround them onstage, they begin their set as if they've been playing together for decades.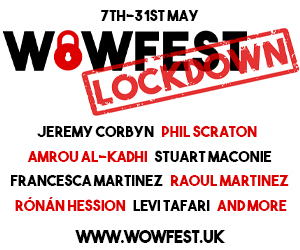 The band is airtight and on a wet and windy evening such as this, the crowd are mad for the light and summery dream-pop vibe. Their single Cigarette Perfume gets a huge response and I find myself to be the only person not singing along.
Cascaders' penultimate track of the night is their latest release Raindance, now available on Spotify. The band's front man Dom Thornton sings with tones of Arthur Russell, but with much less melancholy and plenty of vibrant and colourful energy.
If I'd seen this band three months ago, their set would have been the soundtrack to my summer. A very strong start to the night and a welcome relief that a younger generation of local musicians can still find their way in an industry that is often difficult to crack.
Charity Shop Pop headlines Edge Hill University Deep Cuts away day
Catch Cascaders once again at Jacaranda – Phase One supporting psych-pop outfit The Peach Fuzz on Friday 18 October.
Next on the bill are Liverpool-based trio Persian Hugs, who are certainly cutting their teeth into our city's music scene at an impressive pace.
With definite alt and indie rock influences, tunes such as Turn Back Now and Lipstick Mama are rich in ferocious yet eloquent melodies that allow us to appreciate the sound as much as dance along.
Singer and guitarist Henry Belcher comments on society's obsession with technology in their song Idles, which is a pill that's hard to swallow when this writer is tapping gig notes into her iPhone in-between tracks. Belcher's frank and honest lyrics compliment the band's raw and unrestrained musical talent, and leaves the crowd thirsty for more.
The band end their set with fan-favourite, What I'd Do, with guitar and bass that's toight like a tiger and drums that deserve a peace prize. Go see the Hugs at A Northern Underground Weekender, Saturday 16 November at The Jacaranda and fall in love all over again.
Back in Liverpool after an impressive summer touring up and down the country, Blackpool babes JEKYLL entrance the crowd from the first chord of their opener Marionette, a fiercely beautiful and melancholic expression of relatable, personal angst.
The band's set is infused with tasteful nods to rock band Muse, from frontman Joel Foster's soaring falsetto to the band's gothic melodies and thunderous guitar sounds. And the crowd goes wild.
 To put it simply, JEKYLL are the artistic lovechild of Muse and Radiohead, or otherwise, 'Blackpool Rock', as coined by the band themselves. JEKYLL top their set with the widely popular Mania, a song that wouldn't be out of place on Radiohead's A Moon Shaped Pool.
Post-show, Foster doubts the quality of the set, which is nothing more than a testament to JEKYLL's wholesome humility. If you don't believe me, ask the audience.
While the crowd had certainly thinned a bit, Stanleys put on a wild and dynamic headline show making the room feel jam-packed.
The four-piece Wigan outfit are introduced by the drummer, who plays jungle-like floor-tom rhythms and piques our interests instantly. After a long night of sincere and often intense original music, Stanleys treat the crowd to some moreish cover songs, a personal favourite being their bouncy and cheerful version of Foster the People's Pumped Up Kicks, which was the encore we didn't know we needed.
Their single The Martyr available on Spotify is the essence of the group's excellent musicianship, making Stanleys one of the most intoxicating groups to come out of Wigan in a long time.
Images by Jacob Barrow and Getintothis' Susie Harrison.
Comments
comments