Deerhunter came to Manchester's O2 Ritz with Cate Le Bon, Getintothis' Connor Ryan was blown away.
I'm just gonna be straight from the get go, Deerhunter were unbelievable and possibly one of the best bands I've ever seen.
Supported by Cate Le Bon, a Welsh singer songwriter who actually produced the group's last album Why Hasn't Everything Already Dissappeared? (2019), the five piece from Atlanta, Georgia played a set featuring cuts mainly from that record and their 2010 classic Halcyon Digest.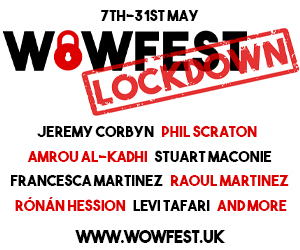 Dressed like Doctor Who circa 1963, Cox made a brief cameo with Le Bon during her supporting role, performing the song What's Not Mine. The first time I ever heard her was actually from their very recent collaborative effort Myths 004.
I was impressed with this recent release, it showcases the usual kooky sounds that a Deerhunter record can produce alongside Le Bon's more grounded and slightly less hectic, neo-noir velvety ponder music.
Cate Le Bon was entertaining if a little flaccid. It's the ambient punk maestros we want to see.
Cox did profess his love for Le Bon and her band several times during the night, so I'll let her off. If he's saying she's good then I believe him.
In the flesh, it's clear Bradford, Lockett, Moses, Javier and John are cool motherfuckers.
Whilst outside before entering the venue, I witnessed Cox walk out through a side door, hearing an onlooker say "wow" as he huffed off in all his librarian glory.
They definitely have an aura about them, and they were a proper fucking band if you know what I mean. They were cool, they were slick, and eager to engage a Manchester crowd who seemed well up for it.
Opening with Death in Midsummer, I was blown away initially with the volume. For some strange, sadistic reason, I had never listened to anything Deerhunter apart from the latest record and that already mentioned collab mini-album.
I was the envy of my friends, as they swore blind I was in such a privileged position, to hear the sonic glories for the first time. I however, being the tit I am, refused to believe this slow, pastoral indie rock could move me like others. I was quickly mistaken with that sentiment.
They're a loud and atmospheric band, man. It's ethereal without being OTT Cocteau Twins about it, it's just enough. It lets the audience actually listen to the words and gorge upon the beautifully crafted songs.
Desire Lines was one of the tunes most people went mad too. An absolute stonker of a track, Cox takes the backseat as Lockett (guitar) sings his 50s Back To The Future haircut self brilliantly to an eruption of cheers and flounder. Mainly from bearded men who look like they know were to get a cracking turtle neck from in the Greater Manchester area.
Like I said, I hadn't heard much from the group and Halcyon Digest was probably the most sinful omission from my music listening resume. I had been told beforehand: "arrr lad Desire Lines, oh my God lad! Fucking chooon", as we walked from the train station.
Now I believe that statement. Its got an amazing energy about it, depressive but ultimately uplifting where it counts. My favourite kind of music.
This gig was that good even the usual awkward gig chit chatter between crowd and performer was belter. About halfway in Cox tells a story about a woman in Manchester who has giant snails in her garden.
She let them stay in her house last time they played he declared. He reasoned it was just a memory he had of good times, mentioning former long time bandmate Josh Fauver specifically, who sadly passed away last year. The crowd erupt in applause and support.
When he found out what the lady's name was – Bernie apparently – a smile as wide as Joe Anderson's gut slid onto his face.
I'm sort of surprised that I'm liking Bradford so much. I assumed he'd be abit of a diva or prick. He seemed to have all the hallmarks of one to be honest. Lead singer of a mysterious indie band with the look of an old man enjoying a stroll through the park, a dance of green and beige.
Clearly a flamboyant character, which sometimes masks a skill set severely lacking in any actual quality and intrigue.
Alas, the WW2 evacuee, ration books at the ready vibe is justified due to the sheer brilliance of the songs. Their ability to subtly defuse all inner distractions and worries is amazing. Hearing songs like Helicopter and Revival was a gorgeous experience. The former in particular was gargantuan in sound.
The stage lighting turned technicolor as Cox's emotional, audible diary entries spilled into the space above the heads of those who knew and cared.
The set in a sense seemed like a portal into those days of 2010, when Halcyon Digest had just been released and the group reached their highest point. I feel their last record is of equal measure, in time I hope it will go down as one of their best too.
So to hear songs such as What Happens To People?, with its gorgeous world building guitar intro played by Josh McKay – swapping with Cox who took up bass duties, was a reminder of the special qualities this band have.
They've been kicking around for many years now and seem to have abit of a cult following. I feel like they'll be one of those acts that will go down in history as consistently fantastic, yet severely underrated.
Deerhunter already have an incredible fan base and widespread recognition but I genuinely believe they're worth so much more.
Maybe these are hollow, unfounded or just excitable words due to my recent cherry popping via absolute modern indie/rock bangers like Helicopter and Coronado. The former  rendition (again…) in particular reducing my buddy to disbelief due to how mammoth and uplifting it sounds live.
On record, it's big moments arent as grand or potentially euphoria inducing. It sounds like the soundtrack to a scene of Glaciers breaking away into a great, endless abyss; monolithic natural maneuvers that outshine any human action or interaction with anything.
What I'm trying to say is, I really enjoyed it, and so did everyone else.
DEERHUNTER ATBTHE RITZ.
SETLIST AND DIRECTIONS…. pic.twitter.com/gvjoS1xGy7

— NOW WAVE (@nowwave) November 6, 2019
Due to the band's late arrival on stage, the set wasn't super long. About 12-14 tracks in total as far as I remember, I was definitely wanting more. In hindsight, there are a few tracks I wish would have been considered for a live outing.
This was after binge listening all their records in work the next day, and realising what I had been missing. Its not your usual required elements for Connor Ryan to certify you as an absolute chad of a band.
Break neck speed, songs about Thatcher's corpse or similar Tory, austerity bashing imagery – but I really am taken aback by albums like Monomania and its ability to chug hard in the softest way possible; imagine a metal head in your nan's scarf.
Overall, Deerhunter at The Ritz has to be one of the most enjoyable gigs I've been to for a while.
Although I didn't come away sweating and threating that the last train is departing from the station, simultaneously scrambling for tuna baguettes at the local Sainsburys whilst chonging a fat rogger with what feels like a collapsed lung (I blame Cabbage and Sleaford Mode mainly for THAT feeling), I was left almost humbled.
It was a nice, satisfying feeling.
Comments
comments