Calexico and Iron and Wine bring their folk rock to Liverpool's Philharmonic Hall and Getintothis' Jamie Bowman is in heaven.
Calexico and Iron and Wine first made an artistic connection with In the Reins, the 2005 EP that brought Sam Beam, Joey Burns and John Convertino together.
he acclaimed collaboration introduced both acts to wider audiences and broadened Beam's artistic horizons, but it was the shared experience of touring together in the tradition of Bob Dylan's Rolling Thunder Revue that cemented their bond.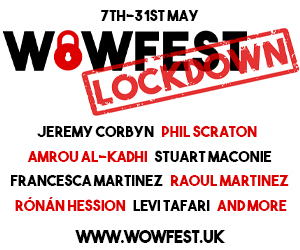 Although the two parties often talked about rekindling their collaboration in the studio and on the stage, it wasn't until last year that their schedules aligned and they produced 2019's new collaborative album Years to Burn.
On the evidence of tonight's sublime gig the decision to reunite has been fruitful for both acts.
Beam's warm voice is in fine fettle and with all respect to Calexico's venerable musicianship he lends a much needed dose of personality to proceedings with his goblet of red wine, constant wisecracking and voluminous beard.
As Beam's stunning guitar picking interlocks with Jacob Valenzuela's trademark Mariachi trumpet, the results are sublime with 2004's Sunken Waltz an early highlight as Beam proves exultant on the Calexico song's "na na na" climax.
It's easy to sit back and let the songs wash over you with Beam's invite to "relax and open your senses" proving a prescient command as the six piece band tease and cajole their way through each soundscape of delicious desert noir.
Belle Chen bringing exciting mix of new music to Liverpool's Capstone Theatre
As beautiful as the full band sound, the highlight of proceedings sees Beam and Burns alone on stage for an acoustic segment that features a stunning version of Iron and Wine's Naked as We Came followed by an equally touching Calexico's Frank's Tavern.
Things get even more magical when the duo are joined by folk singer Lisa O'Neil for a run through of the Everley Brothers' All I Have To Do Is Dream with the Philharmonic audience in reverent silence.
After constant joking from Beam about how the band were going to play a Beatles song, it's actually to Liverpool's other fab four that they turn for a brilliant cover of Echo and the Bunnymen's Bring on the Dancing Horses which transforms the song's dreamy psychedelia into a sun-scorched ode to beauty.
It's a fitting and fun climax.
Better together than apart, tonight proves Beam and Burns are a match made in folk rock heaven.
Photos by Getintothis' Warren Millar.
Comments
comments