The Clause will play EBGBS on their UK tour, as electro artist Sfven releases a new single, Getintothis' Lewis Ridley has the news this week.
Liverpool's award-winning celebration of reggae music and Jamaican culture, Positive Vibration will return to the Baltic Triangle next year.
Since its inception in 2016, the festival has established itself as one of the country's most exciting and eclectic reggae events, playing host to internationally renowned bands, legendary sound systems and selectors and some of the brightest new talent in the genre.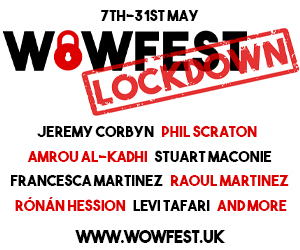 In 2020, the festival will welcome some huge names to Liverpool, including Hollie Cook and General Roots, General Levy and Joe Ariwa and Neville Staple Band.
Also announced for the festival are: Mungo's Hi Fi Ft. Charlie P, African Head Charge, Mad Professor, Tippa Irie, Horseman Dj Vadim + Jman, The Upper Cut Band, Kiko Bun, Don Letts, Sinai Sound System and Levi Tafari.
Taking place on 12-13 June, the festival also sees the return of the Reggae Q&A panel discussion, Jamdown Food and Drinks Market, Family Workshops and The Art of Reggae Exhibition.
Tickets are on sale now with under 12s going free.
Darwin Deez will celebrate a decade of hits with a gig at Liverpool's O2 Academy next year.
The New York band's latest release, 10 Songs That Happened When You Left Me with My Stupid Heart, dropped last year.
But this tour will be a nostalgia trip with Darwin Deez pledging to play their debut, self-titled album from 2010 in full.
Having played Sound City back in 2013, the band will return to the city on Tuesday, April 21.
Birmingham upstarts The Clause will come to Liverpool on their UK tour later this month.
They followed up fourth single Where Are You Now? with In My Element last month, and will end their tour with a hometown date at O2 Academy.
But that's not before dates in Glasgow, Manchester and Leeds as well as a date at Liverpool's EBGBs on Saturday, November 30.
Louis Berry drops new EP plus special invite only gig – listen to XIV
Elsewhere in gigs, South Yorkshire outift The Reytons will play Jimmy's Liverpool next year.
It follows the band's sold out show at their hometown Sheffield's O2 Academy, and will call on their UK tour on Saturday, April 4.
Liverpool outift The Kairos have also announced a date at the venue.
They'll play on Saturday, December 14.
Our new single this week comes from Leeds based electro pop artist Sfven.
He's dropped track like I love u, released on 3B Records this week. On the track, Jamie Clarke said: "like i love u is the most personal and open song I've written."
"I kept the production behind it pretty simple cause I really wanted to feel every lyric and  to be honest it's still kind of difficult to listen to now, but for me honesty and vulnerability makes for the best music and I hope people find solace in it."
Comments
comments