Jaws return to Liverpool for a fantastic return show at Hanger 34, Getintothis' David Hughes was there to lap it up.
Jaws have been on a steady rise over the past 7 years or so.
Perhaps, not growing as quickly as was expected of them within that 'B-Town scene', yet, three albums later, they appear to be forging their own path, keeping their roots firmly in their sights, but expanding their range.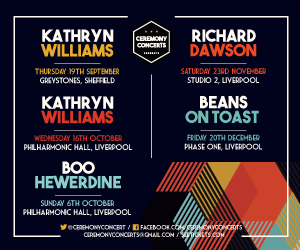 Having done a mini tour earlier in the year, only reaching the likes of Manchester, Birmingham and London, Jaws make a very welcome return to our wonderful city, where they have always been welcomed with wide open arms.
This writer was lucky enough to be in the crowd for their last Liverpool show, which caused absolute bedlam within the confined walls of The Magnet.
This was set to be an exciting evening.
Unfortunately, due to mix up in times and yours truly being a bit slow, we missed the first act of the night, Brothers Of Mine, however a quick search on Spotify brings up some 'indie pop with balls' delights. They're definitely worth a listen.
Up next were Ivory Wave, who were a tasty warm up for their fellow Brummies Jaws.
With their sound being that of a genre smoothie, some strong Brit-pop vibes along with some indie-electro and funk thrown in there for good measure, they don't quite manage to get the crowd going, but give it a good go anyway.
Despite Liam Gallagher being a mere half a mile away at the M&S Bank Arena, he somehow managed to make a miraculous appearance supporting Jaws, with lead singer George Johnson sounding and acting like Liam on stage.
It's clear the front row in the crowd is the band's dads, with each of them bopping and singing along loud and clear.
The room goes black, the crowd cheer and the room is lit up with the most amazing light display we've ever seen at a Jaws gig.
Multiple prisms are placed on stage, with red lights shining through them, providing the weirdest image projected onto the fog that has now filled the room. Pictures won't do this justice, but it looked amazing.
Jaws come onto stage and smash straight into their first song, Driving At Night, one of the first singles off their latest album, Ceiling.
Jaws are known for their lazy, dream pop sound, but this latest album took a darker, grungier tone which resonates well with their live performance a lot stronger.
It takes the crowd a few songs to get into the swing of things, but they soon open up the pits for each and every song, even the slower ones you wouldn't expect there to be moshing like 17. Right In Front Of Me and What We Haven't Got Yet are up next, bringing that next level of excitement from the fans.
Inflect record label to launch at Phase One with Frank Scala, ROAM and My Life Story announce Liverpool dates
The lighting has to be commended on this tour.
For a band of their size, it would be easy to rely on a venues standard rigging for the show, but with their giant light up JAWS sign behind them and the constant changing colours from these magical prism lights, it is a light show to be proud of, every light change to the beat, it's perfect.
Jaws' stage presence, or lack of, could be commented on, and some of those commentators would say that the scarce talking between songs doesn't allow a relationship between the band and the crowd, however, that is part of the beauty of it.
The lack of talking to the crowd, when the music is this good, and the engagement of the crowd to the music is this good, that is the only relationship needed. The lead singer, Connor, does attempt to interact between the odd song, but it allows everyone to focus on why they're there, and that's the music.
Half way through the set, some form of liquid is thrown from the crowd, (soaking us, thank you) and the whole place starts to smell of incense – how indie is that?!
The trend of the set seems to be that the songs mostly are from their second and third albums, but two songs are thrown in from the first album, before the fan favourite Milkshake EP tunes come out to play.
Breezeis the final song before the encore, before they come back out and rapidly fire through Stay In, Be Slowly and Gold, which in typical Jaws fashion sees the biggest reaction and mosh pits from the crowd all night.
What a night. Great tunes. Great lighting. A great crowd. 10/10. Would definitely go again.
Comments
comments