As IDLES become the latest in a growing history of bands releasing their own beers, Getintothis' Will Neville heads to the bar to sample a Top 10.
It's that time of year when the nights are drawing in, the lure of a roaring fire is strong, and there's plenty to celebrate, election result notwithstanding (apart from among the blue quarter of the city).
So, what better way than to enjoy a nice pint of real ale? Even the lager lovers and prosecco quaffers must surely see the appeal of a traditional pint of a carefully brewed, well kept and poured flagon of a warming winter drink at this time of year.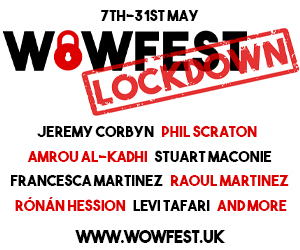 There's now a pretty long list of bands and singers who have given their blessing to beers in their name. How many of them have been up to their elbows in the mash tun must be somewhat debatable, but we'll let that pass.
In fact, this is such a frequent link-up these days that Getintothis has even covered this topic in the past, and we have duplicated our previous survey as little as possible.
To keep things simple, we'll just focus on beer, so there'll be no real consideration to given to the likes of The Police's Synchronicity wine, Judas Priest rum or The Pogues' (of course) whiskey. And yes, those are all real things.
Noisy rockers IDLES are the latest to join the ranks, so settle back in a cosy armchair in front of the fireplace in your favourite pub, having been to the bar to fetch a pint of something well-crafted and delicious, and see how you can combine your love of music with the love of a good pint.
10. IDLES – KRFSHT
IDLES have just launched a limited-edition beer in association with Signature Brew from East London called KRFSHT.
This snappily titled toasted lager claims to be malty, mouthy and modern, so sounds like it would fit perfectly with the band; and is surely a nicer way to self-medicate than Benzocaine.
Early orders came with a free IDLES zine and art print – not something regularly handed over the bar with a pint from your local.
Singer Joe Talbot named the brew to be the sound of a can of beer opening, while the style of the beer was apparently chosen by the band.
Apart from at their recent gig at Alexandra Palace, the beer is available at a couple of East London venues, and the brewery itself.
9. New Order – Stray Dog
Named after a song that features Iggy Pop on vocals, from New Order's tenth LP Music Complete, Stray Dog is brewed by Moorhouse's of Burnley.
This is allegedly a refreshing golden ale, so hopefully you'll feel fine after a few pints, rather than feeling as though Everything's Gone Green. Though of course, drink in moderation to avoid everything appearing to go Round & Round at the end of the night.
8. Elbow – Charge
Elbow gave their name to a beer brewed with Marston's back in 2014, a 4.2% golden pale ale that was available in Nicholson's pubs, as well as in Home Bargains!
Charge was clearly a sensible choice of song to name a brew after, with its line "got a bottle in me".
As with all of these beers, drinking in moderation is recommended unless you end up Asleep In The Back or offering Grounds For Divorce.
7. Alt-J – Absolutely No Worries
This was a 6.5% Brut IPA, brewed with Citra hops, coriander seeds and juniper berries to reflect as much as possible the band's tipple of choice on tour, a gin and tonic.
Leeds' Alt-J are certainly responsible for a Relaxer with this one.
6. Hanson – Pink Moonlight
Amazingly, Hanson have their own brewing company, and their Pink Moonlight peach milkshake IPA was brewed in association with the Destihl brewery.
Apparently, their song Penny And Me references "pink moonlight" – Getintothis isn't an expert on their oeuvre though.
MMMBop indeed.
5. Maximo Park – Maximo Number 5
Geordie rockers Maximo Park have a history with beer, although we're not sure if they've actually put their name to five yet or not, as well as singing about Drinking Martinis.
This is an American amber ale at (of course) 5% that they used their own brewing Alchemy on in celebration of their tenth anniversary tour. Hopefully it was partaken of in moderation, unless The Kids Are Sick Again.
They had previously had a specially rebranded version of their local favourite beer as Maximo Brown Ale, back in 2007.
4. Pig Destroyer – Army Of Hops
Largely in this list due to the wonderful band name, this grindcore outfit are veterans to the band/brewing crossover, with Army Of Hops being a follow-up to the cheerily-titled Permanent Funeral IPA, which was extreme enough to be 10.5% ABV.
Army Of Hops is again brewed with Three Floyds, and is a milk IPA this time, which means it will be creamier than their previous beer, although it's still 7.3%.
3. Deftones – Phantom Bride / Swerve City
Californian alt.metal band Deftones have teamed up with San Diego's Belching Beaver brewery on at least four occasions now, firstly with Phantom Bride and Swerve City, both IPAs at around 7% ABV.
Next came Good Morning Beautiful, a brown ale named after a 2003 song from their eponymous album.
Singer Chino Moreno is always very involved in the brewing process, with yet another beer just launched in the form of a Mexican lager called Dia De Los Deftones, available in larger-than-usual 16-ounce cans.
2. Pixies – Hey
Sadly, this was a very limited edition brew, a London IPA developed to promote an exhibition of Vaughan Oliver artworks back in 2016.
The bottle featured the poor monkey off Pixies' Doolittle cover, who was probably thinking Where Is My Mind? after sampling some, as 5.9% is surely quite strong for a small simian.
If the beer's anything like as good as the Doolittle song, then it's a great shame it wasn't more widely available.
1. MOGWAI – Beer Satan
The name of this 5.2% New England IPA is sufficient to guarantee it top spot. It's another Signature Brew, inspired by Mogwai Fear Satan from 1997's Young Team.
Mogwai's Stuart Braithwaite DJ'd at London's Signature Brew Taproom & Venue in November 2018 to help launch the beer.
So, raise a glass of your finest ale, mild or lager to this array of musicians who are continuing the fine traditions of brewing.
Comments
comments