As we welcome the second full week of January gigs still remain sparse, but there are always a few gems hidden and Getintothis' Simon Kirk has found them.
The first full week of 2020 is down. We're gathering most of you went back to work after some time off.
We hope you got through it unscathed – particularly those Everton supporters out there – sorry, couldn't resist.
Okay, onto all matters that lead to gigs.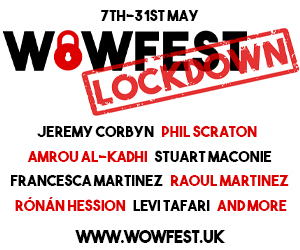 Again, the January blues remain prevalent, for events are quite thin on the ground this week.
However the big event – without sounding bias – is our Deep Cuts night at Phase One, which is celebrating its third birthday. Please do come along, and if you do, please don't hesitate in shouting this writer a bevvy (only joking).
Seriously, though, it's the event of the week, which includes a slew of great talent on the bill. It's generally the first time anyone gets out of the house post-New Year so it's always heaving with punters.
Still not sure? Then hit up our Deep Cuts Preview. That'll sway you.
Enjoy your week and we hope to see you at Phase One on Friday.
The pick of this week's action.
Jah Wobble and the Invaders Of The Heart: Cavern Club, Thursday, January 16
The former PiL man is in town once again, this time with the Invaders Of The Heart who together are taking over the Cavern Club for the night.
Not much more to say than that, really. Wobble likes to do all the talking, as he sat down with our Features Editor, Banjo, for a chat last week.
You can read that here.
Strawberry Guy: Ditto Coffee, Friday January 17
The local bedroom psych-pop concern that is Strawberry Guy is set to warm the cockles of your heart at Ditto Coffee this Friday.
Strawb' will be having all you latte drinkers swoon to tunes from his EP, Taking My Time to Be, which was released in September last year.
Deep Cuts third birthday: Phase One, Friday January 17
Got this in your diary yet?
Yes, our Deep Cuts event turns three on Friday week and to celebrate the night will feature The Florrie Guitar Orchestra, STONE (formerly known as The Bohos), Aimee Steven, Birmingham's Matters and The Roswell Project.
Tickets are £5 and are on sale now. £8 OTD.
Gabrielle Aplin: Phase One, Saturday January 18
English folkstress, Gabrielle Aplin, hits up Phase One in support of her third album, Dear Happy, which is released on Friday.
This one's an in-store show with an album signing to follow. Nice way to spend your Saturday, we say.
Royzy Rothschild: Studio 2 Parr Street, Sunday January 19
Local rapper, Royzy Rothschild, plays Studio 2 Parr Street to launch his new single, The Journey.
The Journey follows on from Royzy's 2019 album, Celeb Name Drop Album. Some cracking titles on here, but really, anyone who names a track Mo Salah Freestyle is always welcome here at Getintothis.
What else is on:
Turin Brakes: Epstein Theatre, Thursday January 16
Hollywood Eyes Live: Sound Food and Drink Basement, Friday January 17
Jacaranda Beatdown with MTXS & Ill Vision: The Jacaranda, Friday January 17
The Besiders: EBGB's, Friday January 17
Stereophonics: Liverpool Guild Of Students, Saturday January 18
Parrjazz presents Wako: Kazimier Stockroom, Sunday January 19
Comments
comments