Stereophonics are back in town for a warm-up gig ahead of going back to the arenas, Getintothis' Steven Doherty sees it all unfold.
It's usually at the start of a review where you begin to build up a general picture about the writer's feelings towards the band they are about to discuss.
You can always tell whether they have any preconceptions about them, good or bad, which then leads in to a review that enforces these either way.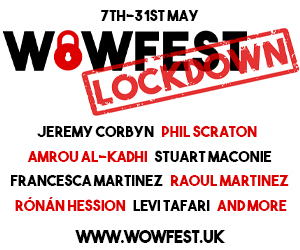 Well, there will be none of that here.
You see, before tonight, I don't think I've ever given the Stereophonics that much thought.
I've never been to see them, I bought the first two albums (but then who didn't), but they haven't passed upon my radar for many a year.
Now, I can hear people going mad reading this.
"How dare you get someone to review this gig who isn't a massive fan like me?"
Because that would make for a really boring review, it'd be about how lovely Kelly Jones' hair is and how they are all great at playing their instruments properly, which no-one wants to read about.
Conversely, the people who love to see a so-called "hatchet job" (by the way, such a thing does not exist, no-one goes to see an act that they really dislike just so they can write about it, life's too short) are also to be disappointed.
Which Jones is probably more unhappy about, due to his hatred of those who choose to do this job (see Mr.Writer for details).
Which leaves us in a strange, yet thrilling state of having a totally open mind with regards to that there Stereophonics.
First things first though, there's also a support.
Tonight it is the half British, half Spanish songwriter Nadia Shiekh and her band.
She's total DIY, managing and releasing her material herself.
It's a set full of confident power-pop tunes with hooks aplenty, with an obviously commercial sheen.
She tells us she's never played Liverpool before and gets a healthy cheer from the large crowd already in place even at this early hour.
Having to swap the early part of the set round due to technical problems could have phased her, but doesn't appear to have done, she attacks her set with some aplomb.
These support dates (she's doing the full Stereophonics European tour) coupled with the upcoming release of her new EP next month, entitled Everybody Hears But No One's Listening, should see her sail into the public consciousness with the same sleekness as her material.
So, it's onto the main attraction.
Coming on stage to what are surprisingly subdued cheers, they launch into two older tracks Catacomb and Superman.
But there's something in the air that doesn't feel quite right.
Even though it's quite early in the set, there's definitely an impression of a band going through the motions, which is worrying considering that this is a band playing their first gig of a long campaign.
Yet, to be fair, let's not put all of the blame on the band.
Tonight is an arena gig squashed into a university, with that unique blend of crowd that only an arena gig brings, but it seems that a chunk of the crowd are ambling round looking for a better spec, a majority are watching it solely through their phone screens, and this leads to the feeling that there that no-one seems just lost in the music.
Is this what we've become?
A soulless bunch with a passing interest in what's happening on stage, just here for the sake of being able to say they were here rather than engaging with the band?
You hope the big tunes will change this.
Maybe Tomorrow is the first of these and it comes and goes with a bit more of a positive reaction, but unfortunately this soon passes.
It sporadically kicks into life, such at the end of Mr and Mrs Smith where drummer Jamie Morrison (a man who spends the night doing most of the band's heavy lifting) showcases his obvious talents, but then the mood soon comes back to Earth.
The set descends into a largely similar sounding set of tunes, and whatever passion they once had seems to have dissipated into an inane bluesy take on fake indie.
Each song off the new album seems to illicit the same response as the referees' assistant putting up the added time board at the end of a match, it has people scarpering towards the exit/toilets/bar.
The band are not doing much to remedy this onstage, there's not much in the way of crowd banter and there is no way their Fit-bits are going to show anywhere near 10.000 steps each as there's hardly any movement from any of them.
I look at my watch and we are an hour in already and we've not had any more of the big hitting singles.
This is going to be some last hour.
Hopefully.
The singalongs seem to start coming, but only in the same way that a party in a pub will sing along to a jukebox, it still doesn't feel like a communal experience between audience and band.
By this time, my open mindedness had gone out of the window, this is not my idea of fun.
1917: Sam Mendes' immersive shove into the brutal reality of WWI
And then the chords to Have A Nice Day strike up and I'd forgotten (a) that this was a Stereophonics single and (b) how much I hated this song.
"I drive around all day and kill processed fish".
Urgh.
Another bloody marvellous night thanks to @stereophonics! I'm even more excited for the Cardiff show in March now ✌🏻 pic.twitter.com/iaV77bCUQn

— sam 🌵 (@scottishlowden) January 18, 2020
But then I have a moment where I start to feel bad, am I being too harsh, am I just mis-remembering them?
Then they play Mr Writer, that song that slates music journalists, so I instantly feel better.
The rest of the set takes a turn upwards, we get Just Looking, Local Boy In The Photograph and The Bartender And The Thief, but it is scant consolation for what has gone before.
Tedious beyond belief. Just telling it like it really is.
The fairy lights were lovely though.
Images by Getintothis' Warren Millar
Comments
comments