Newcastle's favourite duo Warm Digits are back with new tunes and gigs, Getintothis' Steven Doherty hands over the news. 
Warm Digits have announced details of their upcoming fourth album as well as a handful of dates to celebrate its release.
Their previous album, 2017's Wireless World, featured their biggest single to date in the shape of Growth of Raindrops, which included vocals from Saint Etienne's Sarah Cracknell.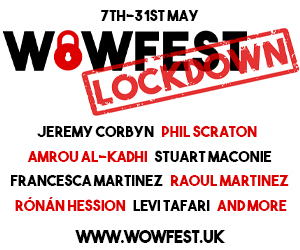 On the new record they've increased the guest-vocalist count even more.
Flight of Ideas is released by Memphis Industries on April 10, and it features such luminaries as The Lovely Eggs, Maximo Park's Paul Smith, Rozi Plain, The Orielles, and starring on latest single The View From Nowhere The Delgados' Emma Pollock.
As well as supporting Polica on their recent tour, they are also going to be doing a few dates of their own, including a North West date at Manchester's Soup Kitchen in May.
The tour dates are:
April 3: London, Rough Trade East
April 30: Newcastle, The Cluny
May 1: Manchester, Soup Kitchen
Flight of Ideas tracklisting:
1. Frames and Cages
2. Feel The Panic (featuring The Lovely Eggs)
3. The View From Nowhere (featuring Emma Pollock)
4. I'm OK, You're OK
5. Fools Tomorrow (featuring Paul Smith)
6. Replication
7. Shake The Wheels Off (featuring The Orielles)
8. Everyone Nervous (featuring Rozi Plain)
9. False Positive
10. Flight of Ideas
Comments
comments