Q U A RR Y is a new gig and recording space coming to the North Docks in Liverpool, Getintothis' Peter Goodbody has the lowdown.
Q U A RR Y is a new music venue, recording studio and multimedia arts space located underneath a disused railway arch on Love Lane in Liverpool, opened since February 2020.
Initiated by Quarry Recording Studio and SPINE promotions, Q U A RR Y will host a range of eclectic events from experimental music to live theatre.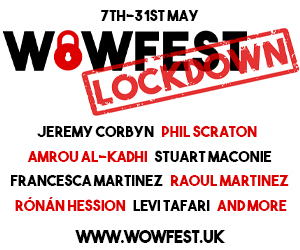 Q U A RR Y is a DIY project, a response to a perceived lack of diversity in Liverpool's music events since the closure of important grassroots venues and clubs.
This is sure to be a valuable addition to Liverpool's gig estate.
The team's ethos is to provide a consistently revolving line-up of new music in a safe space for Merseyside's creative communities.
As with all new businesses and creative endeavours, Q U A RR Y need a financial boost, hence a Gofundme page.
The opening of Q U A RR Y will give artists, musicians and creatives in the city a new space in which to grow and will be a further asset to Liverpool's gig economy.
The heads behind the project say this is a teenage dream made reality; Q U A RR Y is the product of years of hard work in different creative practices.
The team is a combination of musicians, performers, studio engineers, sound technicians, promoters and entrepreneurs made up of Jack Wait, Ben Ford, Christopher Connor and Pauline Hauzy.
As a live music venue, recording studio and multimedia workshop space, Q U A RR Y is a creative hub by musicians for musicians.
In igniting Q U A RR Y as a grassroots cultural institution, the team will join the ranks of Merseyside's creatives breathing new life into the surrounding areas of the Bramley Moore Dock and the emerging life in the North Docks.
Angel Olsen announces Invisible Wind Factory show for September – exclusive
Located underneath a disused railway arch, Q U A RR Y's site is embedded in Liverpool's cultural memory.
As a performance space, Q U A RR Y is as unique as its distinctive site.
Love Lane's accessible railway arches provide Q U A RR Y with the ability to host a range of different styles of events; from intimate acoustic performances to late-night dance music parties.
For the past couple of years SPINE have been promoting events and performances across the country, welcoming internationally renowned artists to the city and partnering with different music venues in Liverpool's creative community.
Q U A RR Y is an expansion of SPINE's work in Liverpool and will continue the tradition of championing new music with regular gigs most nights of the week.
Alongside hosting music events, Q U A RR Y will function as a professional recording studio.
Quarry Recording Studio, established in 2018 by Jack Wait, has consistently offered artists and bands professional-quality recordings at competitive prices.
In relocating to Love Lane, Q U A RR Y will be able to expand its recording offers to clientele and offer a recording experience in a unique industrial setting and environment.
Q U A RR Y is also a site for sustainable creative learning, aiming to strengthen and encourage creative exploration and economic prosperity for Merseyside's creative community.
The underlying mission is to provide quality services in education, mentorship and professional growth in the creative industries.
Comments
comments