The Future Yard Festival team are set to open a new venue with a show from Orchestral Manoeuvres in the Dark and Getintothis' Banjo looks at what this all means.
Orchestral Manoeuvres in the Dark are set to open a new musical venture in Birkenhead with a very special show.
The launch of a new venue is always a good thing, but when it is in the capable hands of the team behind the Future Yard Festival we can all start to get excited.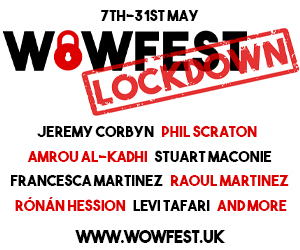 Future Yard Festival took place in August 2019 and featured Anna Calvi, Bill Ryder-Jones and Beija Flo. Enthused by this, the team behind it all, Near Future, have taken things a step further and decided to open their own venue, to be called Future Yard.
The venue will be Birkenhead's only dedicated live music venue, initially opening as a pop-up with a series of live events between April and June 2020. Following this initial pop-up, the ambition is to cement the venue as a permanent fixture in Birkenhead.
The first show at Future Yard will feature synthpop legends Orchestral Manoeuvres in the Dark, giving their first Wirral show since 1979.
The band's Andy McCluskey says of the event "This pop-up Venue from Future Yard offers an opportunity for the creative kids on Wirral to test their dreams out in reality, like OMD did 41 years ago."
Alan McGee Q and A tour to discuss his career and the music industry
The band plan to revisit the tracklist they played at that gig, including songs from their debut album, showcased on that night in 1979. The concert will also be a two-man performance, mirroring the original show.
McCluskey went on to say "We would like to celebrate as much as we can about the fact that the last time we played on Wirral, we were still a two-piece and we hadn't even made our first album.
We'd just been made an offer, we were about to go on tour with Gary Numan. Our world was about to change, but this was the closing of chapter one. So it will be nice now to reflect upon that moment again… 'who would have known, 41 years later?'"
Future Yard's Craig Pennington says, "Wirral – and Birkenhead – is a place with music in its DNA, but it's been so long since we've had a dedicated live music venue in our town. We believe that music venues are the maternity wards of creative culture.
They are always the trailblazers, the first cultural flagpole when it comes to thinking about a place differently.
With the venue, we want to create a place where amazing shows happen, where international touring acts share the stage with emerging local talent.
But we also want to create a place where local people can learn the skills to develop new careers in live music; sound engineering, lighting design, event promotion. In the long run, we want to create a place where we develop and support new emerging artists."
A full programme of events will be announced over the next fortnight.
Orchestral Manoeuvres in the Dark play Future Yard on May 9
Comments
comments