It's time for Unknown Pleasures to trigger the release of some serious dopamine to cut through the February gloom as curated by Getintothis' Roy Bayfield.
Life, if we're lucky, is filled with familiar joys, predictable satisfactions – what you might call 'known pleasures'.
Look at those Brit Awards for instance – the 40th repetition of a ritual celebrating the popular. Art that can be categorised and ranked, big selling artists packaged and badged to inspire further success.,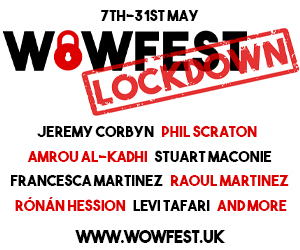 Events like that take the stuff everyone knows, parade it in front of us, reinforcing our collective taste.
Of course we can argue about who should be winning – that's a thing about the 'known pleasures', they're features of the landscape that we all live in, whether we want to or not. Milestones everyone knows about, that we can discuss.
The music we hear in, say, doctor's waiting rooms is filled with reference points we can use to position ourselves – loving or hating or being indifferent.
Not that 'known pleasures' are rubbish – only the stereotypical 'you won't have heard of them' merchant with the funny beard (we don't use the h-word here) disdains anything popular just for the fact it is popular, even if it's good.
Take Billie Eilish's Bond theme for instance – as performed at said Brit Awards, where she won Best Female Singer – it's brilliant.
Part of its brilliance is the way it surfaces elements of the long tradition of Bond songs – swelling orchestration, a certain emotive showiness, sonic quotes from Monty Norman's Bond theme tune. It's a modern song, rolling along on a classic chassis.
The Bond song release is a classic example of a 'known pleasure', regular like pantomimes and Doctor Who regenerations. And what could be more 'known' than James Bond?
We haven't seen the new Bond film yet but we already know what's in it. The structure, the story beats, key elements like car chases and tuxedos – we can be confident that they will be there, 'same as it ever was' (or we'll want our money back). And that after film number 25, 'James Bond will be back'.
Sure, there will be contemporary elements to the secret agent's 2020 outing, such as playing Bond off against a female 00 counterpart. But the films have always riffed on contemporary themes, way back to their 1960s origins as expressions of post-war consumerism and sexual adventurousness. It's the same pony doing slightly different tricks.
However it is skinned, much of the mainstream will always be essentially the same, and for many of us that's fine. Life is hard, having some reliably enjoyable low-stakes art to enjoy helps get through the day.
But for some of us – including readers of a site with a big focus on new music – known pleasures aren't enough. We want the Unknown Pleasures, the new, the unfamiliar.
Music that comes at us, that stirs up strong sensations – 'J'aime les sensations fortes', to quote James Bond.
So let's open our ears to this week's trio of new discoveries…
Tom Joshua: Cinema
Here's a heart-stopping debut from an artist emerging from the North East, Teesside man Tom Joshua.
Cinema is lush, nostalgic, plangent – emotive without being mawkish, evocative and expansive.
Like the shifting landscapes of the accompanying video, Cinema drifts and dreams; a reflective song that draws you onwards.
Tom Joshua says the song is 'about my favourite retail park + multiplex cinema'; here's a songwriter finding beauty in the mundane and inspiration in his surroundings.
Expect to see more from Tom in the very near future; a double-A side single is rumoured to be imminent and he's been working with producer Cam Blackwood (George Ezra, Billie Martin, British Sea Power) on a debut EP.
Sightless Pit: The Ocean of Mercy/Drunk On Marrow
Sightless Pit are an über-collective of heavy grimness, a collaboration between The Body's Lee Buford, Lingua Ignota's Kristin Hayter, and Full of Hell's Dylan Walker.
Two singles, or rather two ritualistic ordeals of cascading noise and destabilising filth-sound, have emerged to trail the album Grave of a Dog, released on February 21 by Thrill Jockey Records.
Ocean of Mercy and Drunk On Marrow feature 'samples of Rufai mystic rituals, contra bassoon, and explosive percussion' and are harsh but intriguing descents into the depths. As you'd expect from music 'about the anonymity of struggle, the darkness of a lifetime wasted warring against nature, god and everything else, only to be defeated… nothing… the end' this stuff is at the dark end of the spectrum but with a compelling beauty amidst the existential devastation.
Activity: Earth Angel
New York four-piece Activity mesmerise and disturb on single Earth Angel. Glimmering guitars slide across an insistent trip hop undercurrent as a parched vocal unfolds its laid-back, somewhat menacing lament, before exploding into a throat-shredding scream.
According to vocalist Travis Johnson 'It's a song about the freedom of a lifelong love'. On this track the group 'were going for a very Talk Talk Laughing Stock vibe in general. The vocals at the end physically hurt to perform… I could taste blood.'
Earth Angel comes from forthcoming album Unmask Whoever to be released via Western Vinyl on March 27.
The year-old band comprise vocalist/sampler operator Travis Johnson and drummer Steve Levine (Grooms), bassist Zoë Browne (Field Mouse) and guitarist Jess Rees (Russian Baths). For these tracks they've worked with engineer and producer Jeff Berner (Psychic TV).
Behind their bland name Activity are intriguing package.
Comments
comments