As the country hunkers down and gets on with staying at home, Getintothis' Howard Doupé has the single sponsors of isolation to help pass the time.
'Tiii-ii-i-ime is on our side,' ain't that the truth Mick!
It's madness out there folks! We've arrived in a post Big Mac, trans-fat, last supper scramble. Boris has finally spoken on Coronavirus with the authority and conviction that was lacking for the best part of last week's press statements. We're staring down towards the end of week one in lockdown.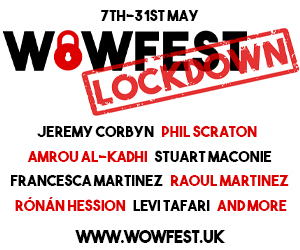 Here at Getintothis HQ, we've well and truly given up on bog roll- moved on to rizlas, drained out the last drop of the tinned sardines- salivating at the thought of a Fray Bentos Balti Pie and resorted to wandering around like zombies reading post-it notes off the floor after the stickiness has worn off after repeatedly playing the 'name' game to death.
Enough of our shenanigans, how is the country fairing up? Well, the opening of news apps fears us with dread. The reports are only getting more and more hard hitting. There is an ounce of positivity to be had in the announcement that a nationwide home test for Coronavirus anti-bodies is not too far away and the response to the NHS volunteers scheme has been staggering. Within 24 hours 405,000 people have responded to the Governments call, signing up to act for the community-led task force.
This, is the best of British!
Mind you, in this digital age we live, not even a pandemic has dented the flow of new releases. The gigs may be out, but the new tunes ain't.
Here's a few to have a listen to. Can we suggest you invest, just a little more time than usual.
Natalie McCool: Closure – Single of The Week
Manmade Soul
Singer, songwriter & multi-instrumentalist Natalie McCool, fresh from recently having a track featured on Sky Atlantic's The Third Day, returns with Closure.
Known for her truly innovative take on pop music, the newest release from the indie-pop tour de force features bouncy, off kilter synths paired with driving drums & guitars to create a record that's playful yet very powerful.
Speaking on the track, McCool shared: 'Have you ever wanted to get over someone so much that you figuratively bury them? Closure is the journey you take to finally slamming the door on that person. It's a high energy middle finger to your once beloved. What I imagine people doing when they listen to this song is bouncing around singing the chorus at the top of their lungs – I wanted to create something that is anthemic but also full of humour.'
Skuti: Huh
PIAS
South London's Scuti shares magnetic new track Huh from her debut mixtape This Is Skoo out this May. Over a stripped back beat that allows her distinctive flow and charisma to shine, she effortlessly raps about levelling up. 'I wrote this song at the end of 2019. I was reflecting on my year and realised I had done nearly 20 live performances. Shows were already coming in for 2020 and I was definitely feeling myself. I love performing and turning up with my supporters' she says.
There's been a buzz building in the UK's underground scene around the 19-year-old rapper. Last year she released her infectious debut single Skoowup which has garnered a cult following of fans. Her ability to draw in a crowd and effortlessly cool presence secured her a slot at Reading and Leeds Festivals last year.
Peel Dream Magazine: It's My Body
Slumberland
Peel Dream Magazine is the musical vehicle for NYC's Joe Stevens, who launched the band in 2018 with the critically acclaimed album Modern Meta Physic. With it Stevens created a mysterious, liminal tribute to the hazy end of '90s dream-pop – a masterful mix of first-class songwriting precision and train-window sonic impressionism.
'It's My Body' is an anthem about rejecting people who want to exert power over you and make you feel small. Sometimes it can take a while to realize that you're on someone else's trip, and when you want to remove yourself from that situation there is a lot to unpack . . . a lot of self-encouragement that needs to take place.' Says Stevens.
Forthcoming sophomore album Agitprop Alterna, pays homage to the fuzzy, mod-ish pop of acts like My Bloody Valentine and early Stereolab, but it's also indebted to stateside bands like Yo La Tengo and Rocketship that were cut from a similar cloth. It's part Chickfactor, part Space Age Bachelor Pad; a shambolic, drone-heavy brand of minimalism, filtered through a cross-section of classic indie pop.
Scottibrains: Aristorats
Speedy Wunderground
Can this label do any wrong in our eyes? Fresh from claiming glory in last weeks Single Of The Week, they're back again. Scottibrains is the enigmatic, elusive four-piece who formed through a love of late night / early morning jams at band founder, producer Dan Carey's Speedy Wunderground Studios in Streatham, South London.
Their live shows are incendiary, provocative and volatile experiences, pummeling rhythm sections, blitzkrieg guitars, with Buxton's deranged half spoken / half shouting frenetic mantras over the top.
Aristorats is the first ever digital-only single for the label. Produced as always by label boss Carey – it was mixed by his 15-year old daughter, Orla.
The video features plenty of loo roll, just to make us all jealous.
The Wants: Aluminum
Council
The Wants' new single The Motor, in its original instrumental form, has garnered an overwhelming response live.
The song was inspired by an epiphany Velding-VanDam had for the spoken word element, while rewatching his favorite movie introduction David Lynch's Lost Highway — a racing pavement level road reveals only white dotted lines shrouded in darkness and David Bowie croons his sinister 90s industrial art rock masterpiece I'm Deranged.
Mart Avi: Spark
AVICORP
Estonian avant-pop provocateur Mart Avi boots up a hyperreal human-machine interface on his tech-noir thriller Spark.
Sonically, Spark"marks a poptimist departure from the polymath producer's previous sound and vision collages.
The single (part of a double) is the first release from the visionary singer and producer since his acclaimed 2018 album OtherWorld, and another left-turn from one of his country's most prominent musical provocateurs.
His 2016 album Rogue Wave was awarded the Estonian Best Electronic Album, and all of his four solo albums have been at the top of Estonia's end-of-year critics' lists.
Avi toys with pop and electronic tropes on Spark, notably with the New Jack Swing beat that morphs into whirling deep house, with dubby tones weaving through. The visual nods are also apparent, with the video's searing graphics recalling The Matrix's digital rain.
POZI: Whitewashing
PRAH
Fresh from their newly released 176 EP, POZI's Whitewashing is post-punk, with an experimental edge: no guitars here… just drums, bass, vox and violin.
Whitewashing is about a motorway journey with an old friend during which they reveal some very unpleasant bigoted views, and the sensation of feeling trapped in the passenger seat.
It's the lead single from a forthcoming EP called 176, named after the eponymous London bus route that runs from Penge to Tottenham Court Road. You knew that, right?
Podge: Change
Independent
Now here's a mad little tune. All full of quirky, off-kilter blips and squeals. It's part Flat Eric, part dance floor groove. Hard to pinpoint but certainly a stroke of originality, in terms of production.
With lyrics that, re-enforce the hyper-activity nature of the track, Change follows on from what you expect from Podge.
If you like your music with an added spike of lemony bitterness, you might want to put this on and on again.
tētēma: Soliloquy
Ipecac
tētēma (Mike Patton and Anthony Pateras) have released a third single Soliloquy, for the band's forthcoming album, Necroscape.
'No other band would combine microtonal buchla with hyperactive drumming to serenade Paganini and Leonard Cohen passed out in a hot tub,' said Pateras of the song.
Necroscape is the second album from the modernist electro-acoustic rock proposition, seeing the outfit continuing to employ the wayward orchestrations and arresting physicality of their 2014 debut Geocidal with a renewed melodic language which grounds its multi-colored twists and turns in hallucinatory lyricism.
Show Me The Body: Arcanum
Corpus
Show Me The Body tease Arcanum from forthcoming album Dog Whistle, following on from their 2016 debut, Body War.
Their unique sound is heavily influenced, both sonically and in attitude, by the city that reared them: New York. The band has been at the forefront of the city's underground since the release of their 2014 EP Yellow Kidney. Over the ensuing years Show Me The Body established themselves as one of the most exciting bands in the city, through their torrid live show and distinctive sonics.
We can't lie, the video is amazing. Co-directed by Brooklyn-based filmmaker and documentary photographer Landon Yost and Show Me The Body themselves. The visual features candid shots of the people that make up the band's home, New York City. It starts with a montage of footage spanning from graveyards to a taxidermy studio to a bustling street, and as the video progresses the physical film that makes it up is slowly destroyed.
PVRIS: Dead Weight
Reprise
PVRIS in 2020 finds frontwoman , multi-instrumentalist, songwriter and producer Lynn Gunn stepping into a new chapter as she owns her role as PVRIS' leader and sole architect. The result is a collection of alt-pop conjurations of glitchy beat-craft, airy guitars, and spell-binding vocals.
Gunn explains, 'Dead Weight is about being a people pleaser, holding others up and never asking for anything back. Quite often that can be taken advantage of and it can be hard to set "no"/set boundaries. This feels amplified, especially as a woman. This song is about stepping into my power as a woman, shedding old skin and taking nurturing/caretaker feminine nature and turning it into a super power.'
Nadine Shah: Trad
Infectious Music
Fresh off the back of recent single Ladies For Babies (Goats For Love) Nadine releases the second track from her forthcoming forth album Kitchen Sink.
Trad, is a poignant new track with a stoic, simmering energy that addresses the conflict between rejecting traditions of marriage and family and yet also longing for them.
Comments
comments