Things may be different around the world this week, but new music keeps coming and Getintothis' Simon Kirk is here with this week's top picks.
What a difference a week makes.
Have our lives changed forever? Only time will tell but right now it feels like it.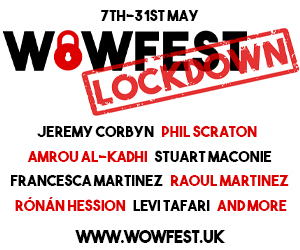 Many of you will be tearing your hair out at the current self-isolation circumstances implemented by the government. Whether you're sick of the sight of your family having being confined to the same space or whether it's literally in self-isolation, the collective anxiety is certainly through the roof and very real.
Firstly, bollocks to the "this writer" nonsense. It's time to get real life. I'm in the latter category. Just tunes and myself. And I'm sure there are many of you in the same boat.
That's why columns like this one are so vitally important during these times. The whole "music is my life" or "like religion" terms are used far too flippantly for my liking. Well, they were because now there may just be a grain of truth in these words.
There's nothing more to say, really. I know you are all feeling the pinch out there. We all are. Let's keep going and listening to the good oil. The world may be changing before our eyes but new music is always a mainstay and, for now, thank fuck for that.
Stay safe and big love to you all.
This week's top picks.
Protomartyr announce new album, UK dates and video for lead single
1. The Chats: High Risk Behaviour
Bargain Bin Records
Sunny Coast pub-rockers who brought us the instant cult classic, Smoko, The Chats, release their full length debut, High Risk Behaviour.
We just hope the loose cannon Queenslanders visit our shores when all this nonsense subsides. The good time may just be worth the wait.
2. Waxahatchee: Saint Cloud
Merge Records
Waxahatchee's Katie Crutchfield returns with her latest album, Saint Cloud – the follow-up to 2017's long-player, Out in the Storm.
Crutchfield wrote this album following her decision to get sober. Saint Cloud is said to be a raw snapshot of self-examination. Sound wise, expect a more stripped back approach here.
3. The Orb: Abolition of the Royal Familia
Cooking Vinyl
Electronic pioneers, The Orb, return with their new, Abolition of the Royal Familia.
We're very much hoping this continues The Orb's Indian summer of sorts. Stay tuned for Getintothis' interview with The Orb's Alex Patterson.
4. Nap Eyes: Snapshot of a Beginner
Jagjauwar/Royal Mountain
Nap Eyes return with their latest effort, Snapshot of a Beginner, through Jagjaguwar/Royal Mountain, in partnership with Paradise of Bachelors.
The lead single for Snapshot of a Beginner was called Mark Zuckerberg. We love a person reference here at Getintothis. In this case, it feels like a good start.
5. Coriky: Coriky
Dischord Records
Coriky, the supergroup featuring Fugazi's Ian MacKaye and Joe Lally, and Amy Farina of The Evens, release their self-titled debut album.
Having formed in 2015 this will be the first new music MacKaye has released since The Evens' 2012 The Odds.
6. Sorry: 925
Domino Recording Co.
North London's Sorry release their much talked about debut record, 925.
There are big things expected here. To get you in the mood, read our review of Sorry's recent show in Liverpool at EBGBs.
7. Windy & Carl: Allegiance and Conviction
Kranky
After an eight year absence, ambient touchstones, Windy and Carl, return with a new album, Allegiance and Conviction.
Following up 2012's We Will Always Be, expect plenty more inner space electric guitar and bass alongside hushed ambience. Your late night fix arrives right here.
This week's other notable releases:
Jonathan Hulten: Chants From Another Place (Kscope)
Sufjan Stevens and Lowell Brams: Aporia (Asthmatic Kitty Records)
Nicolas Jaar: Cenizas (Other People)
The Necks: Three (Northern Spy)
Magic Sword: Endless (Joyful Noise Recordings)
Lukas Nelson & Promise of the Real: Naked Garden (Fantasy Records)
Little Dragon: New Me, Same Us (Ninja Tune)
Margaret Glaspy: Devotion (ATO Recordings)
Gold Cage: Social Crutch (Felte)
Pearl Jam: Gigaton (Republic Records)
Ringo Deathstarr: Ringo Deathstarr (AC30)
Lilly Hiatt: Walking Proof (New West Records)
FACS: Void Moments (Trouble In Mind)
Dana Gavanski: Yesterday is Gone (Ba Da Bing!)
Hayvanlar Alemi: Psychedelia in Times of Turbulence (Shalgam Records)
5 Seconds of Summer: C A L M (Interscope)
Activity: Unmask Whoever (Western Vinyl)
Basia Bulat: Are You in Love? (Secret City)
Cable Ties: Far Enough (Merge Records)
C.A.R:. Crossing Prior Street (Ransom Note Records)
Catholic Action: Celebrated By Strangers (Palo Santo Records)
Cavetown: Sleepyhead (Sire Records)
Clem Snide: Forever Just Beyond (Ramseur Records)
Cucina Povera: Tyyni (Night School)
Fassine: Forge (Trapped Animal)
Lizzy Farrall: Bruise (Pure Noise Records)
Glass Museum: Reykjavik (Sdban Ultra)
Gundelach: My Frail Body (You Okay?)
Half Waif: The Caretaker (ANTI-)
Jacaszek: Music For Film (Ghostly International)
Jennah Barry: Holiday (Forward Music Group)
KITE: Irradiance (Argonauta Records)
Knxwledge: 1988 (Stones Throw Records)
Loose Koozies: Outer Limits (Lounge Records)
Loveblind: Sleeping Visions (Saint Marie)
Kandace Springs: The Women Who Raised Me (Blue Note Records)
Matinee: Event Horizon (Neon Tetra Records)
Matt Karmil: STS371 (Smalltown Supersound)
Simon Fisher Turner and Edmund de Waal: A Quiet Corner in Time (Mute Records)
Mayflower Madame: Prepared For a Nightmare (Only Lovers Records)
Michael Vallera: Window In (Denovali Records)
Moodie Black: FUZZ (Fake Four)
Mr. Scruff: DJ-Kicks (!K7 Records)
Neon Waltz: Huna EP (Ignition Records)
The No Ones (feat. Peter Buck): The Great Lost No Ones Album (Yep Roc)
Omega Infinity: Solar Spectre (Season of Mist)
Orion Sun: Hold Space For Me (Mom + Pop Music)
PartyNextDoor: PartyMobile (OVO Sound)
San Fermin: The Cormorant I & II (Better Company)
Scarlet Aura: Stormbreaker (Silver City Records)
Somni: Home (Friends of Friends)
The Sonic Dawn: Enter the Mirage (Heavy Psych Sounds)
Velnias: Scion of Aether (Season of Mist)
Wax Machine: Earthsong of Silence (Beyond Beyond Is Beyond)
WuW: Rétablir L'Eternité (Prosthetic Records)
Comments
comments