Vic Godard, the outsider's outsider, returns with a new single and news of a Mick Jones produced album and Getintothis' Banjo looks at the story so far.
Vic Godard's musical career has been one full of twists and turns.
Way back in 1976, as punk was just starting to make its mark, Malcolm McLaren suggested to Godard that he form a band, as more were needed for the 100 Club Punk Festival.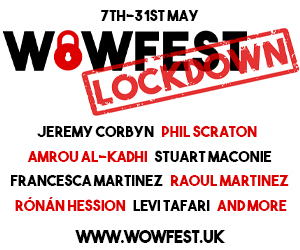 This he did and Subway Sect, one of punk's brightest early lights, were duly formed.
Things seemed to be going well for Subway Sect, sharing a manager and a tour with The Clash and gathering positive reviews when manager Bernie Rhodes fired the entire band as they were recording their first album.
Since then, Subway Sect have had sporadic reformations with varying lineups and Godard has amassed a canon of solo releases that capture his spirit as an artist who still seemingly has no interest in conforming.
His last album, 2019's Mum's Revenge comes strongly recommended. In our review, we noted "There is joy to be found in both Godard's approach and his music. To listen to Mum's Revenge is to be reminded of the time when punk's encouraging of people to take up instruments and make music of their own resulted in one of British music's most fertile and inspiring eras."
Bringing things up to date, Godard has announced a new single and an album, produced by Clash guitarist Mick Jones.
Wooden Shjips' Ripley Johnson reveals Rose City Band – listen to single Only Lonely
In typical Godard style, the single is to be a cover of Crystal Waters' Gypsy Woman.
Godard explains the single by saying "We did a gig at POP RECS Record Shop in Sunderland in December 2019 to coincide with a display of my painted fag packets. We'd recently recorded the LP 'Moments Like These' and wanted to play the whole thing in the shop, but had no keyboard player.
We have a song on the LP called She Looks Sad which is keyboard and vocal only, so bassist Chris learned it. When he was setting up the keyboards in the shop he played Gypsy Woman (we found out then that he'd played keys for years, but hid it from the rest of the band 'cause he loves his bass so much), Sean started the beat, and Johnny the guitarist and me soon joined in.
It sounded good and we all enjoyed doing it so we decided to record it.
We thought New Year's Day would be very boring as it always is so we booked ourselves in to W.11 Studios and with the help of Kevin Harris at the controls we did it!"
New album Moments Like These will be released shortly, featuring twelve new tracks. Watch this space for further details when they are available.
Gypsy Woman is available now on Bandcamp.
Comments
comments