Another week in lock-down ends but the new music doesn't stop as Getintothis' Simon Kirk shares his top picks for the week.
Fri-yay! Okay, maybe not …
We're kind of sick of talking about lock-down. It may be a part of that whole "lock-down fatigue" thing they keep talking about. Wonder which marketing guru came up with that one?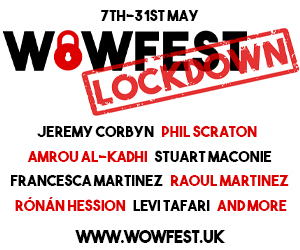 In any case, it's time for some more new album releases. As if we haven't had another great new music this year!
With so much getting released, we don't want you missing out on a potential gem or two, so with that in mind do check out our latest Albums Club feature which was published earlier this week.
Don't forget our playlist either, which has updated with some new tunes which have found their way into our lives over the past week (located at the bottom of the page).
As for further shout outs for new music which may have evaded you. Check out the latest ones from Rebecca Foon, Hamilton Leithauser and the latter's Walkmen bandmate, Walter Martin. All definitely list contenders at the year's end.
So with that, we will bid you farewell.
Stay safe out there.
This week's top picks.
Albums Club #46: Rina Sawayama, Gerry Cinnamon, BC Camplight, Mystery Jets, Fiona Apple and more
1. Mark Lanegan: Straight Songs of Sorrow
Heavenly
Following the release of his brilliant new memoir, Sing Backwards and Weep (his take-down of Liam Gallagher is epic!), Mark Lanegan releases a companion piece album, Straight Songs of Sorrow.
Lanegan's forthcoming Liverpool show in support of the new album has been shifted to next year, where he will play the Invisible Wind Factory on Saturday, February 13.
In the meantime, give this a listen and his memoir a read. Anyone taking on the pernicious Gallaghers earns emperor status around these parts …
2. I Break Horses: Warnings
Bella Union
Following a six year absence, I Break Horses return with album number three, Warnings.
IBH's Maria Lindén has spent that time crafting out a cinematic more instrumental based album with Warnings. Quite an expansive return, this.
3. Okkyung Lee: Yeo-Neun
Shelter Press
Korean native, Okkyung Lee, returns with her second album and first in seven years with Yeo-Neun.
With Yeo-Neun, Lee intertwines delicate classical compositions with avant-garde improvisation. The album features harpist, Maeve Gilchrist, pianist, Jacob Sacks and bassist, Eivynd Opsvik.
A fine discovery awaits you right here, children.
4. Masaki Batoh: Smile, Jesus Loves You
Drag City
Following last year's LP, Nowhere, Japanese psychedelic guru, Masaki Batoh is back in a solo capacity with the brilliantly titled Smile Jesus Loves You.
Produced in analogue, the album is said to be Batoh "decrying the existential opacity of our latter-day faith", drawing from the traditions of all countries, and fusing it into a modern day sound.
Fontaines D.C. announce details of new album A Hero's Death – plus listen to new single
5. Shiner: Schadenfreude
Two Black Eyes
'90s post-hardcore outfit Shiner are back! Having split in 2002, the Kansas four piece have decided to bring in the new era by releasing Schadenfreude. Their much-anticipated come back long-player.
Not familiar? Any Jawbox, The Jesus Lizard fans out there? Rejoice. You've just found your week's poison.
6. Fake Names: Fake Names
Epitaph Records
Super-group alert! Yes, we know it's a bit of a dirty word but this one just may have legs.
Meet Fake Names, the group featuring Brian Baker (Minor Threat, Dag Nasty, Bad Religion), Michael Hampton (S.O.A., Embrace, One Last Wish), Johnny Temple (Girls Against Boys, Soulside), and last by not least, Refused's Dennis Lyxzén.
Their self-titled debut is out today via Epitaph. Twenty-eight minutes of pure punk fury, so many are saying. Enjoy.
7. Melenas: Dias Raros
Trouble In Mind
We know… it was included in last week's run of albums but got a late release date shift and, simply, it's that good we had to include it again!
Yes, Spanish dream-poppers, Melenas, release their new album, Dias Raros, which will be their first outside of Spain via the very underrated Trouble In Mind label.
Yes, when TiM release something we know it's not going to be shit-canned. Melenas and Friday. Two words that have a nice ring to them. Enjoy this.
Other notable releases this week:
Jamo Gang: Walking With Lions (Fat Beats)
Astari Nite: Here Lies (Negative Gain Productions)
Beauty Pill: Please Advise (Northern Spy)
Evvol: The Power (Mad Dog and Love)
Bishop Nehru: Nehruvia: My Disregarded Thoughts (BrSci Records)
Evan Myall: Evan Myall (Royal Oakie Records, Text Me Records)
Black Taffy: Opal Wand (Leaving Records)
The Black Moods: Sunshine (Steelhorse Entertainment)
Blake Mills: Mutable Set (Blake Mills Artist JV 2017)
The Bobby Lees: Skin Suit (Alive Naturalsound Records)
Brant Bjork: Brant Bjork (Heavy Psych Sounds Records)
Buscabulla: Regresa (Ribbon Music)
Butch Walker: American Love Story (Ruby Red Recordings Inc.)
Choir Boy: Gathering Swans (Dais Records)
Combos: Steelo (Loyal Blood Records)
Daedelus: What Wands Won't Break (Dome of Doom Records)
Deau Eyes: Let It Leave (egghunt records)
El Michels Affair: Adult Themes ( Big Crown Records)
Erik Hall: Music For 18 Musicians (Steve Reich) (Western Vinyl)
Fire-Toolz: Rainbow Bridge (Hausu Mountain)
Gleemer: Down Through (Other People Records)
The K.: Amputate Corporate Art (JauneOrange)
Kehlani: It Was Good Until It Wasn't (Atlantic)
Kill the Giants: Drones, Clones & Bio Machines (Nub Music)
Lettuce: Resonate (Round Hill Records)
Nav: Good Intentions (XO Records)
Pushy: Hard Wish ( 928671 Records DK)
RAC: BOY (Counter Records)
Red Axes: Red Axes (Dark Entries Records)
Reliant Tom: Play & Rewind (Diversion Records)
Same: Plastic Western (Lauren Records)
The Sinclairs: Sparkle (Independent)
Sojourner: Premonitions (Napalm Records)
Winterfylleth: The Reckoning Dawn (Spinefarm Records UK)
Comments
comments