Thank the heavens that it's Friday, which brings a swathe of great new releases, Getintothis' Simon Kirk parts with his top picks.
Stay safe. Stay alter. Good old fashioned British commonsense. For goodness sake, what does it all mean?
We've all had enough of it, suffice to say.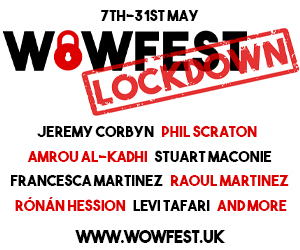 You're all here for new albums, not a rant on the back our esteemed leader's concoction of contradictions which have generally put the shitters up collective Britain.
Yes, we're all perplexed, anxious, angry. We guess that if your frustrations still linger than you can trawl the bellows of social media for the usual guff and expert analysis from, well, just about everyone who dispenses with their opinion.
Okay, cynicism over.
Onto the issues at hand and this week's new releases should be a nice circuit-breaker from that aforementioned collective anxiety.
Einstürzende Neubauten release their first new album in 12 years and that in itself should be a cause for celebration. The Dears also have a new one out, which, by their usual standards, never fail to impress.
Countless others, too, of course, so dig through the virtual crates and choose your poison on this Friday.
This week's top picks.
John Peel session archive made available with almost 1,000 sessions so far
1. Perfume Genius: Set My Heart on Fire Immediately
Matador Records
Mike Hadreas, a.k.a. Perfume Genius, returns with his fifth album, Set My Heart on Fire Immediately.
Hadreas has reconvened with Grammy-nominated producer, Blake Mills, who himself released his excellent new album, Mutable Set, just last week.
Set My Heart on Fire Immediately was recorded in L.A alongside Hadreas' longtime partner and musical collaborator, Alan Wyffels.
2. Rose City Band: Summerlong
Thrill Jockey
Wooden Shjips and Moon Duo leader, Ripley Johnson, is back with yet another cosmic path, this time with Rose City Band.
This has already got many tongues wagging as the soundtrack of the summer. Let's hope we can all get out in the sun and enjoy it together.
3. The Dears: Lovers Rock
Dangerbird Records
Montreal favourites, The Dears, return with their eighth studio, Lovers Rock.
Frontman, Murray Lightburn, has gone on record to say that there is a direct link between Lovers Rock and the band's 2003 breakthrough, No Cities Left.
Check out our preview here.
4. Einstürzende Neubauten: Alles in Allem
Potomak
After more than 12 years, Germany's much revered Einstürzende Neubauten return with their long-awaited album, Alles In Allem.
Led by talisman and former Bad Seed, Blixa Bargeld, we're sure many of you 'Neubauten fans out there will also be chasing the limited deluxe box set which includes a 164 page booklet with hand-written notes.
5. Jason Isbell & The 400 Unit: Reunions
Southeastern Records
Former Drive-By Truckers member, Jason Isbell, returns with and his band, The 400 Unit in tow for his latest album, Reunions.
Per the album's press release, Isbell went on to say: "There are a lot of ghosts on this album. Sometimes the songs are about the ghosts of people who aren't around anymore, but they're also about who I used to be, the ghost of myself."
Got a good one right here, folks.
6. Jess Williamson: Sorceress
Mexican Summer
The great Jess Williamson returns with her fourth album, Sorceress – her second long-player via the brilliant Mexican Summer label.
Sorceress is said to be inspired by personal epiphanies, offering revelations in the real sense of the word.
Okay, sounds interesting. It's Jess Williamson, though, so we know it'll be decent.
7. Kaitlyn Aurelia Smith: The Mosaic of Transformation
Ghostly International
Composer, artist, and producer, Kaitlyn Aurelia Smith, returns on the back of her 2017 acclaimed album, The Kid, with The Mosaic of Transformation.
Expect more goodness from the multidisciplinary artist right here, who during the past decade took experimental music into new terrains.
This week's other notable releases:
Hanni El Khatib: Flight (Innovative Leisure)
Jim White and Marisa Anderson: The Quickening (Thrill Jockey)
fish narc: WiLDFiRE (Gothboiclique Records)
Sleaford Mods: All That Glue (Rough Trade Records)
Yair Elazar Glotman & Mats Erlandsson: Emante (Fat Cat Records)
Vladislav Delay, Sly Dunbar, and Robbie Shakespeare: 500-Push-Up (Sub Rosa)
CLT DRP: Without the Eyes (Small Pond Records)
Chemtrails: The Peculiar Smell of the Inevitable (PNKSLM)
Nick Hakim: Will This Make Me Good (ATO Records)
Pattern-Seeking Animals: Prehensile Tales (Insideout Records)
Bearcubs: Early Hours (independently popluar)
Porcelain Raft: Come Rain (Volcanic Field)
Golden Retriever and Chuck Johnson: Rain Shadow (Thrill Jockey)
Public Practice: Gentle Grip (Wharf Cat Records)
Arthur: Hair of the Dog (Honeymoon)
Brian Landrus: For Now (BlueLand Records)
Callum Beattie: People Like Us (3 Beat Records)
Champlin Williams Friestedt (of Toto and Chicago, respectively): II (Black Lodge Records)
Charli XCX: How I'm Feeling Now (Atlantic Records)
Emily Wells: In the Dark Moving (This Is Meru)
Glenn Thomas: Reassure Me There's A Window (Palace Flophouse Records)
Hania Rani: Home (Gondwana Records)
Heron: Time Immemorial (Sludgelord Records)
Horisont: Sudden Death (Century Media Records)
I'm Glad It's You: Every Sun, Every Moon (6131 Records)
The Jerry Cans: Echoes (Pheromone Distribution / Fontana North)
Jerry Paper: Abracadabra (Stones Throw Records)
Jon Balke: Discourses (ECM Records)
Jonah Mutono: GERG (EQT Recordings, LLC)
Luke Jenner (of The Rapture): 1 (Manono Records)
The Magnetic Fields: Quickies (Nonesuch Records Inc.)
Moses Sumney: græ – Part II (Jagjaguwar)
Mourning [A] BLKstar: The Cycle (Don Giovanni Records)
Niika: Close But Not Too Close (1079317 Records DK)
Non Canon: Non Canon II (Xtra Mile Recordings)
Phillip Sollmann: Monophonie (A-TON)
Priya Darshini: Periphery ( Chesky Records)
Retirement Party: Runaway Dog (Counter Intuitive Records)
Sheff G: One And Only (Winners Circle / EMPIRE)
Shrapnel: Palace For the Insane (Spinefarm Records UK)
Sparks: A Steady Drip, Drip, Drip (BMG Rights Management UK Limited)
Spirit Fest: Mirage Mirage (Five Rise Records)
Them Moose Rush: Dancing Maze (TMR Records)
Tithe: Penance (Tartarus Records)
Vernon Jane: The Ritual of Love Making (AMS Records)
Wailin Storms: Rattle (Gilead Media)
Yung Lean: Starz (YEAR0001)
Comments
comments