A defence of amateur theatre and all who sail in her (with oars they probably made themselves at home) by Getintothis' Ally Goodman.

It's not a long distance from Theatr Clwyd's 'Clwyd Room' stage to the audience.
The cabaret set up lends itself well to all manner of productions that either aren't expected to sell out the venue's two main stages or for whatever reason just aren't suited to a traditional theatre setting.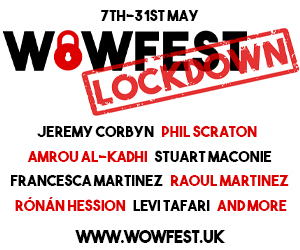 Nineteen Seventeen – The Music Hall, an evening of Edwardian dinner party entertainment and World War One poetry that I took part in back in 2017, arguably fell into both those categories.
Not an obvious ticket-seller, granted, but we ended up filling the intimate room and providing a very lively crowd with a fun couple of hours of 'variety' show, in the true sense of the word.
Such was the set-up that following the show, the cast and crew could mingle with the masses (indeed it was positively encouraged), and it was during this schmoozing that we engaged in a brief but memorable conversation with one of the satisfied punters.
A middle-aged lady with a frankly fabulous Edwardian era hat stopped me to say she not only thoroughly enjoyed the show but thought she recognised me from another show she'd seen recently.
Indeed, she was right; I'd just finished a run of Martin McDonagh's The Cripple of Inishmaan at Chester Little Theatre a few weeks prior.
"That's right!" she exclaimed, before going on to say how much she had enjoyed that show too. "But of course, that one was amateur wasn't it."
It wasn't an observation said with any particular malice, but there was a certain dismissive tone in her voice.
A silent "bless them" attached to the end. A private joke between her and this performer who must surely be a professional and had just lent his precious time to that bunch of well-meaning try-hards, I mean this is Theatr Clwyd for crying out loud. I've just been brought a glass of wine to my seat.
I don't remember much about what she said straight after that as I was mulling over whether to reveal that the show she had just watched at her cabaret table, Merlot in hand, in the very professional surroundings of Theatr Clwyd, was also…amateur.
Cue sharp intake of breath.
Liverpool Arts Diary: Bluecoat, FACT, World Museum – April-May 2020
In the end I bit my tongue; I think to not ruin the illusion that what she had enjoyed so much wasn't hastily cobbled together by a bunch of actors with day jobs who had probably only rehearsed twice the week before the show.
But when I think back to the conversation, I wish I had stuck up for the oft-maligned amateur theatre scene.
Our punter in question would have paid around the same for both of the shows she spoke of so highly, and I can confidently say there wasn't much disparity in the quality of the performances.
But it was clear that the context of how she had been presented the show at Theatr Clwyd meant that she had not even considered that the show wasn't professional.
I suppose it's the difference between walking into a multi-stage venue, experiencing the state-of-the-art theatre lights and sound-systems, compared to the experience of walking into a community theatre and being offered some tea and cake by the mainstays of the local Rotary Club.
I must say at this point that I adore community theatre and any such twee observations are done so with an outpouring of love.
Am-Dram has been a part of my life for fifteen years; I met my wife and some of my best friends through the shared experience of weekday evenings filled with temperamental smoke machines and 1980s lighting boards.
Indeed, if anyone reading this has ever thought they'd enjoy working in the theatre, either on stage or behind the scenes, I beg you to find your local society and join. You won't regret it.
But the stigma that comes with amateur theatre when compared to our professional counterparts is sadly a factor that I think holds a lot of audience members back.
They have images of school plays and badly phrased Shakespeare when a mate asks them if they want to come and see this little show that they've got a part in.
Curiously, the same doesn't seem to happen with bands or musicians.
I've never heard anyone tell me they're off to watch 'this amateur band' play tonight.
This will be despite them no doubt attending many a show where the performers have probably just had only their beer money or travel covered.
A musician playing for no fee is seen as trying to further their career and eventually get a break; an amateur theatre cast and crew is seen as just indulging in a hobby.
But I'll guarantee that any regular theatre-goer who spreads their time between the Empire Theatres and the Allerton RADS of this world, will have many anecdotes of an amateur show that blew the socks off a professional version they saw. Shows and performers that 'should have been in the West End'.
And they're probably right.
In the same way that I'm sure everyone reading this has a band or singer that they can't believe never made it to the big time, there will be actors, directors and techies across the country that have never got a shot at the right audition; never got seen by the right industry professional.
Quarantine and Chill Part II: 25 box sets to keep you entertained during lockdown
I intended this month's column to be a rallying cry for amateur theatre but after spilling out my thoughts onto the page and trying to now arrange them coherently, I guess I just want to say…"give it a chance"?
That thing your mate's always posting about on Facebook, the reason they can't come out on Tuesday and Thursday nights; it might just be worth going to check out. You might even enjoy it.
And you'll likely have change from a tenner too. The bars are always insanely cheap.
Probably should have lead with that.
Here's a tiny sample of non-professional companies that I can
personally recommend from either joining their ranks or watching their
shows.

If you know of any that deserve a shout out in the next column
email me at ally@onefellswoop.co.uk

Chester Little Theatre, Chester

Tip Top Productions, Chester

Phoenix Players, Denbigh

Llangollen Twenty Club, Denbighshire

Tower Theatre, London

Suitcase Theatre, Mold

Davenham Players, Northwich

Grove Park Theatre, Wrexham
Comments
comments