From augmented reality to green-fingered playlists, the region's arts venues are engaging creatively with the lockdown world Getintothis' Roy Bayfield discovers.
Let's take a look at how Liverpool's arts world – a dynamic, ever-changing, world-class scene – is operating under quarantine conditions.
Naturally the physical buildings are closed for the duration.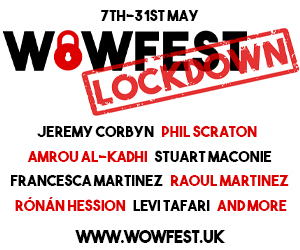 We imagine the vast exhibition spaces, silent and empty, patrolled by a skeleton crew, the artworks looked at only by other artworks; concert halls where only the ghosts make sounds; cinema screens waiting for moving pictures at an unknown future date.
This must be the longest period that galleries, museums and arts centres have been closed to the public for anything other than renovation work since they opened.
And a welter of tasty-looking shows, events and happenings have been postponed or cancelled – a state of affairs memorably described on this site by Laura Brown as "the hangover Sunday to match all hangover Sundays, but over days, weeks, months."
And just today we hear that Art in Liverpool have decided to postpone Independents Biennial 2020 until next year.
So what is happening?
National Museums Liverpool
Virtual Tours and Social Sharing – Ongoing
For National Museums Liverpool's galleries – Walker Art Gallery, Lady Lever Art Gallery and Sudley House – now is a time for sharing.
Works from their world-class collections are being displayed through social media channels – a medium  which encourages audience responses, something that doesn't usually happen among strangers as we explore the galleries on foot in normal times.
And for anyone interested in searching for the young art rebels of an earlier time, there's a  series of interviews on the galleries' Pre-Raphaelite collection.
Meanwhile the World Museum has taken its stunning exhibition Drawing on Nature: Taki Katei's Japan online in a virtual tour with audio commentary.
Both the World Museum and the International Slavery Museum have developed virtual tours, and NML are running a project aimed at children learning indoors, My Home is the Museum, where kids devise their own exhibitions.
Quarantine and Chill: 20 essential music films, documentaries and concerts to watch 
Bluecoat
Weekly blogs 
The Bluecoat are using a weekly blog – also available as an emailed newsletter – to keep in touch with its audiences.
The blog contains links to goodies such as an interview with artist Jonathan Baldock about his current exhibition Facecrime, previewed here in the March Arts Diary, "inspired by Orwell's dystopian novel, 1984 – a facecrime being an 'unconscious look of anxiety, a habit of muttering to yourself' suggesting that there was something to hide." 
As with a lot of art produced pre-virus, Facecrime will have an unexpected resonance during the lockdown period of legally constrained behaviours and public spaces.
Also featured is a rather spiffy playlist on the theme of 'green fingers', curated by Artistic Director Bryan Biggs, who explains "With many of us staying at home, the garden provides welcome solace at this time, and for many of us without access to one, our back yard or window box or potted plant can still connect us with the natural world…" hence the playlist, "harvesting a rich crop of folk, psychedelia, ska, reggae, hip-hop, soul, punk, indie, prog, blues and novelty."
FACT – The Living Planet – Until 31 March 2021
As we would expect from an organisation centred on 'creative technology' FACT's The Living Planet utilises tech platforms in innovative ways.
"An online programme that explores our relationship with the natural world", The Living Planet is a substantial series of projects involving local and international artists, filmmakers, educators and experts exploring with audiences "what it means to exist digitally in our new shared reality."
Arriving early in The Living Planet is Augmented Empathy, a commission from  artist collective Keiken involving augmented reality filters made available via Instagram takeovers, inviting us to "rethink how we identify and connect with ourselves, each other, animals and the Earth."
Heart of Glass
With For About conference – May 20 – June 17
Billed as "a slow conference for a fast evolving crisis", this year's annual Heart of Glass Conference asks three salient questions:
What creative solutions have marginalised people developed to survive before Covid-19?
What creative ways of being and organising are being made now in response to Covid-19?
How do we embed and share these solutions, ways of being and organising now and into the future?
Produced in collaboration with artist and mental health activist the vacuum cleaner, curator and agitator Cecilia Wee and international artists, activists and academics, With For About 2020 promises "a vital, slow and complex space between art, activism, care and social practice in response to COVID-19."
The call for contributions is out now with a 'rolling deadline' of June 8.
Tate Liverpool
Teaching resources
Keenly aware that for many the lockdown involves unexpectedly becoming home educators for children, Tate Liverpool's socials have done some useful signposting of their many excellent teaching resources.
Rich in images from the Tate collections, resources such as Animals in Art, Make a Memory Game and 'have a go at action painting using chocolate' will no doubt give some parents welcome fuel for learning activities.
Looking ahead
Liverpool Arab Arts Festival will run July 9-18, this year in online form.
An array of digital platforms will be used to showcase work and to enable people to connect: "We may not be able to gather in physical spaces – like theatres, galleries and performance rooms – but this does not mean we cannot provide a platform for our artists and creatives."
Programme announcements are expected soon, and projects are underway to create interactive content "a taste of Arab culture in lockdown".
Comments
comments